How to Make The Most Of Your One Link On Instagram
Since its launch, Instagrammers have been trying to find new ways to deal with the fact that they can only have one link on Instagram.
It can seem like a cruel joke: you post a new picture of a recipe on Instagram, only to find that you can't put the link in the caption. The solution? Tell everyone to follow the link in your bio.
But wait — that link is already going to your last recipe from two days ago! What are your followers supposed to do if they want both?
As annoying as this can be, challenges like this can present some great opportunities for creativity. Here, we're going to give you some ideas on how to overcome this obstacle and make the most of your one link on Instagram.
Use A Link-In-Bio Tool
Until recently, only having one link in your bio was pretty much non-negotiable. The only solution for Instagrammers who posted lots of content was to frequently swap their links out.
Luckily, some clever developers found something of a loophole: use your one link on Instagram to bring visitors to a link directory. From there, visitors can choose any link they want. Problem solved.
Having trouble visualizing what that looks like? Here's an example: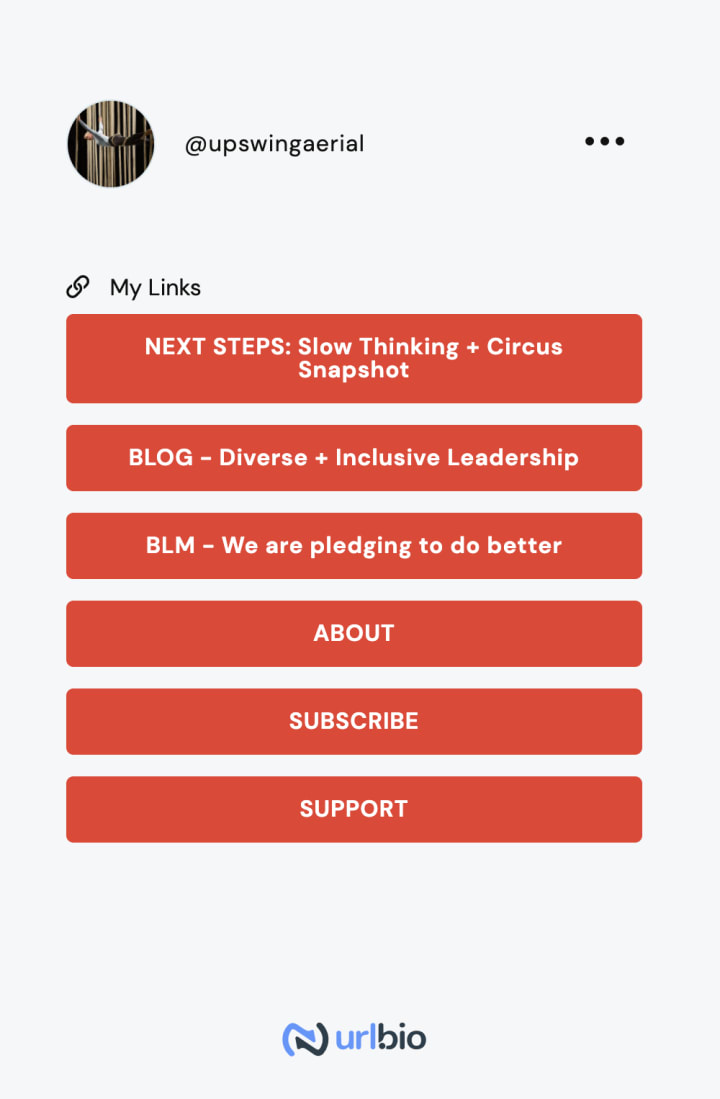 Visitors who click the link in Upswing's (@upswingaerial) bio will be directed to this page. Then, they can select any of these links. This way, Upswing doesn't need to choose between directing its followers to its blog, subscribe page, or support page.
Essentially, these tools allow Instagrammers to put unlimited links in their bio with just one extra step in between. Checkmate, Zuckerberg (and he would've gotten away with it too, if it weren't for those meddling kids)!
Nowadays, the biggest decision you have to make is simply which tool to use. There are a bunch out there, but we recommend url.bio.
Stick To One Link
If you want to be old school, there's nothing stopping you from sticking with just one link. It may make your life a bit harder at times, but there are still lots of successful Instagrammers out there who don't use link-in-bio tools.
Sometimes, limiting yourself to one link isn't such a big deal. For example, if you know for sure that you always want to direct visitors to your website, there's really no need for a link-in-bio tool. Just leave your website link in your bio and be done with it. This strategy can work well for photographers, graphic designers, and other creative professionals who want to link people to their portfolio, for example.
However, if you frequently run promotions, have an active blog, or make any sorts of posts that your followers might want to learn more about, you're going to want to update your link pretty frequently.
Basically, if you make any posts that you'd caption "check out my link in bio to learn more," you're probably better off with a link-in-bio tool.
That said, you can simply update your one link on Instagram every time you make a new post. Just realize that you may lose out on traffic from people who view old posts, check your bio, and realize that they can't find the relevant link anymore. If you decide to skip the link-in-bio tool, try to keep your site easy to navigate so people can find older content without much trouble.

Use The Swipe Up Feature
The swipe up feature adds a link to Instagram stories that viewers can access by swiping up. If you use this feature on your highlighted stories, it effectively increases the number of links you can have on your profile — there's no limit to how many highlighted stories you can have, so you can add as many stories with swipe-up links as you want.
Plus, if you're running a short-term promotion or want to direct your followers to a new post, they're incredibly useful. Just remember that they'll disappear after 24 hours unless you add them to your highlights.
Here's an example of a story using the feature: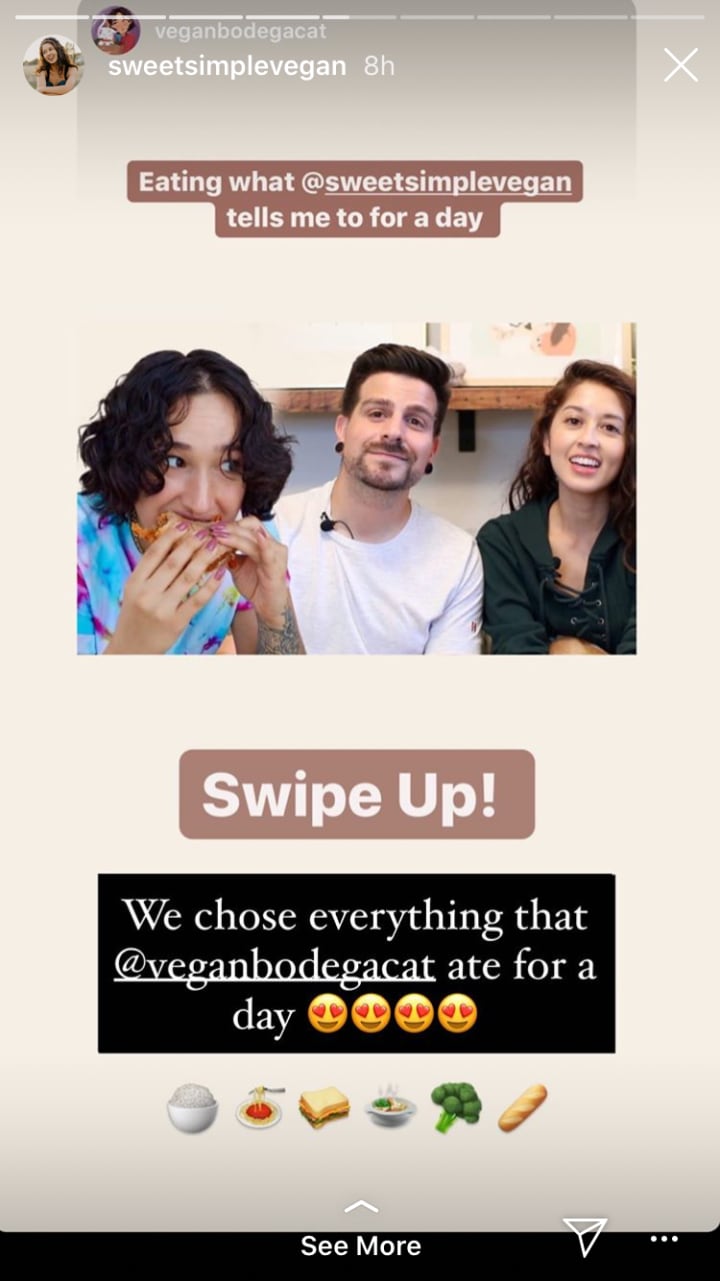 However, there are a few restrictions. To use this feature, you need to meet the following criteria:
Have a verified Instagram account OR
Have over 10,000 followers AND
If you don't fulfill these criteria, you can't use the feature.
Either way, swipe-up links aren't a direct replacement for regular links. They're still a bit less intuitive to navigate, and if you have a large number of links, it can be hard to keep them organized.
For example, a link-in-bio tool makes it easy to have dozens of links. But if you have lots of content, relying on swipe-up links means your followers will need to flip through lots of stories to find what they're looking for.
Overall, anyone who has access to the swipe up feature should be using it. But it's not necessarily a great replacement for a link-in-bio tool or a good old fashioned single link in your bio.
Make Use Of Your Posts And Captions
Even though you can't include hyperlinks in Instagram captions, you can add calls to action, aka CTAs.
CTAs are quick suggestions to complete an action, like "check out the link in my bio" or "don't forget to hit like and follow!"
If you're not including CTAs in your post captions, you're missing out on some major traffic opportunities. People generally need a little bit of a push to take action, and your captions are the perfect place to do just that.
If you don't qualify for the swipe up feature, you can still include CTAs in your stories. Just add some text asking your followers to check the link in your bio.
Best Link In Bio Practices For Instagram
Not sure what to include in your Instagram bio links? Here are a few suggestions to get the creative juices flowing:
Blog posts: Have a new blog post? Make a post about it on Instagram, put a CTA in the caption, and include the link in your Instagram bio so your followers can check it out.
Your website: If you want to direct visitors to your website, put the link in your bio so that your followers have easy access.
Spotify: If you're a musician with a new release, include the Spotify link in your bio so your fans can listen.
Shopify: Have a Shopify store? Use your one link on Instagram to direct your followers to your store. (Or, use Instagram Shopping, and save your link in bio for something else.)
Podcasts: Your Instagram bio link is a great place to direct your followers to the latest episodes of your podcast. Just post about it on Instagram and include a CTA in the caption that directs viewers to your Instagram bio.
Promotional Campaigns: If you're running a campaign, you'll likely want to link to it in your bio.
Other Social Profiles: If you're active on another platform, like TikTok, add the link to your bio so your Instagram followers can keep up with you there too.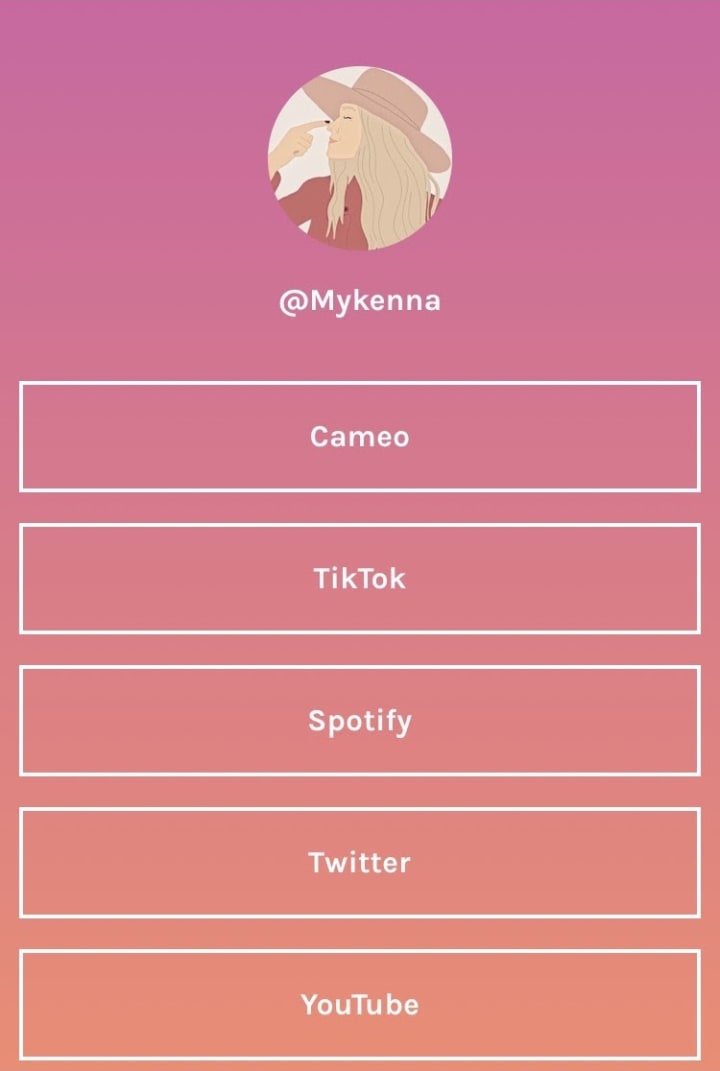 Your Link On Instagram: Key Takeaways
Instagram forces you to make hard choices. With its one-link limit, you need to get creative if you want to connect with your followers off the social network.
For the most part, link-in-bio tools like url.bio are the way to go if you're consistently running promotions or posting new content. But if you're always planning to link to the same place, you can get away without a tool as long as you update your bio when needed. You can also use tools like Instagram automation tools for best results on Instagram.
No matter whether you use a link-in-bio tool or not, make sure to include CTAs in your stories and posts and use the swipe up feature if you qualify for it.
With these ideas in your toolbag, you'll be well on your way to Instagram success.
social media
About the author
Denise Langenegger is part of the team at Instasize – a content creating tool kit for anyone editing photos and online content on mobile.
Instagram: @instasize.official
Twitter: @Instasize
Reader insights
Be the first to share your insights about this piece.
Add your insights