How to Find Experienced React Native Developers?
Hire Experienced React Native Developers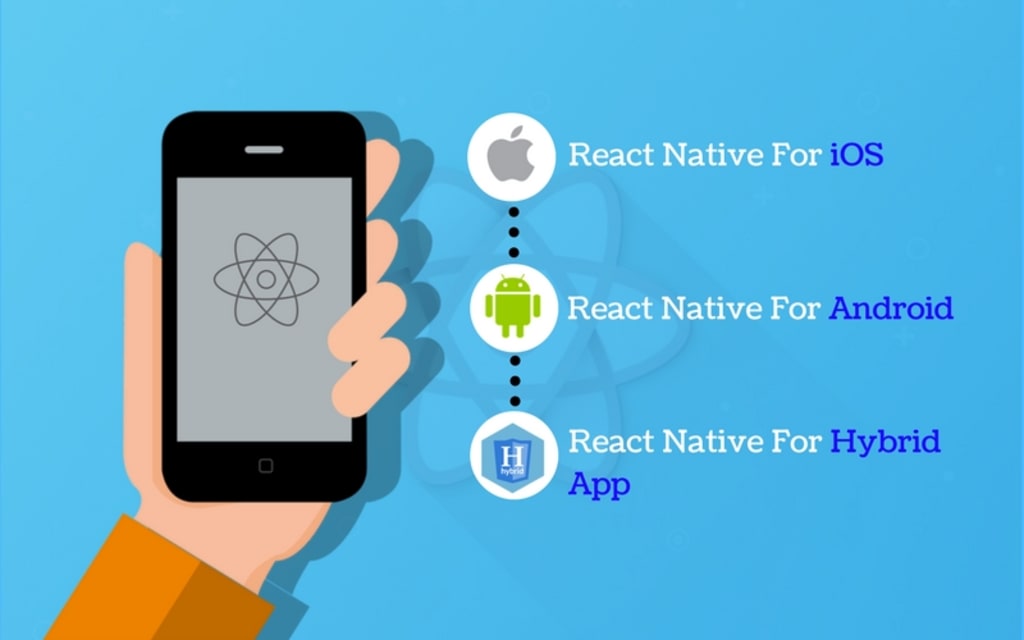 Are you looking to build a great app and hire React Native developers for the job? You would require a developer who doesn't just know how to code in React Native but they should also have excellent grasping power and communication skills. The developer you choose must, first of all, understand your app/business vision and, then, should be skilled enough to convert your vision into a pleasant reality.
The person should be a blend of hard skills (React Native and app development skills) and soft skills (communication, decision-making, and coordination), so you can work with him/her conveniently throughout the project and after (for maintenance and support). You want the best app and, therefore, you shortlist only the best mobile app developers for hire who meet all your search criteria.
React Native is the most preferred technology among businesses that need robust, budget friendly apps that are quick to develop, easy to maintain, and perform exceptionally well. A great app (built in React Native) is Android, iOS, and other platforms ready and all you need is one codebase. As the technology is robust, you will need to hire dedicated developers to make the most of React Native.
As React JS has become a highly preferred choice among developers, it is not difficult to find hire mobile app developers who have already worked on this technology. But, it is your responsibility to pick the best from the lot bearing in mind your vision and app mission.
Let's quickly discuss how to find experienced React Native developers for your app development?
1. Know what you want?
Before we discuss the process of hiring a developer for your React Native project, it is important to learn about the skills (hard and soft skills) you should look for in the candidate. You're looking for a developer with profound knowledge and a strong grasp on React Native's core technical concepts. The person should ideally have worked with a mobile application development company. He/she should have worked on live React Native projects and must be competent in all the technical aspects of React Native app development.
Hard skills you should look out for in your candidate:
Outstanding knowledge of JS (JavaScript) –JS is the core coding language used in React Native application development. Therefore, the developers you shortlist for the role must have sound knowledge of it and should possess proficiency in creating JS components, app logic, services, flow, and structure.
Proficiency in the assumptions of React – The React developer you choose must possess proficiency in React assumptions including JSX, component lifecycle, and DOM.
React Native experience –Irrespective of the level, the developer must have completed a respectable number of React projects and should have gained the understanding of the components, frameworks, libraries, APIs and other nuances of the language.
Android and iOS experience –Developers of React Native have to create cross-platform applications, which means their app must behave like a native one to the platforms it is deployed on. In other words, the developers need to be conversant in Android and iOS UI to ensure that the apps they build conform to the guidelines and perform just like native apps.
Knowledge of essential tools –The React Native mobile app development expert should have the knowledge of essential tools to be able to deliver high-performing, great React Native app
So, these were the hard skills you need to focus on when hiring React Native developers or a React Native mobile app development company. Let's quickly discuss the soft skills as well that need your consideration in this regard. These include:
A team player with a very positive attitude
Effective and good communication skills
Great interpersonal skills
Problem solvers with a willingness to share knowledge
2. Where to look for the right developers for your job?
Is there a place where all the React Native developers can be found? Well, there is not one but many places where you can find them. But you need to know these place to be able to find the right resource for your mobile app development project.
Look for freelancing platforms – Some of the best React Native developers are not employed by any mobile app development company rather they offer their services on a freelance basis. So, you must look out for them on platforms where all freelancers look for work.
Communities and forums –Great developers never mind sharing their knowledge with others and, therefore, you will most probably find them guiding someone on React Native communities and forums.
Social platforms like LinkedIn – Both freelance and full-time, dedicated developers maintain their LinkedIn profiles these days to stay abreast of the latest opportunities in their field and continue getting great projects that help them earn money and add to their knowledge as well.
Toptal – Here you will find developers who've been chosen and pre-vetted by other clients like you.
CodementorX – Codementor's offshoot, CodementorX is home to millions of best React developers.
BrainHub – The best place to hire full-time, dedicated team of React Native developers.
3. Post your job in detail
Most businesses consider this to be the easiest of all and miss the important points in a haste to post a job and end up spending more than required time to find the right resource(s). Make sure that you write good job descriptions that give the job seeker a quick view of the role and responsibilities he/she will have to assume, the skill set required, and other characteristics you might be looking for.
Your job posting should be clear and self-explanatory for the job seekers. Don't keep the description unnecessarily verboseand avoid following the conventional job posting styles. Keep your message short but clear.
The next steps include shortlisting the candidates, interviewing them, and hiring the best for your project. But if you want to avoid all these hassles, you may simply hire a mobile app development company to get your app developed, tested, deployed, and maintained.
Wrapping up
Selection of the right React Native developers or mobile app development company is a challenging process requiring you to consider many aspects and, most importantly, understand your business needs. Follow the right steps and make sure you check the past performance and track record of the resources you hire for your job.
how to
About the author
Tarun Nagar is the Founder & CEO of Dev Technosys, a global ranking Web and Mobile App Development Company USA. With 10+ years of experience of enabling then Startups which are now global leaders with creative solutions
Reader insights
Be the first to share your insights about this piece.
Add your insights