How to Do Away with Rx Glasses for Life
A product review of the "World's First Eyeglasses for distance without a prescription."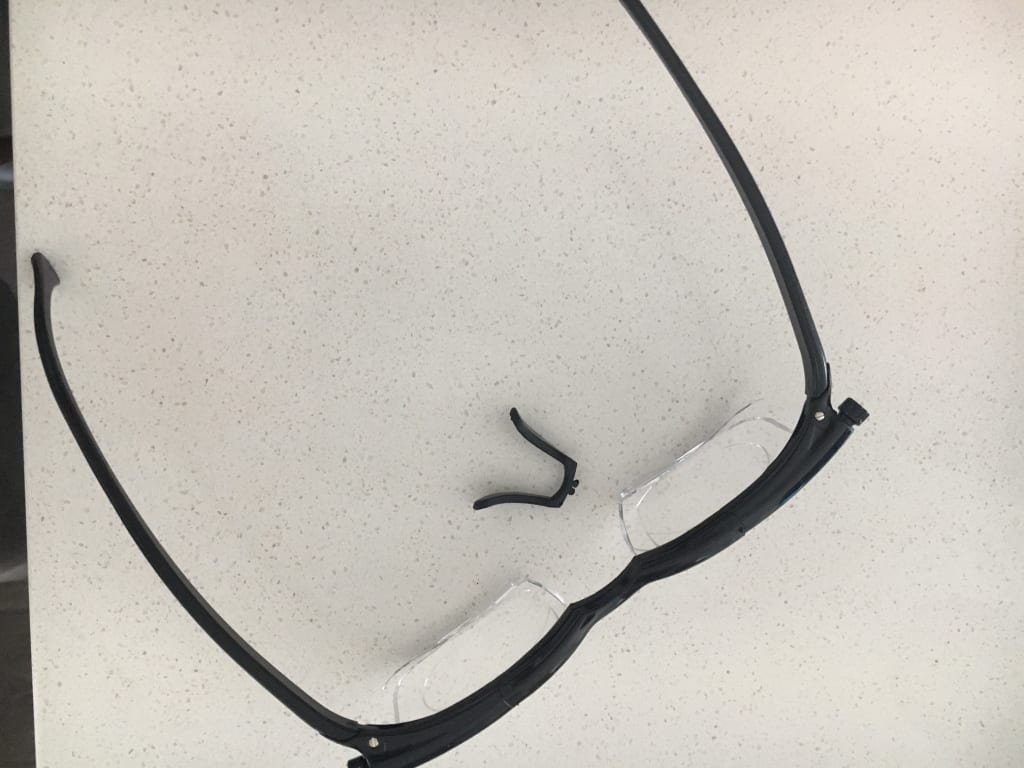 Who wouldn't want self-adjusting eyeglasses that with a turn of a dial will let you see clearly at a distance and with another twist, can be used as reading glasses? For most people, it means it would do away with getting new prescription glasses every time their eyes change.
Prescription glasses with a decent brand-name frame can cost hundreds of dollars. My previous pair of Oakley frames and transition lenses cost me over $1,000, so when I saw the video ad on Facebook, I was sold.
I ordered a pair for myself and a pair for my significant other. When I went to pay, I was offered a third pair at 50% off, so I took the offer.
3 weeks shipping time
The package arrived after 3 weeks from when I ordered it. It came in a white poly bag from a shipper in China. Clearly this was a drop shipping operation, meaning that it was a US seller and fulfilled by a company in China.
Testing it out
When I cut open the poly bag, there were 3 packages crammed in the poly bag. I took one out, opened the package with a pair of scissors, and removed the eyeglasses.
The first pair practically fell apart in my hands. The screw holding the frame together had fallen out. I checked the package for the screw (hoping to screw it back in) but I could not find one. I opened the second package and I got further, but when I attempted to put it on, the nose piece fell off. It was easy to put the nose piece back on, but it didn't stay. Perhaps it needed a little glue to keep it in place.
I located the dials on the frame and started twisting it one way. The adjustment was ever so slight, so I twisted the dial so more, hoping my vision would clear up, but after twisting the dial all the way to one side, my vision was still blurry. One of the problems I see is that there is no marking on the dials. The packaging claims that you can adjust the diopters from -6 to +3, but without any markings, it is difficult to judge whether you are twisting it the right way or not.
Another problem is the plastic dials that do not turn easily. These dials are actually plastic screws, and you know how plastic screws behave. They don't screw easily and they do stick. This causes you to twist hard with your fingers and hope they don't snap.
After several attempts, I could not get one eye to see clearly. Interestingly enough, these eyeglasses are not recommended for driving. The disclaimer is marked on the package, but I'm pretty sure this was not mentioned in the video ad.
Here is the full list of disclaimers:
Not intended to replace prescription glasses.
Does not correct astigmatism.
Should not be used for high-risk tasks such as driving or operating heavy machinery.
Look and Feel
When you pick up the pair of Dial Vision eyeglasses, you feel like you're picking up your kid's sunglasses because they're light and flimsy. Considering the first pair fell apart in my hands, you can imagine how delicate they are. I don't think they can survive a fall from waist level to the floor. Something would break off or it would stop working.
I doubt the lenses are impact resistant and frames are flexible as advertised on the package. It's also surprising that the package states the nose pad is adjustable, unless you consider putting it on or taking it off as adjustable.
The looks aren't bad from afar, but up close, they look like you're wearing a thick pair of reading glasses. The frame is a shiny black colour and the frame does not go around the lenses.
Summary
This has been a product review for Dial Vision eyeglasses that claims to be the World's First Eyeglasses for Distance without a prescription. The secret to how it works is that it utilizes sliding lens technology. When you twist a dial, it causes the lens to slide left or right changing the lens power from -6D to +3D.
Dial Vision eyeglasses are marketed by Whiterup, a company that began in 2015 and provides the best products at the best prices in the market. Other products the company offers include beauty supplies, health and hair supplies.
I contacted the company by email and sent them photos of the defective eyeglasses. Within 24 hours, the company replied and apologized for the inconvenience. They promised me they would process a refund and I would not have to incur return postage fees when returning the products to them. It looks like the company stands behind their products and provides good to excellent customer service.
Since you're here
Thanks for reading my product review. If you are in the market for prescription eyeglasses, I recommend that you see your eye professional regularly and get your prescription filled by a certified and licensed optician. Don't compromise your vision with gimmicks, gadgets or products like this claiming to give you something they cannot deliver.
As always, I will report the truth and nothing else. If you like my work, please thank me by tipping. Your generous contribution will help fund future purchases that I will review.