How to create an Online Marketplace like Amazon and eBay?
A robust online global marketplace, as powerful as Amazon or eBay, can become your source of unlimited revenue. This is the power of eCommerce, where such marketplaces have approximately $2.03 trillion of goods, accounting for over 58% of global sales.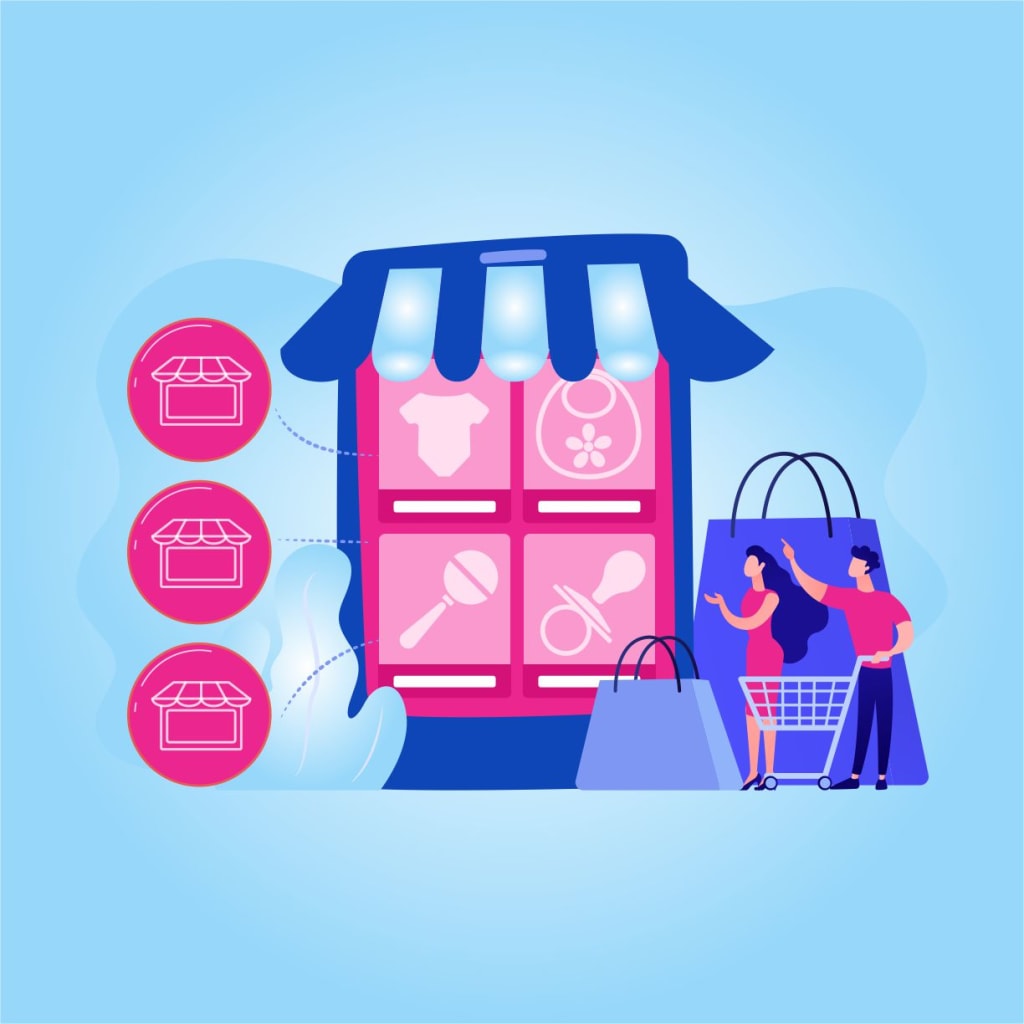 A robust online global marketplace, as powerful as Amazon or eBay, can become your source of unlimited revenue. This is the power of eCommerce, where such marketplaces have approximately $2.03 trillion of goods, accounting for over 58% of global sales.
Retail business owners and entrepreneurs – for the same reason – want to build a top-notch online marketplace like eBay, Amazon, and others? Do you want to become a next-gen eCommerce development company? Well, then you have landed on the right page.
Well, then our research on how to create an online marketplace like Amazon and eBay will be very helpful for you. But, before moving ahead and contemplating more about starting an online marketplace, let's grasp what an online marketplace is and why these are so popular these days. Let's get started!
What is an online marketplace?
An online marketplace is a relevant business model, which concentrates on easing commerce amid sellers and buyers. It diligently helps create robust connecting objectives for sells and buy products at a commonplace. These are entirely based on diversification, where a plethora of varying products and services are provided by massive third-party sellers to a group of buyers.
To say it in short, online marketplaces serve the customers and sellers through an online portal, giving both parties a way to connect, communicate, exchange services, and so on.
What are the most popular online marketplaces?
Now that you want to build superior eCommerce app development solutions, you must know about your top competitors, so here is the list:
Amazon
eBay
Alibaba
Etsy
SQUQ.com
Walmart
In these massive online marketplaces, a considerable number of sellers sell their merchandise under one app or website. Here buyers find the most competitive prices, and this is how the business grows.
Before you think of establishing a marketplace of your own, make it a point to deeply study these platforms and the features provided by them to customers, referrals, and sellers. This will help you come up with a better solution, like Amazon and eBay.
Features of the best Marketplaces Summed up
Login module, validation, account recovery facilities for sellers and buyers;
Options to add detailed Seller Account & Tax info;
Product data upload and specification setting for sellers;
Product bundling and campaign-execution facilities for sellers;
Ordering and payment facility for Buyers;
Delivery tracking;
Support services for both parties;
A powerful in-built search engine for buyers;
Product suggestions as per previous purchases/searches for buyers;
Earned money withdrawal facility for sellers.
How to create an online marketplace like Amazon and eBay?
First of all, you must figure out whether you want to build a custom-coded platform or a customized solution using existing marketplace-development aids. We would suggest you move ahead with the former if you have enough budget and time. Otherwise, start with the latter option and upgrade with the former, as your marketplace starts making money and attracting investors.
Initially, WordPress multi-vendor WooCommerce themes could be used. Shopify or BigCommerce solutions could also be your options.
Coming to further details, we summarized the feature-list for your marketplace above. You must embed those capabilities in your Amazon or eBay-like multi-vendor shop. Now, have a look at how to deploy some of those must-have elements to prepare an unparalleled e-commerce marketplace website:
Step #1: Transparent product images
Amazon, eBay, and other eCommerce platforms require brands to upload pictures as these are inevitable for driving sales.
Image frame: The product image must cover 85% of the frame
Size: It must be approx 1000 pixels either from width or height.
Color of the background: Maintain a pure white background for all the product photos while creating a marketplace like Amazon
File format: Upload the pictures in PNG, JPEG, TIFF, or GIF formats
Color mode: Both CMYK and sRGB are accredited
Therefore, while building such a website, make sure to provide a general style for pictures. These criteria, as mentioned above, will give a consistent and professional look to your entire website. Make sure you are choosing the right web development company who is renowned for offering top-notch eCommerce website development services.
Step #2: Product reviews
Genuine reviews of customers are inevitable, which can't be neglected while building a fantastic online marketplace like Amazon. Reviews are highly essential for the prospective customers to get a lucid notion of the products they are willing to buy.
Therefore, while creating such an eCommerce website, make sure to mark reviews of unauthenticated users to showcase these are unauthorized.
Step #3: SaaS-based model
Are you looking for any fastest method of launching your top-notch marketplace? It usually expels the burden of technical implementation from the entrepreneurs to its providers. It, therefore, usually evades the concerns of building its own eCommerce principles. In order to change it into the leading marketplaces, just install a plug-in for the eCommerce marketplace.
Step #4: Self Hosted
It is more convenient, quicker, and securer to create a self-hosted online marketplace. When your business grows to a giant brand, you can take this self-hosted system to your own server.
Step #5: Product videos
Product videos are worth the hype, and these are emerging gradually. Apart from showing the product image, your eCommerce website must use videos for product demonstration more precisely. It will be more lead generating and enticing! Therefore, providing a video would be a value-added amenity for those who think of building an online marketplace like eBay or Amazon.
Step #6: "Remember Me" Login
It is the most crucial checkbox for saving your login credentials, often asked by Amazon or eBay. Therefore, in order to build up an essential marketplace, all the advanced browsers provide a password recalling feature, expelling the adequacy of saving password cookies in the databases of the website. It is a relatively safer process! Therefore, follow these mandatory steps while building your site.
Conclusion: Build an online marketplace
Extensive growth of online marketplaces can be seen in the upcoming future as the world is propelled by eCommerce. As such, businesses have proved to be a prolonged initiative; therefore, it is growing faster than other business sectors.
One embellished eCommerce website fetch more traffic and provide a wide array of products to its customer; they spend more time on a site. It not only benefits vendors but also offers enormous space for smaller or bigger product sellers. Therefore, it provides a safer and high potential for earning.
If you are planning to build an online marketplace like Amazon or eBay and looking for top-notch web design services, then look no further. Technosip has earned a reputation for offering result-oriented eCommerce website development services.