How To Create An App For Your Business?
Create An App For Your Business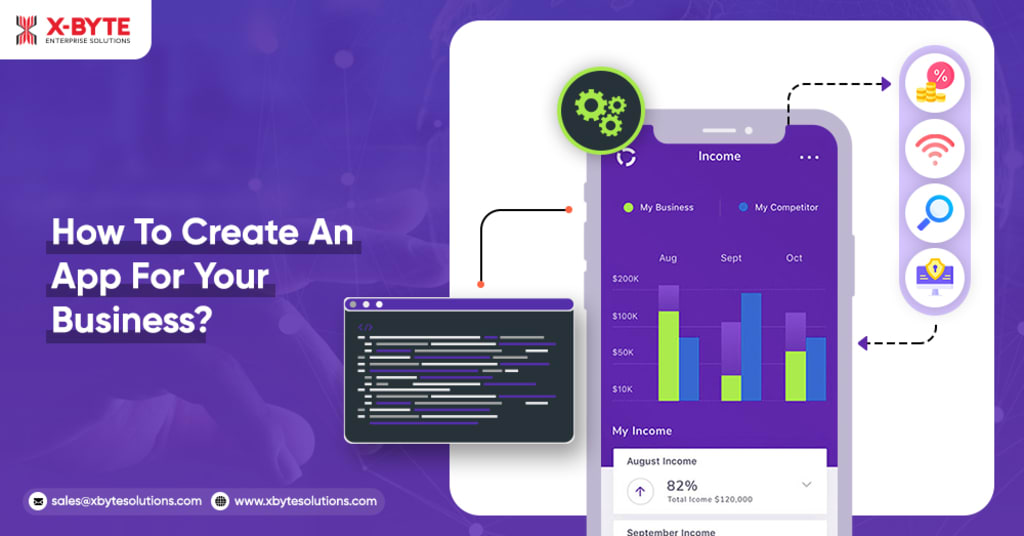 If you think your app idea is great to go and you are excited to turn it into a functional app then a reliable mobile app development company can help you develop and launch such an app.
Well, it is not easy to bring your app idea to life as it needs a lot of considerations to focus on to create an app. This blog would highlight different aspects that need to be considered for the mobile app development process.
Why Mobile Apps?
The reasons behind creating an app vary with each business venture but the main objective is to attain success. So, it is vital to understand how to build a successful app that includes
App design
App development
APIs
Back-end programming
Hosting
Launching
This blog would help you know how to develop apps in detail so that you can run a successful business
Steps To Focus On While Creating An App
Come up with an app idea
Hire app developers
Plan your budget
App development
Promotion
Support and maintenance
Now, let us focus on the mobile app development process that helps you understand the entire development process.
1. Come Up With An App Idea
You need to have an app idea that matches your business needs. You need a sketch to move ahead. With a proper business strategy and app idea, you will get desired results. So, make sure you are clear on your goals and system to build an app.
2. Determine Business Needs
Not many apps available on Google Play are successful. The idea behind creating an app should be that your app should meet the needs of the consumers. So, you need to define the goal/purpose behind developing an app.
3. Analyze Your Competition And Market
Extensive research comes out to be the key to success. It means you can look for similar apps that meet consumer needs. If you find similar apps like that of your app idea, do not worry or give up. Instead carry out in-depth analysis to understand your competition, their weaknesses, and strengths. Try to understand the app benefits and product features offered by your competitor.
4. Focus on Logistics
Want to gain more visibility for your app? You need to advertise it across different platforms. To do so a website can be the best place to advertise your app.
You need to secure your app name and ensure that no other live apps share the same name in the app store.
5. Hire Expert App Developers
After you have a perfect business strategy, you can start with the mobile app development process that needs
Excellent UI design
Perfect programming
QA and testing
Project management
Now, you need the right expertise to follow the mobile app development cycle that delivers a successful app. So, hire a team of experienced developers to work on your project. The hiring process entirely depends on your app requirements and budget. You have different hiring options like
Hire In-house Developers
Hire Freelancers
Hire mobile app development company
6. Plan Your Budget
The reason why most apps fail to perform is the budget constraint. When enterprises or businesses have insufficient funding they may end up building an app that doesn't solve the business purpose. So, you need to consider mobile app development cost based on your hiring options. For example, if you wish to hire an in-house team, freelancers or a mobile app development company make sure you get quotes from them. You can ask for quotes from multiple app development agencies and then shortlist the ones that have a record of building successful apps.
7. Choose app name
When you think of an app the name matters a lot, so while choosing the perfect name for your app you can keep the following things in mind
App name should represent the brand image
App name should be unique, easy to pronounce and remember.
Assign a name for your app that compliments the interests of your customers
8. App design customization
When it comes to customization of your app you need to focus on the following aspects
App layout
App icon, splash screen, and background
Fonts and colors
9. Test your app
Now, you have reached the stage where mobile app development services working on your project will carry out a Quality check for your app. The quality assurance (QA) process helps ensure the functionality, security, and stability of your app.
The QA team would use different tools and best practices to test your app from different aspects. They will test the performance of your app to check if it loads faster. Security checks will be carried out to check for vulnerabilities that may be responsible for data threat
10. Install your app
Next, you need to install your app on the app store. To do this you have to submit the app on relevant platforms. For example, Android needs to be submitted on Google Play whereas the iOS app needs to be submitted on Apple App Store. After submission, your app will go through review. Google will take a couple of hours to review and approve the app. On the other hand, Apple takes nearly a week to review your app as it has a strict review process.
You should arrange for training sessions with outsiders or employees if you have an enterprise app
11. Promote Your App
When there are millions of apps on the app store, your app may not be found amongst the crowd organically. So, you need to create a promotional strategy to help your audience find your app via other promotional channels.
You can create an audience base through social media, paid campaigns, content marketing, etc.
12. Support And Maintenance
Once you launch your app successfully and see more and more downloads with excellent feedback the next step is to focus on its maintenance.
The job doesn't get over only with the success of your app as you need growth in the long run. Looking at mobile applications development it is a continuous process. There is always scope for improvement. So, make sure you stay updated with new market demands, work on feedback and tune into the latest technology.
App maintenance should include bug fixes and security updates. Make sure your app supports the newest versions of Android and iOS operating systems.
Conclusion
Well, it takes a lot of effort to build an app. You need the right expertise, right plan, goal, and other factors mentioned in this blog to build a successful app and monetize it to generate revenues.
We cannot deny the role of expert mobile app development services as they help you get an app that meets your business goals. If you are searching for an experienced mobile app development company to help you follow the right development cycle and deliver quality apps then connect with X-Byte Enterprise Solutions to get a secure and robust app for your business.
| Read Original Blog Here: Mobile application development company USA
| Contact us: +18322517311
| Email us: [email protected]
apps
About the author
X-Byte Enterprise Solutions is a progressive technology company aiming to enrich businesses, startups, and enterprises with cutting-edge development and technology services.
Reader insights
Be the first to share your insights about this piece.
Add your insights