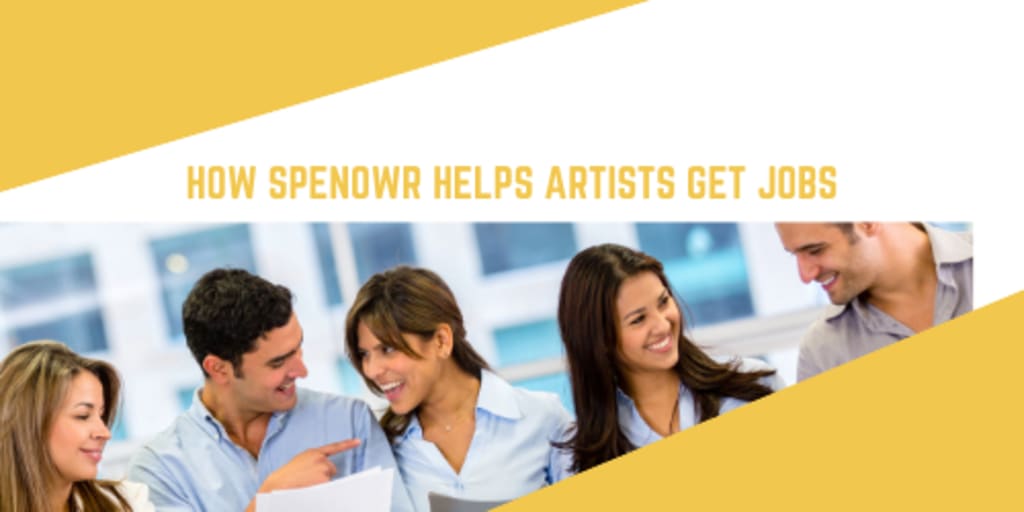 Having a great artistic job is one of the best feelings in the world. The job search process paid off, and you're thrilled by all the challenges your new role has to offer. What can you say? You love your job, and looking for a new job is the first thing on your mind.
Contrary to most popular opinion, creative jobs are both high paying and in high demand. If you are creative by heart but also want to earn something, here are a few career options for you.
As humans, we're born with unique talents and qualifications; or we develop new talents and best them with time. It could be art, craft, writing, dance, singing, photography, and everything in between. But do you have a platform to showcase your aptitude? If not, you're in the accurate place, as Spenowr can help you out.
Spenowr is a professional network and e-commerce marketplace built for the creative industry that empowers individual artists, institutes, and businesses to showcase their creative portfolio, look for jobs or hire creative professionals, participate in contests and earn through royalty/rewards. It is a one-stop platform for artists like you to gain recognition for your work.
Spenowr will help you to do workshops and projects every month. We also host art and craft classes and soon are planning to organize content writing and painting workshops. You can post a job as per your interest. After a job post, another artist can contact you through our platform. In our recent projects, spenowr will hire different artists like mural artists, Kalamkari artists, and Madhubani artists also.
To start your upskilling journey and to connect with some like-minded people, sign up for the Spenowr community today.
STEPS
Spenowr is widely used by the general public to look for artists for events as well as training or workshops. It allows artists to apply for open job opportunities, which helps them grow with revenue and stay active in the job market.
Create a post about your product/ business on Spenowr
Make a post with an appropriate caption, under the category and subcategory
Discuss with the creator artist
Here is the first step: you have to choose 'MY ASSIGNMENTS' from the 'JOB ASSIGNMENTS' from the sidebar menu of the profile.
By clicking on 'MY ASSIGNMENTS', you will come across a field written 'PROFILE PHOTOGRAPHY ASSIGNMENTS', under which you will find the option 'ADD ASSIGNMENT', click on that to add an assignment. Then a form will open, just like below.
Let's discuss each field briefly so that it will be easy for you to understand the importance of each field and you can add them properly & you can follow the below images to understand better.
Looking For: Choose the check box here.
Assignment Title: Choose your job title here.
Description: Here you can add a detailed description, including the terms and conditions of your assignment.
Category: Choose your assignment category here.
Fill in your details. After putting in your details, click on the "ADD" button.
After putting all details, you will see a successful alert message that your assignment added.
You can edit your assignment by clicking the "EDIT" button.
You want to delete your assignment by clicking the "DELETE" button.
If one dancer wants to join your proposal then he/she can follow the below steps to reply:
Click on "JOB OPPORTUNITY" under "MORE" to see the proposal list.
Or After clicking "What's new", you will see the 'JOB OPPORTUNITY SECTION. Tick on the button you will see a list of proposals.
Click on the link "more"(written in red color), you will get details of that job opportunity.
After clicking the comments, then a proposal form will open, just like below.
Bid Price: If you are a dancer what price do you need to put here?
Bid comment: Put your comment here. Click on the submit button to put your proposal.
By clicking on 'MY SUBMITTED BIDS', you will come across a field written 'SUBMITTED JOBS PROPOSAL', under which you will see your proposal list.
If the user(who is posted for a job) wants to see & reply to that proposal of a dancer she/he can follow the below steps.
Click on the "Assignment proposal" to see the proposal list.
By clicking the "reply" button a form will open where you can see your proposal list.
About the Creator
Spenowr is a professional network and e-commerce marketplace built for the creative industry to showcase creative portfolio, buy / sell creative products through marketplace, offer custom trainings or services, look for jobs.
Reader insights
Be the first to share your insights about this piece.
Add your insights