How international media covered the Zaman Park clashes
The media portrayal portrayed the PTI leader as having a difficult road, even with strong backing from his party members.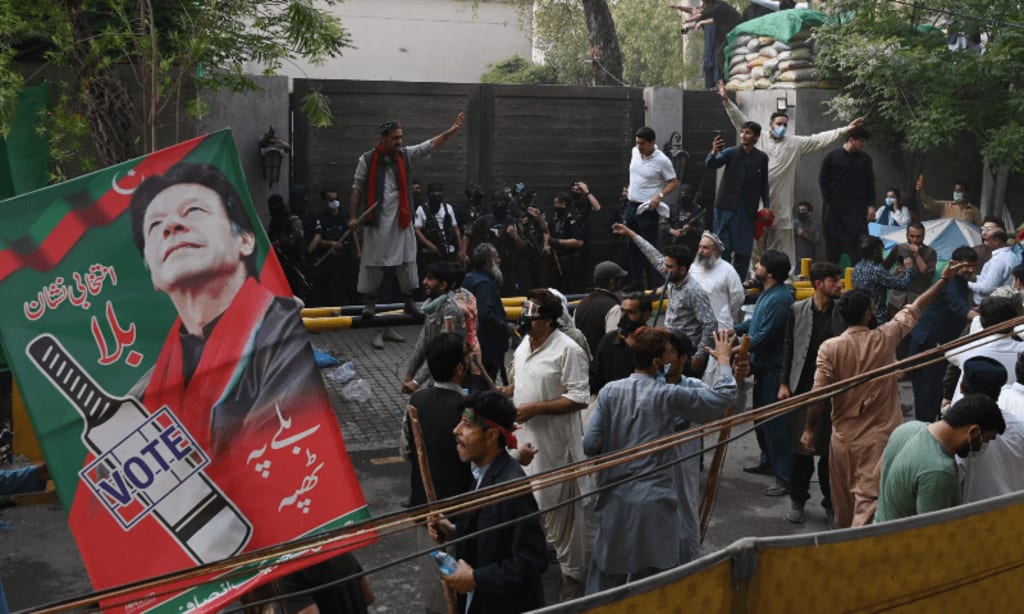 How international media covered the Zaman Park clashes?
The ongoing standoff between the forces and party supporters not only upended Pakistan's political system but also made headlines across the globe, according to the PTI, who claimed that Imran Khan's Zaman Park residence in Lahore was "under extreme attack" by law enforcement officials who had been there since Tuesday to arrest him.
The coverage presented the PTI chief as facing a difficult journey, despite having a lot of support from his party members, with headlines emphasising the violence outside Imran's home and Imran's unwillingness to accede to the police demand.
US media
Mayhem outside Imran Khan's home as supporters clash with police trying to apprehend the former Pakistani leader, according to CNN's live report.
It included Marriyum Aurangzeb, the minister of information, disputing claims that the government was involved in the arrest: Pakistan's information minister "denied any political role in the case.
CNN

A statement from Tuesday's conversation with Foreign Minister Bilawal Bhutto Zardari was also made by the media outlet: Appearing on Comedy Central's The Daily Show, Zardari claimed that Khan had repeatedly declined to show up in court and defend himself, frequently claiming that he is "too important" to go to trial.
"What we've witnessed over the past few weeks has been an utter disgrace to the Pakistani court system, the rule of law, and the constitution,"
"Imran Khan fans battle Pakistan police out to arrest him," read the headline on Bloomberg.

"Pakistani police clashed with Imran Khan supporters outside the former premier's home as security personnel tried to arrest him for the second time, intensifying a political crisis that's overshadowing the country's economic turmoil," it stated.
Then, the phrase "Pakistan court calls off Imran Khan arrest for the night" appeared in a headline discussing Wednesday's judicial events.

UK media
According to Aurangzeb, Imran Khan was using his party members, women, and children as human shields to avoid capture and incite disturbance. This was stated in the BBC article "Imran Khan: Pakistan's former PM decries arrest attempt amid violence."

There was a tense scenario outside his compound in the city of Lahore on Tuesday when police sought to force their way in, the report stated in describing yesterday's confrontations. Police used tear gas to scatter Mr. Khan's supporters who were hurling bricks and stones.
Sky News was another media organisation to interview Imran via a video call as police outside his home faced PTI supporters guarding him.

stated: "Mr Khan, 70, has ignored a string of warrants for multiple alleged crimes including terrorism charges, concealing his assets, and illegally selling state gifts he received during his term as premier."
"When questioned about the episodes of violence, Mr Khan told Sky News that if he is arrested he has told his supporters that 'violence doesn't suit us."
Al Jazeera
Al Jazeera, located in Qatar, kept a live blog of the events, which is no longer active. Imran Khan claims that the detention is intended to rig the election in Pakistan.

"They (police) indicated he would be detained by the end of Tuesday yet the day passed without his arrest," was noted in the live blog's report.

Indian Media
Since yesterday, The Indian Express has also been maintaining a live blog that offers an in-depth insight at the continuing skirmishes.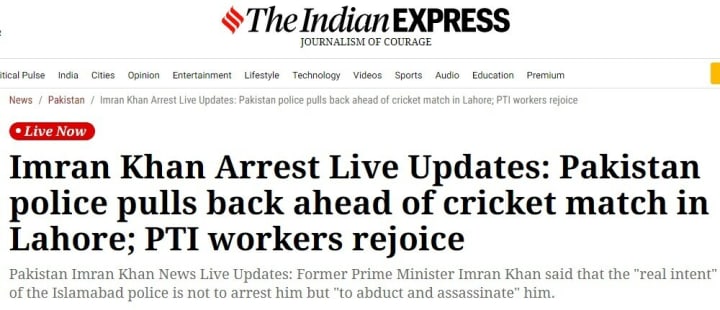 "Images of empty pistol cartridges, reportedly shot by the police, are being circulated on social media," it reported, recounting the battles. Islamabad, Peshawar, Karachi, and Rawalpindi are just a few of the main Pakistani cities where demonstrations have recently expanded after Khan urged his followers to keep up the struggle against the government.
"Clashes between Pakistan Police and Imran Khan's followers as authorities try to arrest him," the Scroll.in headline read.
Reader insights
Be the first to share your insights about this piece.
Add your insights