How does Point Cloud to BIM Benefit Renovation Work in the Construction Sector?
Point Cloud to BIM modeling, on the other hand, has been a great help in restoring historic buildings.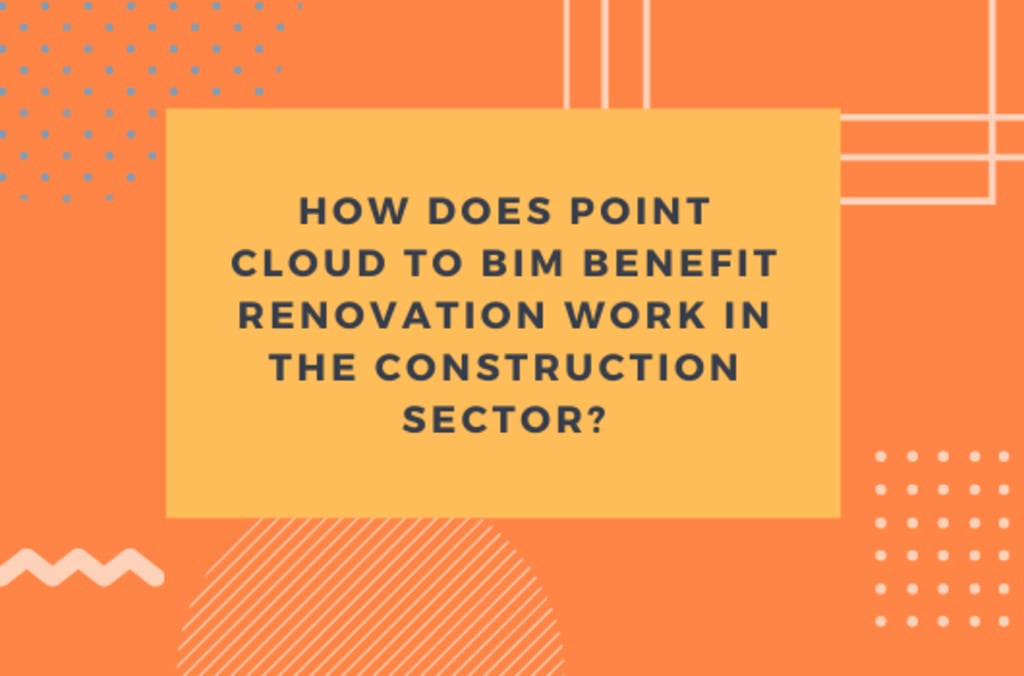 Point Cloud to BIM Benefit Renovation Work in the Construction Sector
The traditional methods used in construction were always susceptible to errors and time-consuming. It was impossible to expect exact results for every construction project. Point Cloud to BIM modeling, on the other hand, has been a great help in restoring historic buildings. It is easy to identify errors early in the process. This reduces the overall cost of the project and ensures a smooth construction process.
Point Cloud to BIM services is gaining importance and growing in the AEC Sector. Conversion involves capturing parts of structures using 3D laser scanners and then bringing them together with a single platform or software to create images. With the help of BIM software such as Autodesk Revit, these images can be converted to .rcs and .rcp formats so that they are easily accessible from anywhere in the world.
This blog will focus on the Point Cloud to BIM service and its benefits for renovations in different industries.
Images and models created manually can be inaccurate and take a lot of time. Point Cloud to BIM, on the other hand, allows for more detailed images of buildings. By allowing stakeholders to see the model in 3D, Point Cloud to BIM models they can help to identify and resolve conflicts early. It also suggests modifications to the structure.
High accuracy of measurements
This is one of many important benefits of Point Cloud to BIM services. Digital documentation is now possible for both residential and commercial buildings. It is also possible to safely restore heritage structures and buildings. These documents can be saved for many years. This reduces paperwork and manual effort. This data can be used by BIM Consultants for future projects, if necessary.
Effective Decision Making
Point Cloud to BIM Service makes it easier to determine the requirements for renovations and other changes. BIM Consultants can make faster decisions thanks to it. It allows for easy design creation, as it adheres to industry standards and norms set by the government. There are many benefits to this service, including upgrades to fire safety systems and HVAC Systems.
Point Cloud to BIM is a reliable service that provides a BIM Model. 3D laser scanning gives you a clear view of the structure of the building. The 3D BIM Model includes beams, doors, and columns as well as many other critical parts. A 3D model, which covers every aspect of the structure is created, ensures accuracy and fewer complications during construction.
Formats such as .rcp or .rcs can be accessed from anywhere in the world. These formats can be accessed from different devices and platforms. It is easier to coordinate and share all details about the model. All changes made to the model are immediately reflected. Stakeholders and engineers can communicate to gain a better understanding of the model that will be used in the restoration or renovation project.
You can renovate from a safe distance
It is not necessary to physically visit the site when we create a 3D Revit Modeling. The 3D model is available to all team members and stakeholders. They can access it from any location in the world. It allows workers to work in a comfortable environment and is safe for their health. By working in a controlled area, hazards on the job can be identified and addressed.
Build intelligent design models
Point cloud data is information about the as-built models that can be used to create intelligent design models. The result is a high-definition Point Cloud to BIM solution that can be utilized to its fullest extent by all stakeholders. Key elements like columns, beams, roofs, pipes, etc. It is possible to model the elements in detail and make informed decisions regarding retrofitting or maintenance. This helps to reduce overall costs and encourages intelligent work within the company.
3D BIM Models, which are converted from point clouds scans, provide precise and detailed information about the structure. This information is a reflection of all aspects of buildings. This information helps engineers and architects to better understand the properties of particular materials. The information can be accessed by all stakeholders. The integration of the point cloud into the model makes this possible. It reduces the need to request information (RFI) and also reduces time and cost.
Conclusion:
You will see the value of Point Cloud to BIM services in construction by reading the above benefits. It saves time and money by renovating specific areas of a building. Point Cloud to BIM allows for faster point cloud registrations as well as 3D BIM models. This creates an ecosystem in which stakeholders can share data across borders and access it. This data can also be used in future renovations.
About the Creator
CHCADD Outsourcing is BIM and CAD Outsourcing Services provider company that provides Architectural CAD Drafting Services across the globe. For more details, mail us today at [email protected] or visit www.chcaddoutsourcing.com.
Reader insights
Be the first to share your insights about this piece.
Add your insights