From 2014 to 2019: How the Adani Group funded its expansion
In three of its six listed companies, cash flows from financing activities like lending and borrowing are larger than those from investing or operations.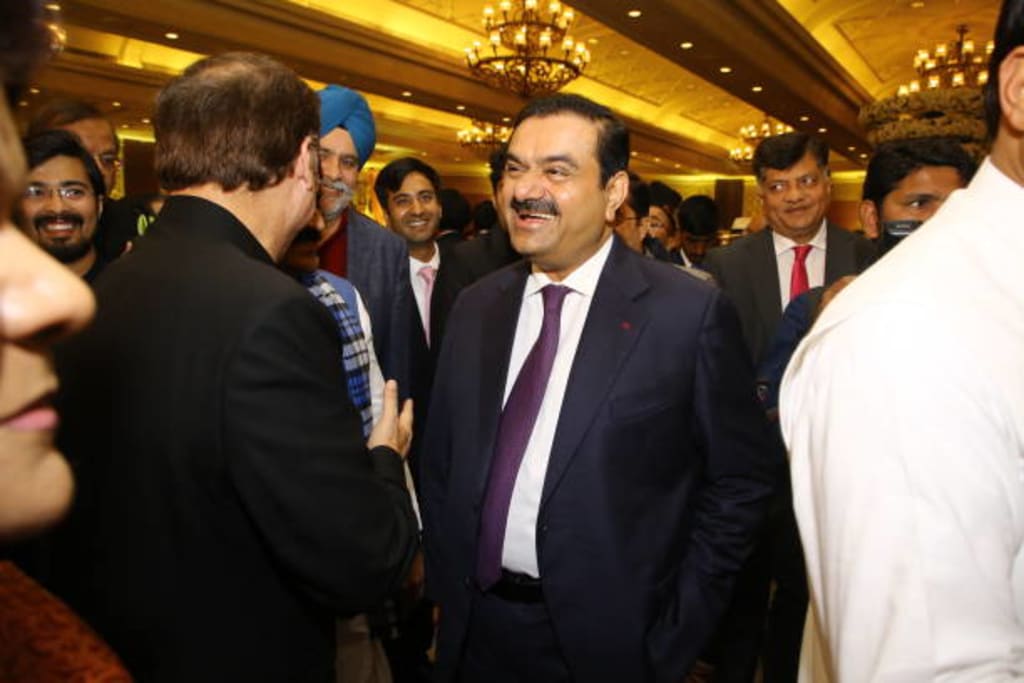 Over the past five years, the Adani Group has expanded its presence across India. Not only is it the country's largest private port operator, coal importer, coal miner, private power producer, city gas distributor and importer of edible oils, it has also expanded into airports, urban water management, small and medium sector lending, power transmission and distribution, data centres, aerospace and defence.
Other behemoths of the Indian economy such as the Mukesh Ambani-led Reliance Group and the Tata group of companies have firms like Reliance Industries and Tata Consultancy Services that generate large revenues, which helps them fund their expansion plans. But the Adani group lacks a similar cash engine.
The Adani Group's six listed companies, which account for almost all of its Rs 77,000 crore turnover, had operating profits of Rs 20,141 crore in 2017-'18. After accounting for interest payments, tax, depreciation and other charges, their combined net profit stands at Rs 3,455.34 crore. Despite this relatively small amount, the Adani group has expanded aggressively – buying projects from other companies, starting new businesses and investing in existing ones.
Said a professional with an intimate understanding of the Adani Group's finances, who did not want to be identified: "All listed companies are growing at their own pace. Ports is a big business. So is [power] transmission."
Asked how is it funding this growth, an Adani spokesperson said in an emailed response: "These are funded from internal accruals in the businesses as well as external borrowings from traditional financing markets as well as capital markets."
To understand better how the conglomerate has funded its expansion, Scroll.in examined the financial statements of several Adani Group companies.
Scroll.in started with the group's six listed companies: Adani Enterprises, Adani Ports and SEZ, Adani Power, Adani Transmission, Adani Green Energy and Adani Gas. The financials of the unlisted group companies – filed with the Registrar of Companies – that transacted with them between 2013 and 2018 were also scrutinised.
These documents offer several insights into the group. The group is increasingly raising money from overseas. It also raises a lot of money within India – in the form of bank loans, borrowing against shares and pledging assets.
Notably, this money circulates within the group through a high-density of "related party transactions" or transactions between companies that are connected.
For instance, Adani Group subsidiaries borrow money by offering the shares they hold in listed group companies as security. Sometimes, they use these borrowings to purchase equity in sister companies – even those in unrelated businesses. They also lend this money to group companies. Step-down subsidiaries – or the subsidiaries of group companies – pledge assets and raise money, which is then loaned or invested in group companies.
Taken together, these transactions present the image of a group that has taken larger bets on growth than other companies could have, seeking to capitalise on a set of favourable factors – including perceived proximity to political power, access to capital and a dip in fortunes of rival companies in the infrastructure space.
Here are six ways in which the group raises money – and what financial sector experts and Adani Group officials have to say about them.
1. Companies buy shares in other group firms, even if they are in unrelated businesses
One example of Adani Group companies investing in other group companies can be seen in the financial statements of Adani Transmission, one of the six listed companies of the group. Incorporated in 2013, it is in the power transmission business.
In 2015-'16, Adani Properties, a subsidiary of Adani Enterprises, bought a 9.05% stake in Adani Transmission, even though the two firms are in very different businesses. The financial statement of Adani Properties for 2015-'16 states that "the main object of the company is to let-out and/or lease immovable properties".
ADVERTISEMENT
The next year, another group company, Parsa Kente Rail Infra, bought another 9.05% stake in Adani Transmission. Parsa Kente, incidentally, is the name of a coal block Adani is mining in Chhattisgarh. In 2017-'18, Adani Properties exited Adani Transmission but Parsa Kente Rail Infra, now renamed as Adani Tradeline, continued to hold a stake.
The person familiar with group financials traced these transactions back to a group overhaul. Five years ago, the group had one listed company, Adani Enterprises, which counted all group companies as its subsidiaries. It now has six listed companies: Adani Transmission, Adani Power, Adani Ports and SEZ, Adani Enterprises, Adani Green Energy and Adani Gas. All six are controlled by the Shantilal Adani Family Trust.
"Adani Enterprises now deals mostly with coal but also functions as an incubator for the group's ventures," he said. According to him, while the group's other listed companies invest only in their subsidiaries, subsidiaries of Adani Enterprises invest across the group. "The companies you mentioned – Adani Tradeline, Parsa Kente Rail Infra, etc – are all subsidiaries of Adani Enterprises," he said.
Investments through these companies, he said, facilitated Adani Transmission's acquisition of Reliance Transmission. "Adani Transmission got perpetual equities [a form of equity that promoters can buy back whenever they want] from the promoter," said the person familiar with Adani's finances. "[The promoters] will get the money if and only if equity is raised."
The website of Adani Infra describes it as the group's in-house EPC or engineering, procurement and construction arm. The company is also notable for two other reasons.
A subsidiary of Adani Enterprises, it raises a high quantity of funds for the group. In 2017-'18, it raised debt worth Rs 15,048 crore. These loans were raised by offering shares in group companies as security cover.
A part of this money was used to pay back earlier loans. The rest was given to group companies – as loans, equity (shares) or quasi-equity (preference shares). Referring to money raised by the firm, an analyst report dated January 30, 2019 by Brickwork Rating said: "The same is raised for providing loans and advances to Group companies, or investing in their equity or instruments."
According to a former board member of Union Bank of India, who spoke on the condition of anonymity, there are two concerns here. First, Adani Infra is able to borrow despite being highly indebted. In 2014-'15, Adani Infra had equity of Rs 57.64 crore but almost Rs 2,185.18 crore of borrowings, which means just 1/38th of the money in the company came from its promoters – the rest was all borrowings. Despite that, the company has kept borrowing. In 2017-'18, for instance, it had Rs 84.87 crore in equity but Rs 9,008.5 crore of total borrowings.
Brickwork rated the company's non-convertible debentures (bonds issued by firms to investors promising a fixed return, which cannot be converted into shares) as AA-, close to the second-highest rating, even while acknowledging the firm's high leverages, its "reliance on promoter funds, refinance or, alternatively, liquidation of the securities" to meet the payment. (The firm has a total of eight rating scales for debt instruments like NCDS, AA is the second highest).
Why do banks continue to lend despite high indebtedness numbers? A senior official at SBI-CAPS said: "A previous boss of mine had told us to look at the promoter, project and results before deciding to lend. If the promoter is good and the project is bad, even then we might get our money back. That is what you have here."
Countered the former board member of Union Bank: "Borrowing for equity investments is a no-no. When even the equity is money borrowed from banks, the promoters have no skin in the game."