Fiber Internet: The Future of High-Speed Connectivity
Exploring the world's break-through new internet technology.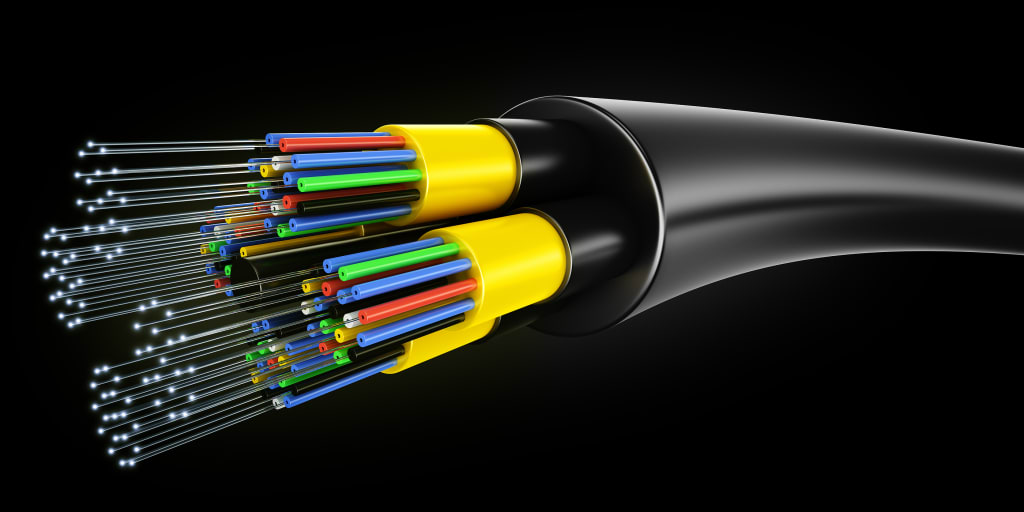 For many years, people have used the internet to stay connected, and businesses have used the internet to reach more customers. There are many forms of the internet, and fiber internet is most beneficial in society. Most people learn about fiber internet whenever people discuss cellphones, cable television, and the internet. However, there is a lot more to fiber internet than what people generally discuss.
What is Fiber Internet?
Fiber internet is a technology that makes use of an optical fiber that is similar to the fiber used in communications and television. Fiber internet is by far the best residential internet service type available today, usually boasting greater speeds and reliability over satellite, cable, and dial-up internet. It also has many advantages over dial-up and other broadband connections, such as a higher reliability rating.
Fiber internet is an incredibly fast way of transmitting information between two locations by transmitting light pulses through an optic fiber. The light is also a modulated form of a carrier wave to carry data. The pulses are made up of electromagnetic energy, and light waves are sent down the fiber optic cables to their destination. These data are then converted into electronic signals by receiving and amplifying them with a receiver.
For people who use computers or laptops, getting an internet connection using this technology is difficult. With fiber internet, you have to make sure that you have fiber optic cable compatible with your computer. You will not be able to get this type of internet connection if you do not have these cables because this will prevent the data from being transmitted through the cables.
Benefits of Fiber Internet
The first benefit of fiber optic technology is transmitting a signal more clearly than other broadband services. This can be seen clearly in videos and television shows. The clarity of these signals can be greatly improved by having a high-speed connection. This is particularly true with the use of fiber optic.
Another benefit of fiber optic technology is that it can provide high levels of data transmission. Unlike cable connections, the information transmitted from your computer will not drop off or get interrupted. This means that all information will remain steady, even while traveling at high speeds over long distances.
The technology also makes it possible to transmit data through different obstacles. For example, a fiber-optic connection can transfer data between your computer and the internet without losing quality because the signal remains clear even in the most intense environments. The signals can travel through walls and floors, so there is no need to worry about damaging your hard drive. These two advantages make fiber optic an ideal option for consumers and businesses, especially those who require high-quality connections at a low price. If you're interested in learning more, talk to your local fiber optic internet provider.
Types of Optical Fiber
There are various types of optical fibers available in the market. Each fiber has different characteristics, and the internet service provider must select which fiber they want to use for their network. If a service provider wants to use more than one fiber type, they have to buy several of them. To get the best and cheapest rates for their fiber optic internet connection, an individual should make sure that they go with a service provider that offers both kinds of fibers.
Once an internet service provider has the best and cheapest rates and the best types of optical fibers available, they are ready to start the installation process. This can be done in various ways, such as wiring by themselves. They can also hire a professional to wire the whole system or use third parties to wire the system. Both options are equally effective, but the more expensive option is better in efficiency and reliability.
Once the system is installed, the internet providers connect their Optical Fiber Residential internet connection directly to the computers through the computer's USB ports. This means that the entire system is in a digital mode. As a result, the user is not receiving the average internet signal through the telephone lines. Instead, they will receive the signals of the internet through the optical fibers from the computer.
The Future of Fiber Internet
As technology advances in the future, fiber internet will become more advanced as well. One significant advancement would be the increase in internet speed with the combination of fiber internet and Wi-Fi. People can expect internet speeds of 100 times more than the current speed. With faster internet, people and companies will benefit from this advancement.