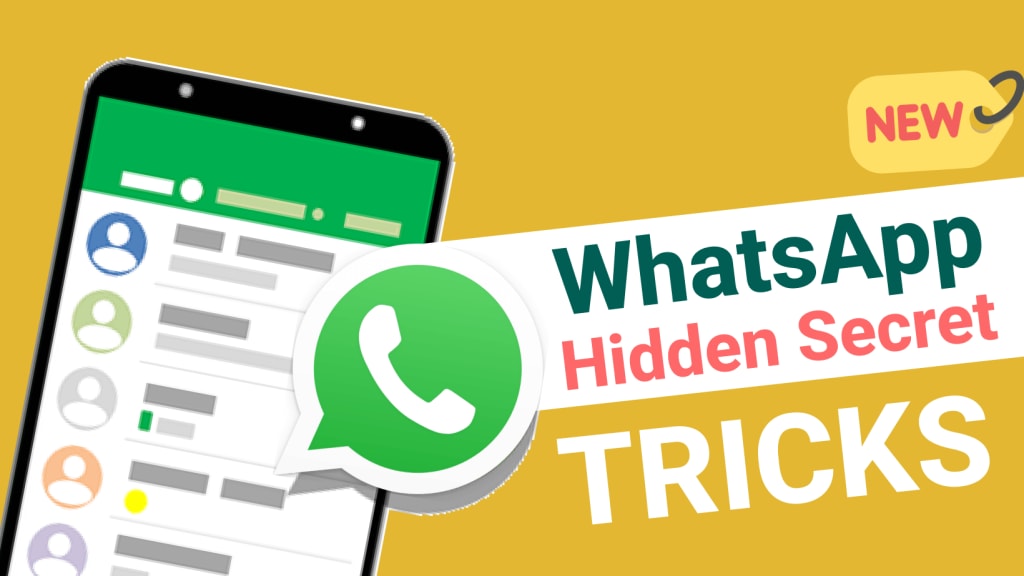 Here are some of the best tricks for WhatsApp:
1. Bold, Italic and Strikethrough: To format text, you can use asterisks (*) for bold, underscores (_) for italic, and tildes (~) for strikethrough.
Example: This text will be italic
2. Quote messages: To quote a message, simply reply to it and the quoted text will appear in your reply.
3. Hide last seen: To hide your "last seen" status, go to WhatsApp Settings > Account > Privacy, and turn off the "Last Seen" toggle.
4. Pin chat: To pin a chat to the top of your chat list, long press the chat and tap the pin icon.
5. Mark as Unread: To mark a chat as unread, long press the chat and tap the "Mark as Unread" option.
6. Use WhatsApp Web: You can use WhatsApp on your computer by accessing the web version of the app at web.whatsapp.com.
7. Use WhatsApp without a phone number: You can use WhatsApp on a tablet or iPad by installing it via the App Store and verifying your account using a landline number.
8. Send large files: To send large files or folders, use third-party cloud storage services like Google Drive or Dropbox and share the link with the recipient in a chat.
9.Archiving Chats: You can archive chats to declutter your chat list and keep important conversations easily accessible.
10. Bold, Italic, and Strikethrough Text: To format text in bold, italic, and strikethrough, you can use specific symbols to surround the text.
11. Starring Important Messages: You can star messages to save them for easy reference later.
12. Custom Wallpaper: You can set a custom wallpaper for your chats to personalize your experience.
13. Two-Step Verification: You can enable two-step verification to add an extra layer of security to your WhatsApp account.
14. Mute Notifications: You can mute notifications for specific chats or groups to avoid distractions.
15. Send Large Files: You can send large files up to 100 MB on WhatsApp, making it easy to transfer large files with friends and family.
16. Hidden Emoticons: You can use hidden emoticons to express your emotions in a fun and creative way.
17. Hide Blue Ticks: You can turn off the read receipt feature to hide blue ticks and protect your privacy.
18. Bold, Italic, Strikethrough: You can format text by adding asterisks before and after the text. E.g. bold, italic, .
19. Pin Chat: You can pin important chats to the top of your chat list by tapping and holding on a chat, then selecting the "Pin" option.
20. Archive Chat: To keep your chat list organized, you can archive chats you no longer need to see by swiping left on a chat and tapping the "Archive" button.
21. Use WhatsApp Web: You can access WhatsApp from your computer by scanning a QR code on the WhatsApp Web website.
22. Group Invite Link: You can create a link to invite people to a WhatsApp group. To do this, go to the group chat, tap the group name, and then "Invite to Group via Link."
23. Send Documents: You can send PDFs, Word documents, and other files by going to the "Attach" button and selecting "Document."
These are some of the best tricks you can use on WhatsApp. Try them out!
Reader insights
Be the first to share your insights about this piece.
Add your insights