Email marketing software platforms 2020
Email Marketing Platforms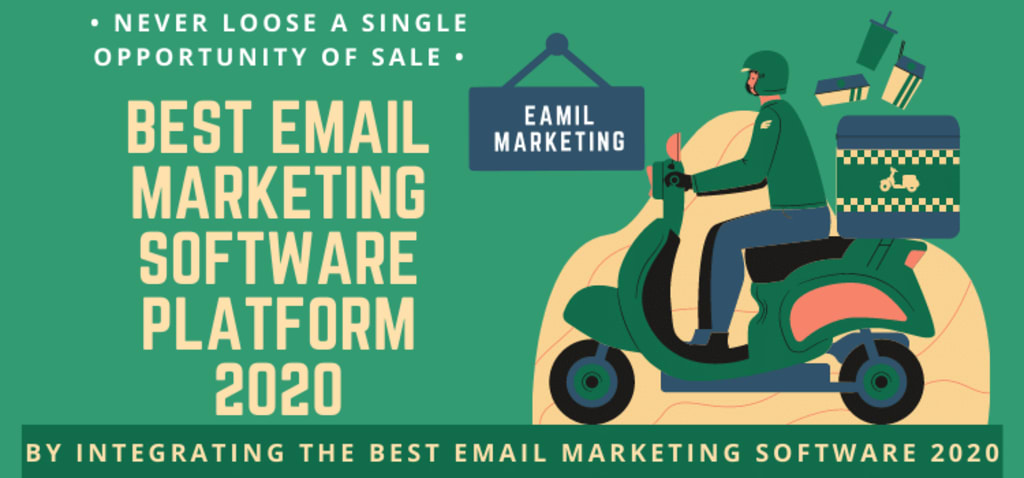 Email marketing software platforms have been one of the popular tools for digital marketing from a few decades now. Yet these platforms are only growing in importance each day. More than ever before these email marketing software platforms are investing more into making their email marketing tools a robust software to communicate and track marketing campaigns.
In this article, I will provide you with a few basics of email marketing, what are email marketing software and their advantages. I have also conducted a study and compared several email marketing tools and made a list of top 10 email marketing software platforms for the year 2020.
If you are in the phase of planning to start a blog and would like to know more it, we have created a definitive guide on how to start a blog in 2020. For those who want to build a website from scratch but no knowledge of coding, it is fine! We have a list of Top 7 Website Builder which can help you to build websites like a breeze.
What does Email Marketing mean?
Email Marketing is a process by which a company or brand communicates with its customers with objectives of engaging, building loyalty and for brand awareness. So companies send out these commercial messages for a group of people that include advertisements, solicit sales, etc.
Email marketing came was introduced when Digital Equipment Corporation broadcasted a list of customers with mails in the late 1970s. Several studies conducted in various marketing platforms in recent years have also shown that email marketing is the most effective method for them to send out their marketing campaigns using the latest email marketing software platforms.
What are Email marketing software platforms?
Email marketing software platforms are tools that help marketers to manage, send and track marketing campaigns sent via mail.
Manage Marketing Campaigns:
One of the main objective of using Email marketing software platforms is to manage campaigns which are cumbersome task to do manually. These days leads are generated at various platforms like website, apps, social media, inbound queries, etc. with the use of API technology these platforms collect the user information and build a database of contacts.
These platforms not only create a contact list but also automatically grouped according to the customised rules set by the marketers. These platforms also keep a database of emails to be sent to each group of customers at regular intervals.
Send Email Campaigns:
Nowadays out inboxes get flooded with marketing emails. Over time we mark few mails as spam and unsubscribe from a few mailing list. Delivering emails to the inboxes without sending spam signals is a crucial task for these email marketing software platforms. Incase email platforms like Gmail, Yahoomail, etc. feel the source of emails and the content is not safe for users, then mails might be blocked.
So these email marketing software platforms bridge the gap of checking spam signals, email delivery to the inbox, etc.
Tracking Marketing Campaigns:
Email marketing campaigns are ineffective if we do not know how it has performed. We must know if a particular campaign was effective, else we will have to change the strategy.
It is not possible to get detail metrics of emails sent out through regular email service.
Email marketing software platforms track various metrics for every marketing campaign.
Some of the useful metrics are the number of delivered emails, the number of emails opened, and the number of users clicked. These metrics help us to gauge the effectiveness of our marketing campaigns.
Advantages of Email marketing software platforms
• Design emails: These days, marketing emails are created with animations and other visual effects, using programming languages. Creating such emails will take time with manual coding and not an easy task. These email marketing software platforms help in readymade email layout and also drag and drop option to design emails.
• Automate email campaigns: From the time of lead generation at any platform, marketers can schedule an automatic group of emails to be sent to customers without any manual effort.
• Grouping of customers: The database of contacts can be used to group customers and then send email campaigns according to the need.
• A/B Testing: Some email marketing software platforms allow A/B testing for email campaigns so that we can take an informed decision and then use the same mail to other customers.
• Cost-effective: Email marketing software platforms are cost-effective compared to allocating other resources to do the same task. Accuracy and reliability of these platforms, cannot be matched.
Top 5 Email Marketing Software Platform
There are more than 200 email marketing software platforms in the market. Choosing the best email marketing tool out of this endless list will be a very confusing task for anybody.
We have made a list of Top 10 email marketing software platforms for the year 2020 to make your work easier. We have analysed their features, taken user reviews into account and also pricing.
1. Constant Contact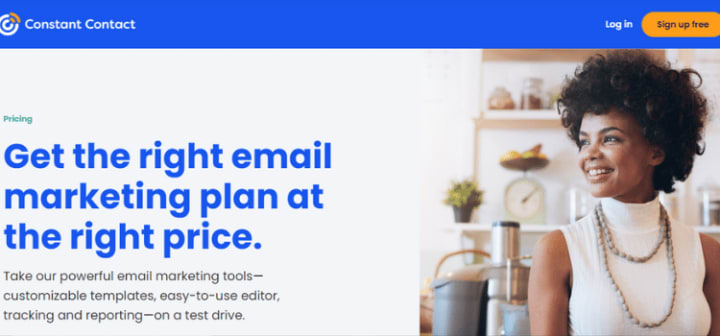 Constant Contact is the best email marketing software in our list of top 10 email marketing software platforms. This platform is one of the oldest players in the field of email marketing.
Features & Pros of Constant Contact
• Design emails: You can design highly engaging emails with 'drag & drop' option. They also provide hundreds of templates for your reference and customise them according to your need.
• Email Automation: Automated emails can be scheduled, and delivered to leads, with various triggers.
• Resending emails: Constant Contact will resend an email after a few days in case an email was not delivered.
• Contact Segmentation: The platform has a robust method of segmenting contact details of customers.
2. Sendinblue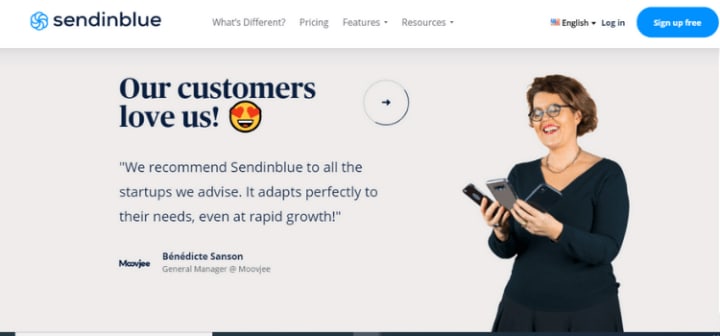 Sendinblue is the next on the list of top 10 email marketing software platforms. This email marketing tool is one of the most popular email marketing tools in Europe. Let me give you a complete list of features and prices for this tool.
Features & Pros of Sendinblue
• Communication channels: Sendinblue uses a variety of communication medium, unlike most email marketing software platforms. This email marketing tool can run campaigns via emails, SMS and also supports live chat.
• Inbuilt CRM: Sendinblue has an inbuilt CRM, which helps in keeping all your customer details within the platform.
• Transaction Emails: This email marketing tool supports transaction emails which ensures deliverability of the emails.
• Landing Pages: Sendinblue supports the creation of landing pages for each campaign to increase user engagement.
3. Hubspot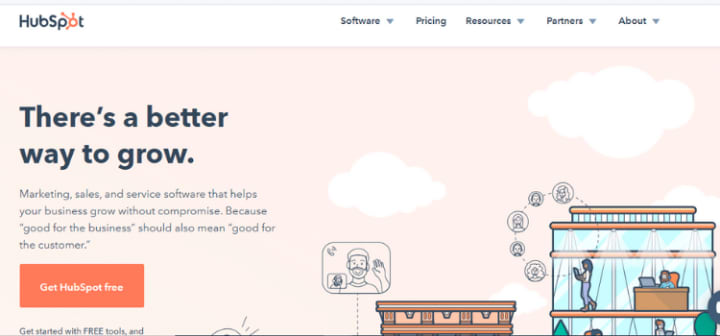 Next favourite email marketing software in our list of top 10 email marketing software platforms for 2020 is Hubspot. Hubspot has been in the field of marketing services for quite some time. Apart from an email marketing tool, Hubspot has a variety of other marketing tools that makes it very popular.
Features & Pros of Hubspot
• Email Designing: Hubspot offers a robust 'drag & drop' option for designing an email. You do not need any knowledge of programming or coding. These mail designs are responsive and can fit any display size perfectly. Hubspot also offers tons of email templates which you can customise.
• Personalise emails: You would be able to personalise emails to increase engagement. You can link any information of the user available in the database to provide suitable subject line, content, attachment, etc.
• A/B Test: Hubspot also enables a marketer to conduct A/B testing for the email marketing campaigns. With A/B testing facility, we would be able to do a comparability test with various factors and run test campaigns. This data would help us to optimise email campaigns.
4. GetResponse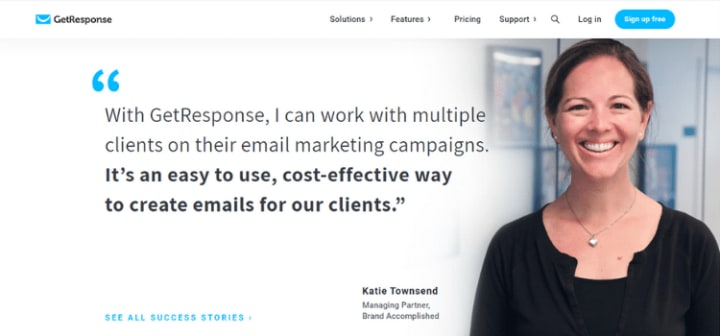 Next on our list is GetResponse, another popular email marketing software platform available. It is an easy to use email marketing software, and one of the best platform for small businesses. I have provided with detail features list and also pricing for this email marketing tool.
Features & Pros of GetResponse
• Autoresponders: One of the best features of GetResponse is to send emails and follow-up emails to engage your users.
• Automated Emails: You will be able to send automated emails via GetResponse email marketing software platform. You can send mails once a user purchases from your website, or abandon the shopping cart, or set other triggers that would send emails automatically.
• Segment-specific mailing list: The email marketing tool, groups users into various segments, you can use these lists to send custom emails to these groups.
• Automated Blog digest: Let all your users know once you publish a new blog post. GetResponse would send automated emails to them also post the update on social media for more engagement.
5. Moosend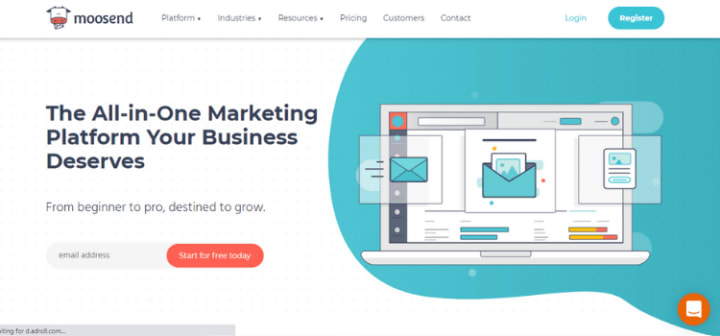 Moosend is the next on our list of top 10 email marketing software platforms. It is an easy to use email marketing tool which does not require you to code or know programming languages.
Features & Pros of Moosend
• Drag & Drop: Emails can be designed with the drag and drop option so anybody would be able to create and customise email templates.
• Data Analytics: Moosend host dedicated campaign analytics reports. Data Analytics is an important feature to know the effectiveness of the campaign also to plan for future campaigns.
• Behavioural Emails: Days are gone where emails with names of customers/ as salutations are called personalised emails. With this tool, you would be able to take personalisation to the next level. You can use any customer-related data from the email marketing software platform to customise the emails. Behavioural email would eventually increase the open rate and also the click-through rate of emails.