Earfun Free Pro Review : FIIL T1 Pro Competitor?
Earfun Free Pro Review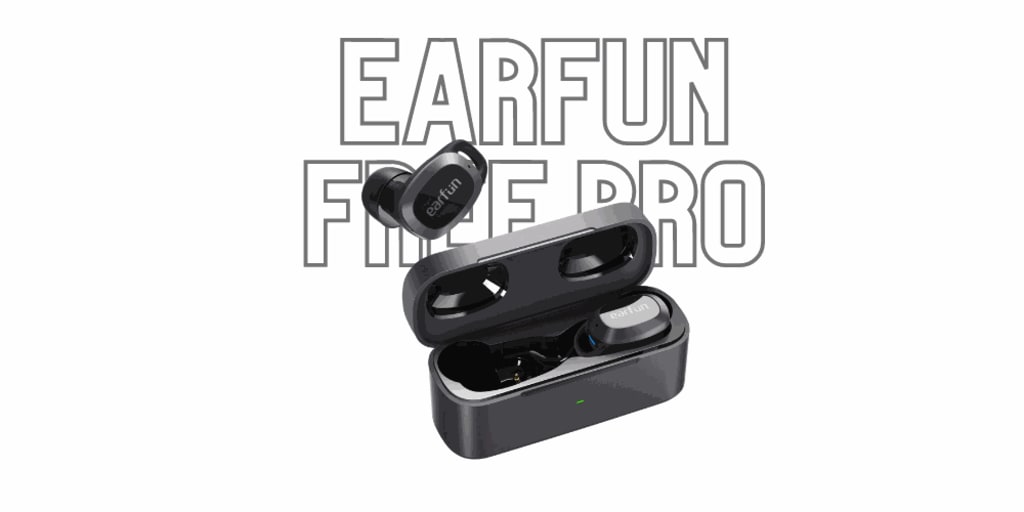 Hey Lovely Peoples, Active Noise Canceling earbuds are really easy to come by these days. Actually we are getting a lot of healthy competition in the budget ANC earbuds space.We're here to see Earfun's latest Active Noise Canceling earbuds are worth your money. Let's get on with the review of the Earfun Free Pro
Before getting in to the review, Earfun Free Pro will retail for about $60 and which makes it one of the more affordable options for ANC Earbuds and is pretty much priced similarly to the Fiil T1 Pro
Check on Amazon
Earfun Free Pro : Design and Build
First time I checked these earbuds I felt these looks similar to Fiil T1 pro. I don't know whether both of these brands owned by the same people. If you know anything about this please enlighten me.
Taking the earbuds out of the box, the case and the earbuds are pretty light it does come with a pretty nice dense feeling.
Which is very nice indication of a well-made earbud so the case itself is made out of a very lightweight plastic in this very nice gun metal gray color which is a excellent thing because these type of cases don't scratch easily.
At the top of the case you get a nice gloss black plastic and nice Earfun branding at the top at the front of the case.
You'll get a very nice led indicator which tells you the battery percentage of the case. They have a nice color indication for Battery level percentage.
Green Color — More than 30% of Battery
Orange Color — Less than 30% of Battery
Red Color — Less than 10% of Battery
Flashing LED — Less than 5% Battery
Flipping the case to the back you get a very nice USB Type-C charging port at the bottom of the case you get a very nice flat surface.
And this case also supports wireless charging so pop it onto any Qi wireless charger and you're good to go.
So the lid itself has a very smooth flipping action but doesn't have the hinge that holds it in place so if you flick the case the magnets will satisfyingly snap the case close.
Pulling the earbuds out again you get the same design as the Fill T1 Pro and the earbuds are your standard in-ear earbuds and the front you get a glossy black finish and the touch sensor.
With the Earfun branding the earbuds also come with a selection of fins and ear tips so you'll definitely be able to find the right fit and especially for ANC earbuds the fit is absolutely crucial.
At the top of the earbuds you'll get a nice LED indicator which are really bright but the good thing is that once it connects to your phone the LED turns off so it doesn't annoy anyone in a dark room.
Design and Build
4.8/5
Earfun Free Pro : Battery
Without ANC Earfun claims an impressive seven hours of continuous playback time and together with the case gives you about three and a half extra charge cycles which gives you a total of 32 hours of total playback time
With ANC on the number drops to about 6 hours of continuous playback time and 27 hours in total with the case so keep in mind this battery is calculated very conservatively.
If you listen at louder volumes you definitely get lesser hours.
Battery
4.5/5
Earfun Free Pro : Features
Earfun Free Pro comes with a latest Bluetooth 5.2 chipset which for my testing is super high performance and it supports both the AAC as well as the SBC audio codec
The Earfun also comes with an IPX5 water resistant rating and should give you sufficient protection from your workouts or if you get caught under the rain.
For an ANC earbuds these are actually quite good IP ratings the Earfun Free Pro also supports a super seamless mono and stereo switching mode.
It's on par with some of the flagship earbuds we've tested so far and it's so seamless that by the time you take the other side and put it into your ears it's already synced up and ready to go.
From my test, the earbuds doesn't support multi-point connectivity so you can still connect them to multiple different devices but not at the same time
Features
4.4/5
Earfun Free Pro : Mic and call Quality
The call quality of the Free Pro is also very impressive and earbud did a fantastic job managing the call quality in both quiet and noisy environment your voice comes through very clearly using these earbuds for phone calls especially in quiet environments is superb
When you're speaking through the phone itself and in noisy environments it cuts out ambient noise just sufficiently enough for your voice to come through clearly.
Call Quality
4.2/5
Latency
With the latest Bluetooth 5.2 and also low latency mode i honestly do not experience any lag when using it.
While watching videos on Youtube, Netflix and even playing games i don't see much of a delay in most games that I play.
Overall it's a very enjoyable experience using these earbuds.
Latency
4.8/5
Controls
The Earfun Free Pro lets you control most of the controls you come to expect when using a modern day earbuds which even includes volume control.
But in my opinion it lacks a very crucial control so to control the volume tap once on either side of the earbuds and it will increase the volume so just keep tapping it and it will increase your volume.
To play or pause media or pick a phone call step twice on either side of the earbuds and it will play or pause your media.
Please do keep in mind that you can only skip tracks forward. A bump on the control right?
Triple tap on the right side of the earbuds will skip your tracks forward.
The triple tap on the left earbud is now replaced with toggling between the ANC modes.
So to call on your assistant tap and hold on the right side earbuds for about two seconds enables pause your media and pull out your assistant.
Lastly tap and hold for about two seconds on the left earbud to toggle between low latency as well as normal mode.
so that is all the controls you get with the Earfun Free Pro.
Controls
3.8/5
Earfun Free Pro Sound Quality
The sound quality of the Earfun Free Pro is superb and it's so amazing. The bass you get on the free pro is simply insane it's so powerful and aggressive it just hits you in the face so hard and so strong
The bass is present in both low volumes is insane in high volumes the best part of this is that the mids and highs are not at all affected by the Bass
The sound stage of these earbuds is also fairly decent and this gives you very good separation overall
Watching movies also very enjoyable overall a fantastic sounding pair of earbuds.
Sound Quality
4.7/5
Soundpeats Sonic True Wireless Earbuds: Another Great One?
Earfun Free Pro Active Noise Canceling
The most important feature of these earbuds is the Active Noise Canceling performance
Personally from my ears and from choosing the right ear tips, i can say that these earbuds provide decent ANC performance and even claims it reduces about 28 dB and it's pretty much quite accurate.
The earbuds do a pretty good job with cancelling out low humps and constant low frequency sound so when you commute on the train or the bus it does cut out quite a bit of the road noise.
But when it comes to high pitch noises and chatters it does okay but you can still hear some of those chatters leak through.
Ambient mode is also very neutral with very small amplification on your surroundings so it doesn't feel unnatural using these earbuds.
Ultimately the Sony and Airpods Pro cuts out about 80% of noise and the Earfun Free Pro cuts off about 70% percent of ambient noise still pretty decent performance for its price point
Check my Final Conclusion of the Earfun Free Pro at ehnocord.com
Reader insights
Be the first to share your insights about this piece.
Add your insights