Drone with a mission on the North Wales coast
But what else could the S-100 be deployed for?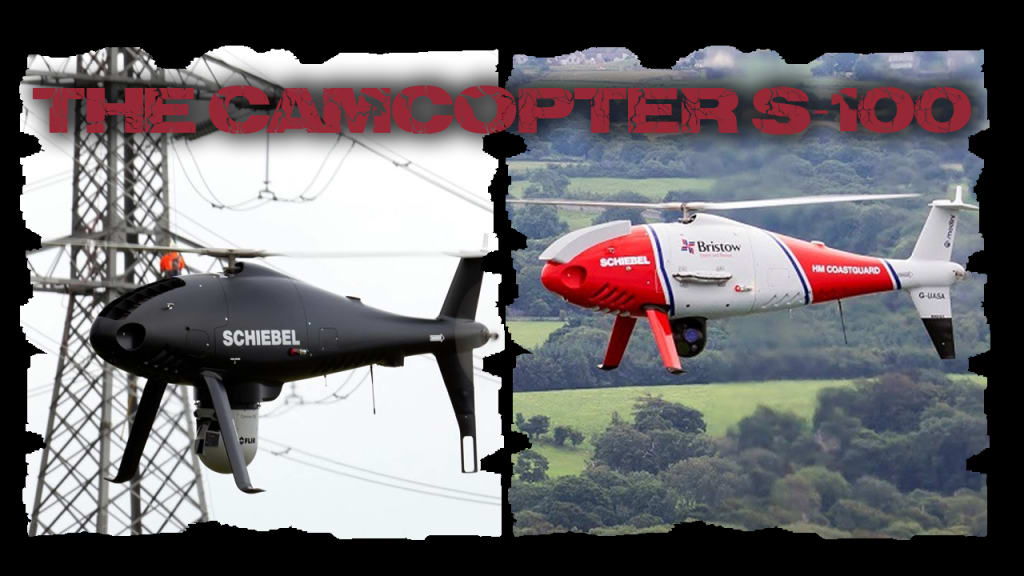 Last weekend Bristow, provider of the UK's Coastguard Search and Rescue Helicopter Service, proudly revealed unmanned aerial vehicles (UAVs) would be taking to the skies over North Wales to enhance "the capability of air search and rescue operations", which UK Maritime Minister Kelly Tolhurst hailed as something that would assist coastguard teams "save even more lives".
"We will stop at nothing to keep people safe on our shores and in our seas, exploring new and innovative ways to further bring search and rescue into the 21st century," she said. "Drones have the potential to help our coastguard teams help save even more lives so I'm excited we're pioneering these advances in the UK."
Bristow, which runs the fleet of Schiebel Camcopter S-100 drones, said they were used as "safety overwatch in support of search and rescue missions" for the first time last weekend.
During an operational trial, which would "have the benefits of showing operations staff for HM Coastguard live situations and incidents to provide the best response", the UAVs will fly out of Caernarfon and provide support over Snowdonia and across beaches from Conwy Bay to Llandudno.
Initially, the UAVs will operate in both maritime and mountain environments only at weekends, with Bristow carrying on its routine testing during the week, following on from "a rigorous, three-month test programme which began in March".
According to Bristow, that programme was designed to complement work being carried out by the Maritime and Coastguard Agency to develop regulations under which UAVs can operate as SAR aircraft.
The Bristow press release affirmed that unmanned aircraft were "expected to play a key role" when the second-generation of search and rescue services begin in 2024.
Coastguard service director Claire Hughes said: "Search and rescue is about saving lives. Every second counts and every minute saved can prove the difference between life and death. This kind of technology has a big part to play in those moments alongside our helicopters, coastguard rescue teams and our partners from the RNLI to independent lifeboats and hovercraft."
And Bristow's director of UK search and rescue, Russ Torbet, confirmed: "UAV technology has advanced to the stage where its deployment significantly enhances the capability of air search and rescue operations, improving the reach of the service and reducing risk for the public and our crews.
"These systems provide us with an option to keep our Sikorsky S92 helicopter crew at Caernarfon on standby for lifesaving events, while the unmanned aircraft are tasked with providing safety overwatch and monitoring which those manned aircraft would otherwise have been sent to carry out."
The so-called "baby shark" drones are built by Austrian firm Schiebel and are able to operate up to 18,000ft, staying in the air for about 10 hours.
Used around the world in land and maritime environments, the Camcopter S-100 can beam live footage back to its control centre day or night, even in adverse weather conditions. With the ability to travel 200 kilometres from its home base, the S-100 is flown from a remote location using digital control and imaging technology that allows the operator to see through the eyes of the on-board cameras.
The North Wales coast offers a dynamic operational area, including mountainous and maritime environments, making it an ideal location to incorporate the unmanned aircraft technology into a complex airspace environment.
"This trial allows us to carry out demanding evaluation of the aircraft, the broader system capability and future suitability as an evolutionary step beyond the current helicopter-focused approach to search and rescue missions," said Bristow chief executive Alan Corbett. "Schiebel's technology has already been operationally proven globally. Integrating unmanned aircraft with our current capability is the logical next stage in the development of search in support of rescue activities."
According to its spec, the Camcopter S-100 is a medium-range UAV system designed to provide a unique balance between advanced capabilities and operation in tactical environments, with a fully-redundant flight-control system that enables it to fly a programmed mission from take-off to landing with no operator intervention.
Programming for an autonomous mission is achieved via a simple point-and-click graphical user interface and, at any point, the operator can manually direct the S-100 to more closely inspect unknown objects or in reaction to "opportunity targets".
In both autonomous and manual modes, the S-100 is designed to minimise the need for operator training, and features integrated checklists and numerous fail-safe mechanisms to reduce the risk of damage due to operator error.
According to the spiel, the Camcopter S-100 has been designed as a platform for a wide variety of payloads, and therefore no standard payload is offered, rather they are integrated according to customer requirements. The S-100 features two payload bays, side hard points and an internal auxiliary electronics-avionics bay.
The primary payload bay, located directly beneath the main rotor shaft, is capable of mounting payloads weighing up to 50 kg.
The S-100 can carry a 25 kg payload aloft for up to six hours, while dashing to a target area at more than 100 knots, specifications that rival some fixed-wing platforms without the need for a runway or launch and recovery equipment.
It sounds like a pretty impressive bit of kit, so not surprisingly the S-100 alone weighs in at more than US$400,000, rising to a cool £2m when you add on extras such as the control station, payload, ground equipment, training and logistics package. And that's at 2005 prices... when it first came into service.
The S-100 can also share all collected data through a network-enabled system and be integrated seamlessly into existing network systems passing information around the user community.
The system software is intuitively controlled through an operator interface, with the control workstation displaying the position of the UAV as well as status information in real time on a user-friendly, aviation-style instrument panel.
The payload-control workstation allows the operator to control the payload while also having access to mission-planning information, video-viewing, recording and frame capture. Depending on the user's needs, the S-100 can be commanded from two laptop computers or may be seamlessly integrated into a larger system.
Designed for both military and civilian deployment, the S-100 delivers an intelligent solution for a wide range of missions including route surveillance, intelligence, border patrol, counter measures, minefield mapping, convoy protection and PSYOPs.
So there you have it, a machine with many aerial applications that's currently proving popular with search and rescue providers and maritime security services, but with the potential for deployment into all sorts of military and surveillance environments.
Can't help but come to the conclusion that it seems like an expensive acquisition for search and rescue alone, although this scenario does provide a good testing ground for equipment which may be earmarked for far more sensitive applications further down the line.
If a new technology is being introduced to "save lives" the public is far more likely to be accepting of it than if it was being introduced for say, "surveillance, intelligence, counter measures and PSYOPs".
The sales brochure lists ground-penetrating radar, LIDAR (light detection and ranging) scanners, loudspeakers, transponders, dropping containers and under-slung loads as just some of the payloads the S-100 can carry… making it a highly-versatile craft for all sorts of surveillance, security and PSYOPs missions.
What chance we'll soon be seeing them in a much darker livery swooping over our inner cities in the not too distant future? And I wonder what other payloads they could be capable of carrying?
tech news
Something doesn't add up about the Covid-19 pandemic... are there reasons to be fearful for our futures?
JOIN THE DOTS: http://not.wildaboutit.com
Receive stories by Steve Harrison in

your feed