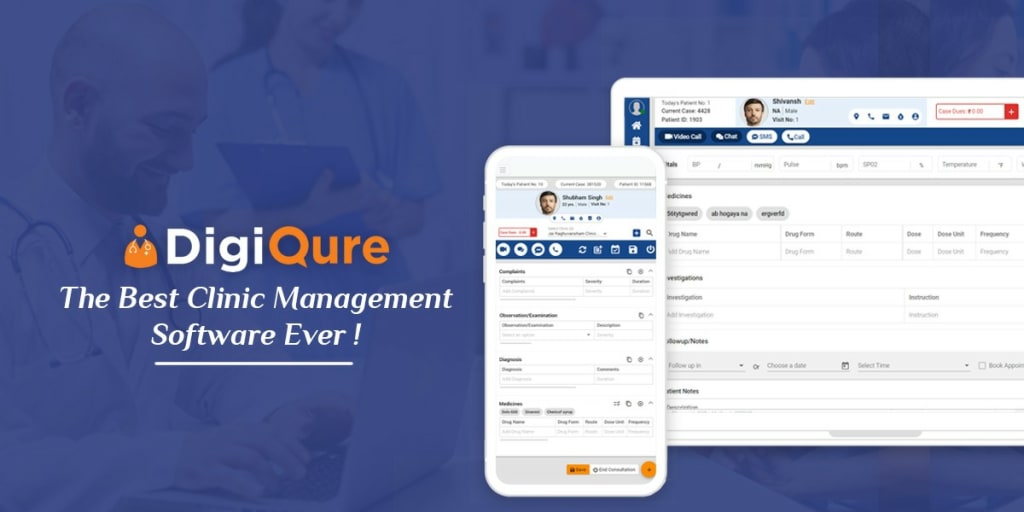 Digiqure-clinic management software
There are a number of clinic management software programs on the market that comes with various features and capabilities. However, if we talk about the best clinic management software, it is not one particular function, but several that work together seamlessly. DigiQure knows exactly what healthcare professionals want and that's why it has a centralized interface that allows doctors and caregivers to manage all aspects of their clinic with ease. With its robust reporting and analytics capabilities, it can easily track the progress of its patients and make adjustments as needed.
Benefits Of Using DigiQure For Your Clinic
There are an end number of patients that visit a clinic throughout the day and maintaining the date of all of them becomes tough for doctors at times. This is where DigiQure will make the job of healthcare professionals easier. Here are a few advantages of using DigiQure for your clinic:
1 . Manage Appointments
Clinic Management Software can effectively book, cancel, and reschedule patient appointments and follow-ups just with a few clicks. Clinics can save time and money by automating their appointment booking process. This software makes it easy to keep track of patient progress and follow-up schedules.
2. Manage Data, Reports, And Analytics Easily
When it comes to running a successful clinic, there are many factors that need to be handled efficiently. One important aspect of managing a clinic is tracking trends and analyzing data in order to make informed decisions. A clinic management software can help with this by providing reports on a variety of topics, such as cash flows, patient footfalls, due recoveries, and more. This allows managers to better understand how their clinic is performing and make necessary adjustments accordingly.
3. Ensure Effective Patient Management
At DigiQure, we understand that managing patient details can be a daunting task, which is why we've created an all-in-one platform that allows you to manage patient records, services, e-prescriptions, and more in one place. Whether you are a small practice or a large hospital, our platform will save you time and money. With our easy-to-use interface, you will be able to keep your patients informed and up to date on their health care without ever leaving the office.
4. Easy Tracking System For Bills And Payments
In a busy practice, managing patients' bills, due payments, and estimates can be a time-consuming task. With DigiQure software, you can efficiently manage all of these tasks with ease. DigiQure offers a robust user interface that is easy to navigate and use. Plus, it has many features that make managing your billing process easy. Patients can easily pay their bills and you can easily keep a tab on them.
5. An Organised Pharmacy Management System
Integrating your in-house pharmacy or associating with the nearest one can make life easier for your patients. With DigiQure, there is no need to search for and print prescriptions, as all medication orders are automatically transmitted to a secure pharmacy database. This ensures that all medications are delivered promptly and accurately. You can feel relieved as you know that your patients won't face any problems in getting the medicines.
6. Easy Laboratory Integration
DigiQure is transforming the way laboratories connect with patients, providers, and other systems. With DigiQure, technicians can easily integrate with labs to speed up diagnosis and medical tests. This makes it easier for patients to get information and services quickly. And since the whole process becomes more organized and automated, the accuracy of the diagnosis also increases.
7. Connect With Patients Through Online Video Consultations
At DigiQure, doctors can connect with their patients through online consultations and treat them at their homes. Patients can book it online and the doctor will be notified. The service is convenient because the doctor does not have to be near the patient and they can talk about any problems or concerns that the patient may have. DigiQure also offers a secure connection so that the patient knows that their information is safe. By using DigiQure, physicians can grow their practice exponentially by treating more patients remotely, reducing travel costs, and increasing productivity. If the patient requires emergency assistance but the distance of the hospital is too far then they can quickly schedule an appointment at DigiQure and get the needed assistance instantly.
The best part of using DigiQure is that the patients can avail of 24X7 assistance, so they don't need to worry if they are reaching out to the doctor during odd hours! And along with this, you can serve patients even from the remotest locations, this will ensure that you can interact with a wider user base. Your patients will not be restricted to a particular area and you can operate your business nationwide. Sounds interesting, right?
8. WhatsApp Integration
This is an interesting feature that enables doctors to connect with their patients through WhatsApp. Through this feature, you can send notifications, appointment details, offers, e-prescriptions, bills and a lot more things to the patient. The best part of this feature is that the patient can easily schedule appointments, contact the doctors and get all their queries resolved in a hassle-free manner. So, this not only reduces the hassle of contacting the doctor through several platforms but it saves the time of both, the doctor and the patient.
Wrapping Up
After going through this article, one thing is certain, be it, doctors or patients, DigiQure is here to make everyone's lives easier. DigiQure is a complete clinic management software that takes care of the modern-day medical needs of your clinic. DigiQure can keep records of patients data, bills, diagnoses, alerts, and a lot more. Setting up DigiQure is very easy. And due to its efficient and user-friendly interface, DigiQure has become the go-to choice for many clinics across the country. Contact us today to learn more about how DigiQure can help your clinic manage patient data effectively!
About the Creator
Health tech startup DigiQure offers an end-to-end clinic management software solution for doctors and other healthcare professionals to fully digitize their clinics.
Reader insights
Be the first to share your insights about this piece.
Add your insights