Different Ways to promote your Fantasy Sport App
Fantasy Sport App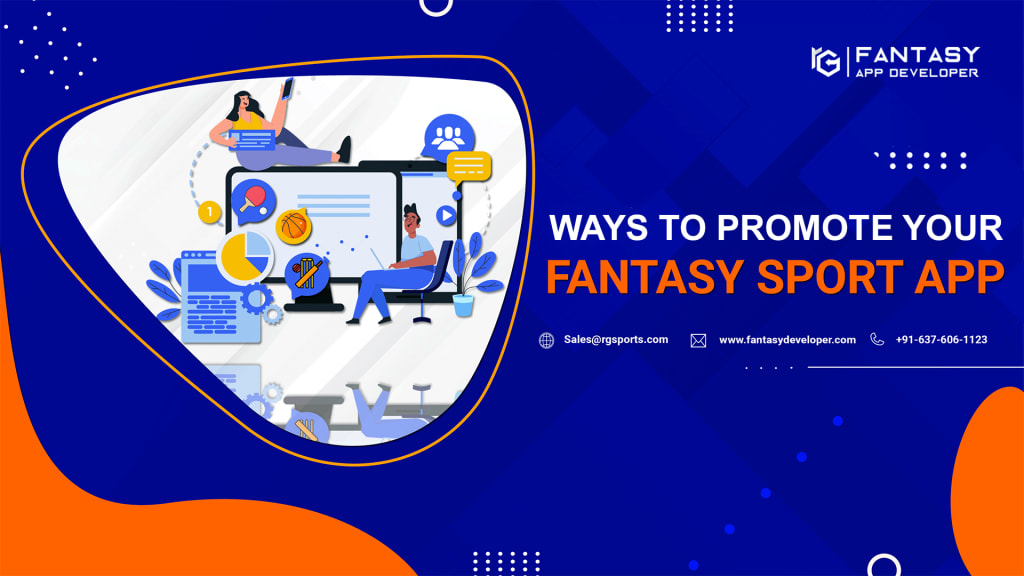 Are you done with developing your Fantasy Sports App? Have you thought about the branding of the app? Branding and promotion is the long roadway to go and leave your brand name in the market. However, the competition makes the marketing challenging and demands to stand out from the crowd. However, after studying the competitors and digging a lot we found a few ways that will help you in targeting the right audience who will be excited about the product and services.
Let's walk to the write-up below to find the most promising marketing strategy for your business.
1. Universal App Campaign
Google AdWords, is the most prominent and effective way of marketing. It is an exclusive tool to promote your iOS and Android Apps. UAC shows your app on both Google's Display Network and Search. AdWords tailors all the promotional content by using the description and screenshot available on the App Store. UAC is no hard-fast task when it comes to branding your App using the basic feature of Specifying and Targeting potential consumers.
2. Engaging Landing Page
However, designing a website landing page is not necessary for the branding of a Fantasy sports app. But it is good to have such a website for the relevant Native mobile app. Internet users browse websites more than they go through the Play Store. It will be great for marketing if you build such a relevant website to engage targeted consumers.
3. Online Blogs
When a user is going to your landing page, offer them some value/information to the page visitor. Use blog posts to provide such information, as users might like to learn about the relevant product/services which will also help with branding. Guest Blogging on your website is another way of branding through blogs. Using attractive headings and the most searched keywords of the relevant industry will enhance your brand reach among the targeted consumers.
4. App intro video
Video content has a higher chance of becoming viral branding content. So, it would be a great strategy, if you have the budget to create an intro video of your application. Make sure the video should be creative and engaging enough to grab the attention of app/website visitors. The video should be neatly created and explain how you work.
5. App Store Optimization
App Store Optimization is somewhat like Search Engine Optimization. But, for Apps, the process of increasing an app's visibility is done on the Play Store to boost organic app downloads. However, when the Apps are more visible on other search terms, they get automatically featured at the top of the store.
6. Pre-Launch Branding Hype
Setting a pre-launch hype is one of the best ways to promote your fantasy sports app. Create an interesting and mysterious teaser for your targeted audience. Host a landing page for beta subscribers to stay ahead of the game. Also sending exclusive invites to potential users can grab the huge attention of the targeted audience.
7. Social Media and Influencer Marketing
Social Media Marketing is the most prominent tool to promote your Fantasy Sports app. Developing a good network of users and a brand-relevant audience is necessary. Social media platforms or platforms particularly related to your app help you to reach out to the relevant audience. It helps brands to build their reputation in the market. Also, keep learning about new marketing tools and techniques which are required for the growth of your industry.
Influencer marketing is quite effective when it comes to branding your product/services. An influencer is followed by an audience who likes and appreciates them for the work they do. Associating with relevant influencers will attract the targeted audience who are interested in your app.
8. App Analytics
Regular app analytics is a very necessary task because a business should know how much ROI they are generating as compared to their investment. Apps like Firebase, App Annie, and Flurry help to keep a track of all sorts of engagement on applications. This prediction will help you in making important decisions like predicting Cost per Install, Cost per Action, and other factors in favor of your app.
9. Diversify Media Usage
Don't stick to any particular mode of branding and promotion. Hire content writers, go for pitch tech blogs, try podcasts, or use attractive infographics, just try different modes to promote your app.
Avoid traditional methods, and integrate entertainment into the brand promotion to see better results.
10. App Reviews and Awards
Retaining old users is a lot cheaper than attracting new targets. Reviews are one of the sources from which a Fantasy Sports App can communicate with the user on a personal level and can enhance its services.
Besides feedback, you can ask users to nominate your app for relevant industry awards.
11. Using Ad Space with other Apps
Using other platforms to promote your fantasy sports app is a way to grab the huge attention of different demographics. There is an option that helps users share space within the ecosystem of the App in return they promote your APP feature within their UI.
Conclusion
Developing any branding is the next most challenging phase which needs to be updated periodically to be in trend. However, the market is loaded with hundreds of marketing strategies, but not all strategies work in the favour of your fantasy sports app. We have used some marketing strategies personally and mentioned them here to assist you in enhancing your brand reach. Fantasy App Developer provides such exclusive branding and marketing strategy to promote your fantasy sports app to target the right audience.
apps
About the author
Reader insights
Be the first to share your insights about this piece.
Add your insights