Different ways to earn cryptocurrency on the internet.
cryptocurrency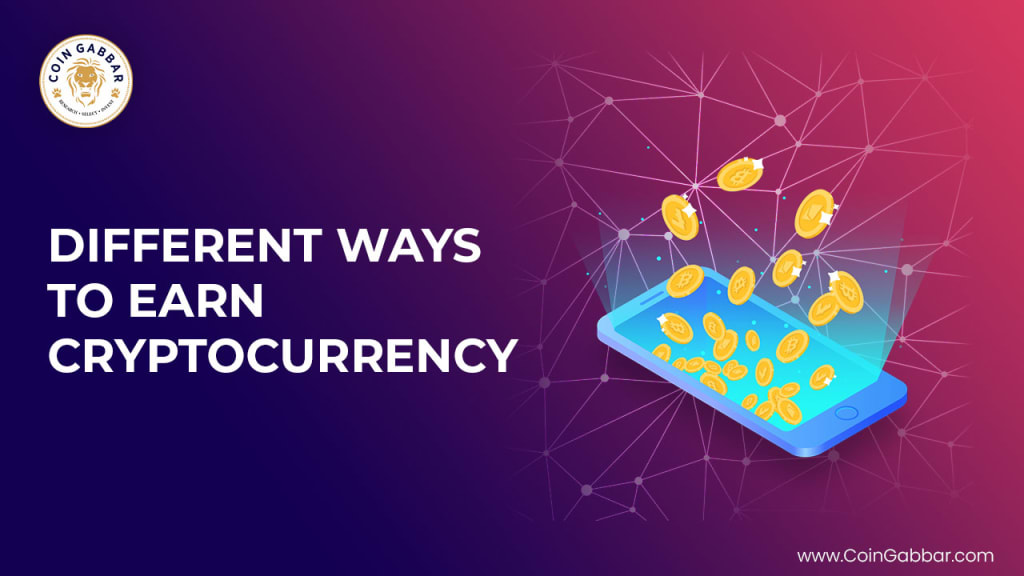 Cryptocurrencies have come a long way from being called a bubble or a fraud to being considered to be a hedge against the falling markets. Cryptocurrencies are powered by blockchain technology that is the foundation of Web3, the internet for users.
Traditional internet or Web2, the one we are using right now, is rewarding to the creators. But Web3 is going to be rewarding for everyone, including both viewers and creators; basically, everyone who participates in the network will be rewarded.
Currently, there are hundreds of ways to earn cryptocurrency with the help of the internet and your device. Let us explore some effective ways that can help you earn money in the form of cryptocurrencies.
1) GameFi
GameFi is one of the biggest and most popular trends in the blockchain industry right now. GameFi is basically when Metaverse meets DeFi. In simple terms, GameFi rewards users for playing games!
Users can get cryptocurrencies and NFTs for playing a game that costs next to nothing or nothing. Users can sell these cryptocurrencies or NFTs to their respective marketplaces.
Players of Axie Infinity, one of the pioneers in the GameFi, reportedly earn $10 - $50 a day. Axie offers its gamers SLP or Smooth Love Potion coin that is then withdrawn and sold in exchanges like Binance.
2)Watch 2 Earn
Watch to earn is another concept that took the market on a wild ride. With Watch to earn or W2E protocols, players can earn money by paying attention to the form of media in talk; it can be anything from a blog to a movie. Many companies include W2E systems as a model for promoting their and others' projects.
For example, Safepal(SFP)'s Wallet Holder Offering (WHO) lets users read about a cryptocurrency protocol; a quiz then follows the process; if the user gives seven correct answers out of ten, they are whitelisted for reward.
3)Airdrops
Airdrops are one of the most famous ways of marketing a new project in cryptocurrency markets. Since the fair value of a project is mainly dependent on the number of users, airdrops are the prime choice for companies to market. Airdrops are mostly free of cost and have the power to reach users on a retail level. Some simple tasks like retweeting and following the project on social media can get you airdropped with the new cryptocurrency or NFT of that project.
There are many bizarre airdrops out there in the market, many of them are scams, and you need to be on the lookout for such projects; but many of them can give legendary returns. For example, the Minerium airdrop gave users a staggering amount of $440,000 if they sold their coins at the peak.
4)Investing
This one is an obvious; investing is one of the best ways to earn with cryptocurrencies since good investing can help you multiply your portfolio. For example, Bitcoin and Ethereum have returned more than 10,000% to their investors over the years. Investing can be categorized as short, mid, or long-term; long-term investors mainly bet on legacy coins, while short and mid-term investors concentrate on the fundamentals and trends of a market.
5)Staking/ farming
As a long-term investor, instead of putting your coins in a cryptocurrency wallet and letting them do nothing, you can stake these coins and earn interest over them. Staking and farming are popular practices and are the backbone of the financial institution of the decentralized financial markets.
6)Crypto derivatives and leverage
Crypto derivatives are usually considered to be very risky, but if you play your cards right, it gives retailers a chance to make an unmeasurable amount of money with less capital and price movements. Derivatives are basically an umbrella term for different types of contracts like futures, forwards, and options.
What is different about these kinds of trades is you can bet on markets going down. This is known as short or put, depending upon the contract you put your money in.
Leverage, on the other hand, increases the power of a trader's position by multiplying the capital. For example, if you buy a long contract on Ethereum(ETH) of $100 with 10x leverage, your buying power will increase by $1000, and this loan will be repaid once you close the position. Although a promising way to earn money, leveraged contracts include liquidation, which is calculated on the basis of the portfolio you bet; once the asset in talk reaches liquidation price, your portfolio is drained out of money by the exchange.
7)Freelancing in the blockchain industry
Developing a specific set of skills and freelancing in blockchain can be a very appealing job. You can ask your employer to pay you in cryptocurrency or add that to the contract before taking the job.
Working in the blockchain industry can actually be very rewarding and profitable in the long term since the industry is bound to grow, and the demand for developers/marketers in the industry is going to grow too.
8)Mining/Validating
Miners and Validators are the two most important pillars of a blockchain network. Miners use their machine's computational power to verify the transactions going on a Proof of Work(PoW) blockchain, while validators stake their coins to verify transactions in Proof of Stake(PoS). New cryptocurrencies are minted because of these validators and are rewarded to them; these also have governance power over the blockchain and hence a significant part of the ecosystem.
9)Referrals
Exchanges like WazirX and Binance give out referral rewards; these rewards can be one time or a percentage of the trading fee the exchanges collect from the users.
10)Gambling
Bitcoin and Ethereum-run online casinos are a new thing in the gambling industry and are gaining more volumes daily. It is important for users to go on verified gambling websites since there are lots of scams out there.
11)NFT minting
NFTs or Non Fungible Tokens are one of the biggest and most commercial(as of now) use cases of blockchain technology. NFTs are cryptocurrencies that are unique and hence cannot be replicated; they are about the ownership of a piece of data that can be anything from digital art to a PDF. There are many dedicated marketplaces that let you buy and sell these NFTs; whenever the owner of these NFTs sells them, the creator gets a percentage of the sale.
Cryptocurrency is a new and emerging market; there are hundreds of ways to earn. As the market grows and takes shape, there will be many more options that Web3 will give crypto enthusiasts to earn.
About the Creator
Coin Gabbar Keeps you Updated with Latest Cryptocurrency News, Cryptocurrency Prices, Charts, Live Solana, Ethereum, Dogecoin prices in INR. Info of Cryptocurrency exchanges & trading mobile apps in India.
Reader insights
Be the first to share your insights about this piece.
Add your insights