Detailed Guide to Progressive Web Apps (PWA)
Progressive Web Apps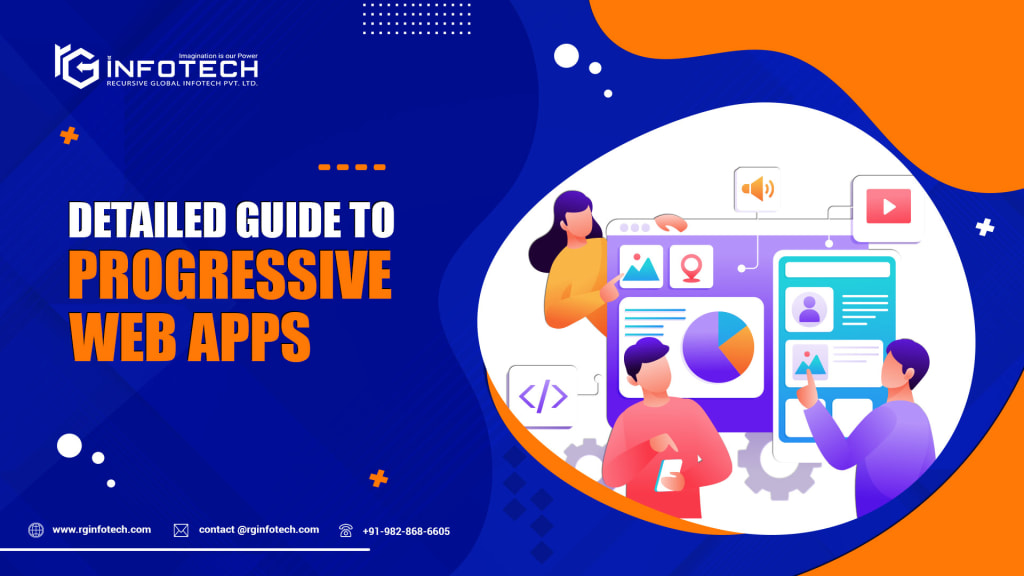 What do you use more Mobile or Desktop? The world is divided into two types of users, some are utilizing their mobile phones for all sorts of web browsing. There was a time when the website used to rule the internet and browsing market. But as soon as the introduction of mobile apps, the usage of websites has reduced.
Today, in this era of social media, mobile apps are surpassing websites. As mobile phones have become an integral part of human life, businesses are shifting to focus on apps more than websites for better engagement.
Cisco Annual Internet Reports which analyses the digital transformation across the globe, mobile devices will grow up to 13.1 billion by 2023. Today, the internet is equal to mobile. If you wanna make a marketplace, time to go mobile.
Native mobile apps are the most popular solutions, but after the introduction of Progressive Web Apps, businesses have seen a huge spike in the user engagement rate.
We have done our research and prepared a quirky guide for you to learn more about the PWA.
What is a Progressive Web App?
Progressive Web App is a website that behaves like a native app and still manages to deliver the website functionality. PAW is designed to address the range of problems that are generally noticed in native apps like inadequate networks to data obstruction, lack of connectivity, etc.
Three teams that define PAW as web experiences:
Reliable - Manages loads instantly, even under unpredictable network conditions.
Quick - Quickly respond to user interaction, without the requirement of janky scrolling.
Engaging - Feels like a normal native app with a rich user experience.
Progressive web apps, blend the latest technologies with website and mobile applications, to maximize the benefits of both platforms.
At RGInfotech, we build such a PWA which gives all feels and looks like the native app, with quick response and rich user experience.
How is a regular App is Different From PWA?
Some characteristics make a regular app a PWA. Here are the primary features of Progressive Web Apps:
A PWA app should work on all types of devices and operating systems. The app enhances progressively, making the features available on all sorts of devices and browsers. The primary principle of PWA is the improvement of the basic application.
PWA UI is fit for all devices and screen sizes. The interface is responsive and provides a native app look with a seamless experience.
PWA allows the app to run offline.
Along with all the feels and looks of native apps, it is built on an application shell model with a nominal page.
The service worker's process makes PWA transparent and updated. As PWA is designed for a more intimate user experience, the app is hosted on HTTPS.
Reminds users of engagement through push notifications like any other app.
Can be installed on the mobile home screen and make it accessible. Also, they are easy to install and share.
A progressive web app can be installed on the home screen of the device making it readily accessible.
How is it beneficial for Businesses?
Indeed, the benefits of any type of app depend on the type of business you are using. However, there are some common advantages of PWA, which might give you a different perspective about getting a PWA for your application.
Look and Feels like a Native App
As users browse the internet on their phones more than on desktops, PAW feels like a native app will be an advantage for businesses. Even the design of PWA is quite similar to Native Apps and it offers the same user experience, speed, response, and database access as any other native app.
PWA can be directly installed from the browser; the installed app remains on the home screen and is easily accessible. Moreover, the PWA is accessible using URLs, not compulsory to install them for usage.
Operate Offline and Everywhere
PWA can operate everywhere, a great advantage for those who switch their devices frequently. Besides, working everywhere it even can operate offline. When you don't have a stable internet connection, don't worry PWA is at your rescue and is reliable in offline mode too. In the retail industry, an app is worthy when it works in offline mode and allows users to view information that users previously accessed.
This way users will not leave the application and will continue to do their work.
Examples of Progressive Web Apps
Wondering how it will help businesses to grow? The difference between PWA and native applications is reduced daily due to the advanced development of PWA.
Here are a few interesting stats of the business that are using PWA:
Pinterest relaunched its entire mobile website as PWA. They experienced a 60% boost in engagement and a 44% rise in ad revenue. Hence, a boost in revenue.
Tinder has reduced its loading time to 4.69 seconds from 11.91 seconds. However, their PWA is 90% smaller than native Android apps. Reduction in loading time results in quick response.
Uber used PWA to even boost speed on 2 G networks. With the 50 zipped, the app takes only 3 seconds of loading time even on 2G networks. Can even load on poor internet availability.
Conclusion
Internet users are shifting from the web to mobile searches in daily activities. A shift from desktop to mobile happened quicker than the business/developers could have prepared for. As consumers access almost all the information on the internet via mobile phones, it's important to have mobile-friendly websites to provide a rich user experience. Progressive Web App Development is a great solution for providing website services to mobile devices. RG Infotech started developing the PWA, to keep up with the requirements of the users.
Reader insights
Be the first to share your insights about this piece.
Add your insights