Deadly Earthquake Rocks Pakistan and Afghanistan, Claiming the Lives of 12 People
At least 12 people have been killed and more than 200 injured after a powerful earthquake shook large parts of Pakistan and Afghanistan.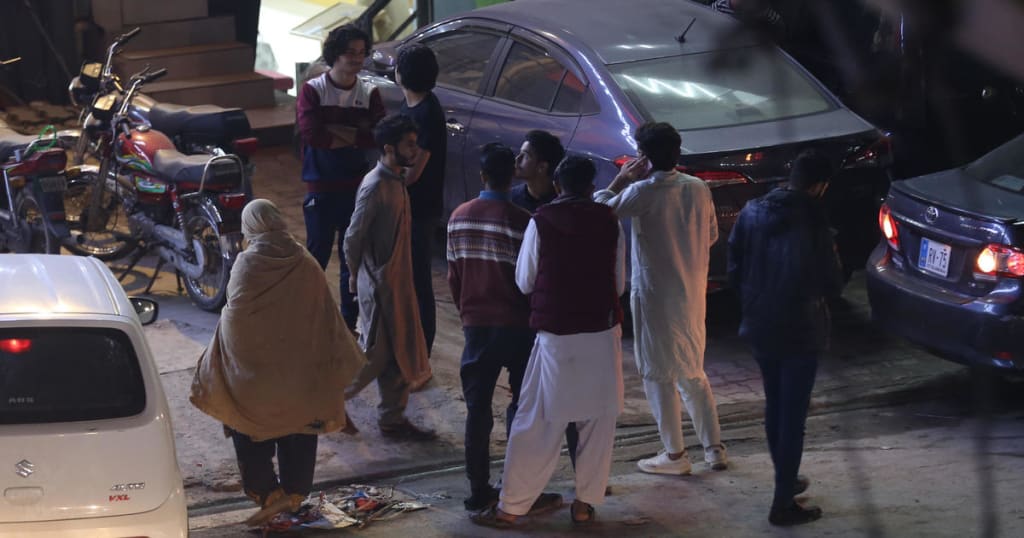 Buildings were damaged by the 6.5-magnitude earthquake, which also caused landslides and forced residents to flee into the streets.
It happened on Tuesday night and was centered in a hilly area in northern Afghanistan, close to the Pakistani border.
"That was a scary tremor. I had never in my life felt a tremor like that "Kabul native Khatera rushed out of her fifth-floor apartment and spoke with AFP.
The Khyber Pakhtunkhwa valley in Pakistan has nine confirmed fatalities.
According to the spokesman for the Afghan health ministry, three more people died in Afghanistan. According to AFP, among those murdered in the Laghman province near the Pakistani border of the nation was a toddler.
As the earthquake struck, several families were out of the house celebrating Norwuz, the Persian New Year.
Yet according to AFP, the damage so far has been less than anticipated, according to emergency personnel in Khyber Pakhtunkhwa.
But, relief and rescue efforts are expected to be slowed down by the remoteness and difficult terrain of the affected districts.
Many people in the affected areas braved the cold after the earthquake to spend the night outside out of concern for aftershocks. When they felt the shaking, some hurried barefoot out of their homes.
A large multi-story residential building in Islamabad's capital was evacuated when significant fractures started to show in the structure.
Phone connections have been impacted, and in Pakistan, landslides have blocked the highway in the worst-affected Swat region.
Shehbaz Sharif, the prime minister of Pakistan, has requested that emergency action be taken by disaster relief organizations.
According to the European-Mediterranean Seismological Centre, tremors were detected throughout a 1,000 km area that includes India, Uzbekistan, Tajikistan, Kazakhstan, Kyrgyzstan, Afghanistan, and Turkmenistan.
Due to its location at the confluence of the Indian and Eurasian tectonic plates, this area is more susceptible to experience earthquakes.
The deadliest earthquake to hit Afghanistan in nearly 25 years rocked the Paktika province in June of last year, killing more than 1,000 people.
At least nine people have died and 44 have been injured in northwest Pakistan, a government official reported on Wednesday. Overnight, the province of Khyber Pakhtunkhwa's northern hospitals were placed in a state of emergency.
According to a health ministry official who spoke to the Reuters news agency, at least four people have died and 50 have been injured in Afghanistan.
The United States Geological Service (USGS) reported on Tuesday that the earthquake's epicentre was located 40 kilometers (25 miles) southeast of the Afghan town of Jurm, close to the borders with Pakistan and Tajikistan.
According to the European-Mediterranean Seismological Centre, the earthquake was felt by 285 million people in Pakistan, India, Uzbekistan, Tajikistan, Kazakhstan, Kyrgyzstan, Afghanistan, and Turkmenistan over an area more than 1,000 km (621 miles) wide.
The magnitude was significantly increased by Pakistan's meteorological department to 6.8, and an aftershock of 3.7 magnitude was later recorded in the Hindu Kush region near the Afghan border.
Nine people were murdered when roofs collapsed in various sections of northwest Pakistan, according to Bilal Faizi, a spokeswoman for Pakistan's Rescue 1122 service in that region, and other officials.
The walls of their respective homes fell, killing a 10-year-old girl in Swat and a 24-year-old man in Lower Dir, according to Faizi.
Faizi claims that landslides in the Swat district, 180 kilometers (112 miles) northwest of the country's capital Islamabad, have damaged property.
Several people were hurt, and he said that more than 20 structures had been damaged by the jolts.
At least 250 victims were treated in hospitals in the Swat Valley of Khyber Pakhtunkhwa province; 15 of them had minor injuries, while more than 200 were unconscious. According to officials, 52 people were hurt in various areas of the province.
Shehbaz Sharif, the prime minister of Pakistan, urged emergency response personnel to be on high alert following the earthquake.
Tremors felt in Kabul
The Pakistani cities of Islamabad and Lahore as well as Kabul, the capital of Afghanistan, felt the shaking.
The walls of Sarah Hasan's home in Islamabad vibrated as the earthquake struck the Pakistani capital.
The 43-year-old added, "It started off softly and then grew forceful."
"Everything were trembling and the house was vibrating. Everything began to slow down, and after a while, it appeared to be calm once more.
Witnesses claimed to have felt the trembling in Kashmir, which is administered by India. There, as they remembered two horrific earthquakes that rocked Turkey and Syria last month and left more than 50,000 dead, residents fled their houses in terror.
"When we noticed the shaking, we were seated in our home. When we hurried outdoors, we found everyone in the street sobbing," Muhammad Yasin, a resident of Srinagar's capital city, "At first, it wasn't particularly powerful.
"[In our eyes] are still recent images of the carnage from Turkey and Syria. We briefly believed it to be the end of the world, he continued.
After an earthquake with a magnitude of 6.1 struck eastern Afghanistan last year, more than 1,000 people perished. An earthquake in northern Pakistan in 2005 with a 7.6 magnitude was responsible for at least 73,000 fatalities.
Reader insights
Be the first to share your insights about this piece.
Add your insights