Charge All Your Devices in One Place with the Satechi Dual Charging Dock
Charging made easy—and versatile.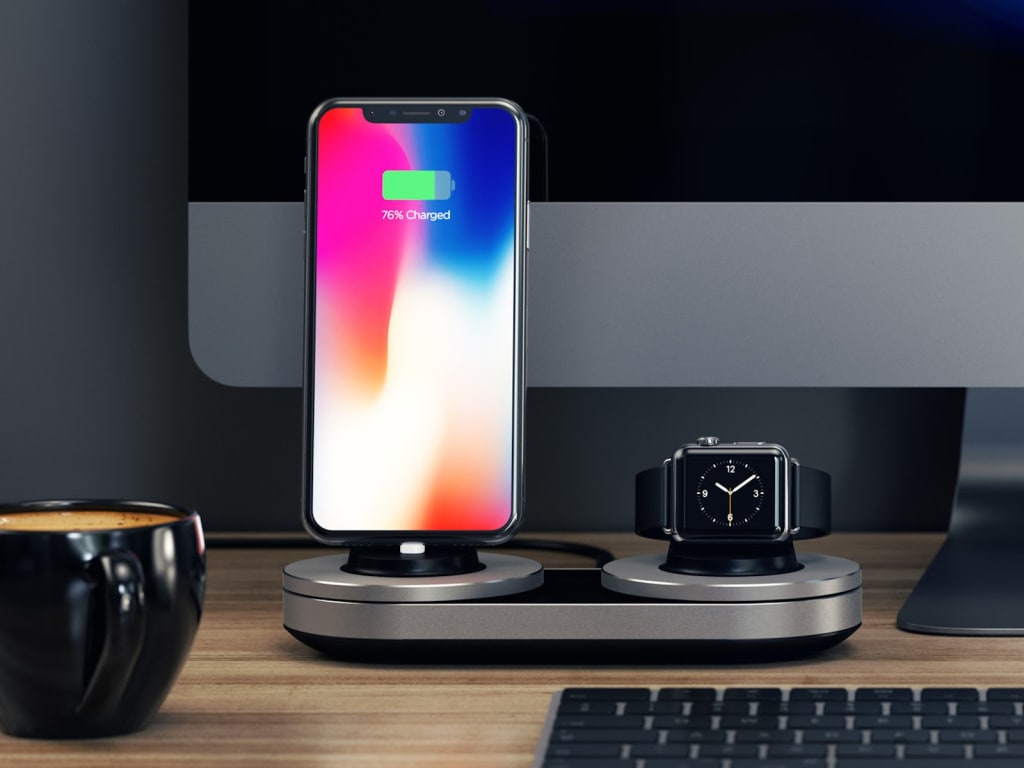 So I recently received a gift from my significant other that was both a blessing and a curse—the Apple Watch. I've been a watch-wearer since my youth, but I have always preferred an analog watch to anything digital. So you could only imagine my hesitancy in getting a smart watch.
However, I was pleasantly surprised when I got the Apple Watch, as it immediately proved its value after I realized all of the interesting functions that could help facilitate both my personal and work-life. Alas, there was still one problem I faced with my new smartwatch—charging the damn thing.
Yes, it comes with a charger, obviously, but my cats have this horrible habit of, well, EATING all my chargers. Well, maybe not eat, but bite through the wiring like it was their day job.
So I was already down to my last iPhone charger when my cat, Monkey, ate through it. Of course, I also left my new Apple Watch charger out during Christmas (admittedly, I was quite inebriated), and before I knew it, that was gone too.
I literally had no way of charging either of my smart devices (first world problems, I know). So the day after Christmas, I decided enough was enough. I needed something that charged my phone AND Apple Watch at once. Specifically, one with less intrusive wiring so that it won't appeal as much to my cat. For whatever reason, non-Apple wiring just doesn't really appeal to her. I'm not sure what that is about it (I think it's because they're relatively thin, so they're easy to bite through, making them that much more satisfying to chew on).
Finding the right fit seemed like a tall order at first, but I managed to find something that worked great—the Satechi Dual Charging Dock. Let's just say it is, essentially, totally cat proof, and even if you don't have a pesky pet like myself, it's just a great product in general.
There's no doubt that this dock helped me avoid any further CAT-astrophes (nailed it), following my longstanding issues with Monkey, the wire-chewing extraordinaire.
First off, it's compatible with the iPhone X, 8/8 plus, and the Apple Watch 3, courtesy of USB-C connection. It's also compatible with a wide array of iPhones and Apple Watches—both old and new. According to its description, it can support the iPhone XS Max, XS, XR, X, 8 Plus, 8, 7 Plus, 7, 6 Plus, 6, 5s, and 5. It also can charge all four iterations of the Apple Watch. Additionally, it's compatible with the original Apple MFi Lightning.
The smart charging technology helps detect and distribute around 15 watts of power between both devices, which makes it pretty powerful for its relatively minuscule size.
The best part about the device, in all honesty, are its safety features. The device never overheats or short circuits, which also makes it great if you have any animals or kids in the house.
It has a very sleek design.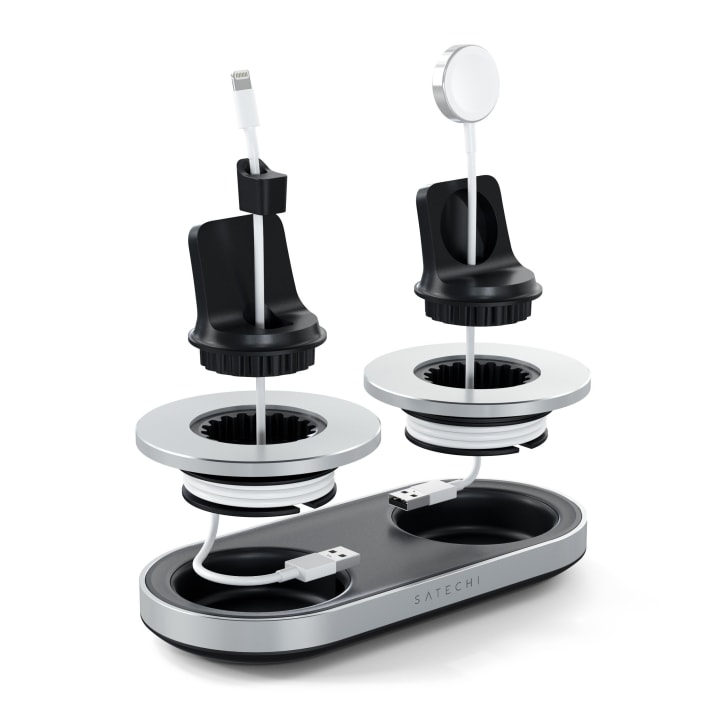 In terms of aesthetics, you're probably not going to do much better than the Satechi. I ended up going with the space gray, which gives it a super sleek, futuristic look. That wasn't the only thing that made it a really cool looking device though. The brushed aluminum finish also helps the device look eye-popping, and the actual charging docks are pretty cool looking, and non-intrusive as well. The station itself is also totally customizable (well, to its best extent), as it allows you to remove/add docks at your own convenience. So if you only feel like charging one object at a time and you feel like there's no need for both docks to be on the charge station, you can easily remove it.
What is also non-intrusive about the Type-C Dual Charging Station is the built-in wire storage. The cable management system makes it super easy to hide any charging wires, so whether it's in-use or not, there won't be any of those pesky wires dangling around anywhere.
Are there any cons?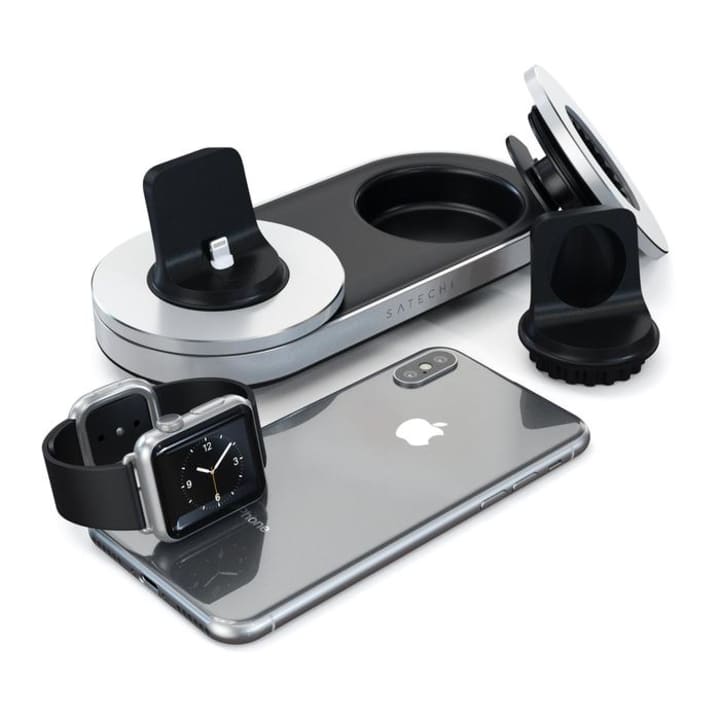 Like anything in life, the Satechi dual charging station has its flaws. Well, really just one, at least in my opinion. It doesn't actually come with any of the charging cables, so you'll have to buy/use your own. In the grand scheme of things, this really is much of a deterrent; most people have these laying around the house anyway (so long as they don't also have furry friends with an interest in wires of a bitable size).
If you're looking for anything else to nitpick about, you're probably not going to find any; because, if you're looking for a simple, sleek, piece of smart technology, you're realistically not going to get better than this.
And if you have a cat that has a bad habit of chewing Apple charging wires like I do, then you're DEFINITELY not going to do any better. Don't just take my word for it—pick one up yourself!
product review
I don't know what to put here lol. I love writing and I love content creation, and I finally found the right spot to do it!!