Business Benefits of choosing AngularJS Development
This blog enlists all the business benefits of choosing AngularJS development. A company or business can get a lot of benefits when they choose to go for AngularJS App Development. You can save development costs and still provide a native-like experience to your users with AngularJS.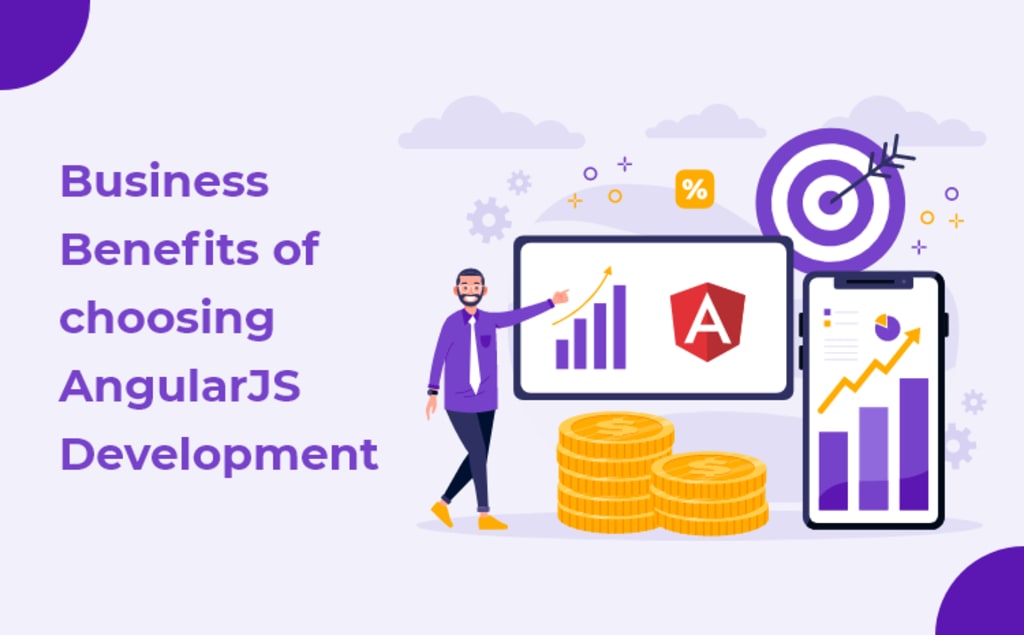 Creating a global online presence is essential these days if you want to keep your business running. Customers always check your business reviews before making a transaction with your business, especially when you are an eCommerce vendor. Services providers also should have a solid online presence. We all look for a company's review before making a purchase or hiring them to provide us with their services.
You must get online to serve your modern-day customers, and developing a website or a mobile app is the best option one can choose. Having a website creates a global presence for your business, and a mobile app helps you convert your customers and make them return to your business.
For mobile apps, its front-end is one crucial factor for any mobile app. User experience and user interface are some factors that affect your user conversion, so having a good UI and UX is important for any app. Most companies choose any JavaScript framework to develop their app's UI. There are many JavaScript Development framework available in the market which you can choose to build your app's front-end.
ReactJS, AngularJS, Vue.js, and many other JS frameworks, but have you wondered which framework is best for your mobile app? Choosing the right JavaScript Framework is not an easy task, as it requires a lot of factors to consider. You can go for AngularJS, ReactJS, Vue.js, and many more, but we will see the business benefits of choosing AngularJS Development.
Why Choose AngularJS Development for Business App
Choosing AngularJS to build your app's user interface could be an excellent choice for your business.
Backed by Google
This is the very first reason why we love AngularJS and recommend using it for your app development projects as well. AngularJS was part of the Google team's internal project, which was later acquired by Google, and now, the entire AngularJS is backed by Google, and hence there should be no doubts about the AngularJS Development framework.
Choosing AngularJS to develop a mobile app for your business will have its own benefits, and Google will provide support for AngularJS Development, so we see no harm in choosing AngularJS for your mobile app's front-end development.
Advanced Design Integration
AngularJS allows you to design the UI elements, and later, developers can put back-end code to those UI elements like text-box, buttons, labels, etc. Everyone always wanted something, like putting up design elements and seeing the app getting built with developers' help! So, AngularJS allows advanced design integration that makes the development work more straightforward.
So, when you choose AngularJS Development, your development speed will boost up, and you can get your app delivery faster, and it will also cost you lesser when your development work gets done in a shorter time. Another big reason to choose AngularJS Development for your business!
Native-like
When your app is built with AngularJS, your app will look like a native app rather than a web-based app. Your web app will completely look and feel like a native app with native components when built with the AngularJS framework. Having such an app is a big pro for businesses, as you won't need native mobile app development. All things will be taken care of by AngularJS.
There is no doubt about the performance of AngularJS, as it is built by Google itself and provides you with a native-like app browsing experience. Are you still looking for more reasons to choose AngularJS? Well, keep going; we got some more!
Testing Focused
AngularJS was developed with a focus on testing, and hence it comes with some really awesome testing libraries. These testing libraries allow the developer to imitate user behaviors such as clicks in automated testing. For example, if manual testing requires clicking on several buttons, then the AngularJS built-in testing library will automate the task of clicking those buttons. So, testing is pretty easy when your app is built with AngularJS.
We see AngularJS as a perfect JavaScript development framework to build your app's front-end. So, you can try AngularJS Development for your next mobile app development project and build an app that impresses the users.
Cross-platform
Wait! Didn't we mention that yet? AngularJS is a cross-platform development language, and that's nice for your tight budget! The same front-end code can be used for Android, iOS, and Web App, which saves on your app development budget, and who doesn't love that? You don't need to develop different front-ends for different platforms, like Android, iOS, and Web App. Develop once, use multiple times. Isn't that amazing and pocket-friendly? AngularJS could be your picture-perfect choice to develop the front-end for your mobile app, and we see no doubt there!
Final Words:
We don't think you need more reasons to choose AngularJS for your next business app development. The aim of publishing this blog was to make people aware of the power of AngularJS and how it can help rising businesses to create their global online presence. We all know the importance of online presence in this era, and building yours can be truly beneficial for your business.
If you have already decided to hire AngularJS developers, you can contact INEXTURE Solutions LLP. It is a famous mobile app development agency having more than six years of experience in Mobile App, Web, and Portal development. You can fill up the contact us form, drop an email at [email protected] or Skype on bde.inexture, and one of the executives will soon contact you to discuss your app development project!
tech news
About the author
Mahipalsinh Rana is CTO of Inexture Solutions, a Leading python app development company. He loves to write on python, laravel, AngularJS, ReactJs technologies, Startups, Entrepreneurship and mobile applications.
Reader insights
Be the first to share your insights about this piece.
Add your insights