Building a Thriving Crypto Exchange: A Comprehensive Guide for Startups in 2023
Unlocking the Potential of Crypto Exchange Development in 2023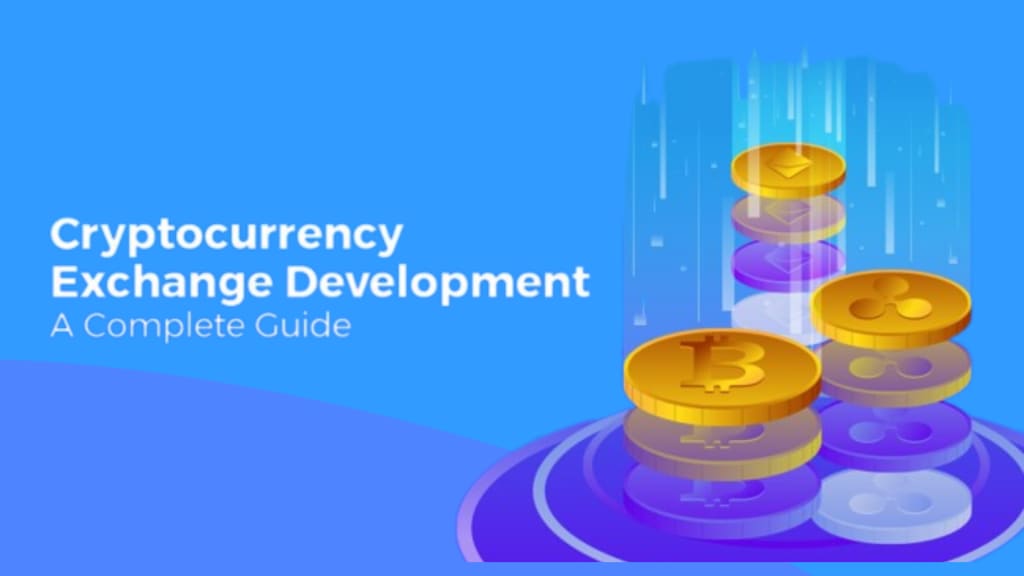 cryptocurrency exchange software development
The creation of a cryptocurrency exchange platform requires a comprehensive development process, encompassing various techniques. This solution facilitates the establishment of a crypto exchange for business purposes.
As we move forward into 2023, the world is becoming increasingly aware of the post-crypto era we now live in. Cryptocurrencies such as Bitcoin and Ethereum are growing in value, leading to a surge in demand for the ideal cryptocurrency exchange. With this increase in interest, startups are recognizing the need for crypto exchange development.
For startups looking to establish their presence in the blockchain world, creating a crypto exchange platform is a must. But with the future of the crypto market looking incredibly promising, it's important to take a forward-thinking approach. In 20 years, the crypto market will be a dominant force, and starting a crypto exchange business at that point will be like entering a crowded arena.
The key to success in the crypto exchange business is to start now, and to have a deep understanding of the key elements and types of cryptocurrency exchange development. By doing so, you can lay the foundation for a thriving and successful crypto exchange platform that will benefit you and your customers for years to come.
Let's begin the transformative article for startups with the most crucial aspect.
Types of Crypto Exchange Development Platform in 2023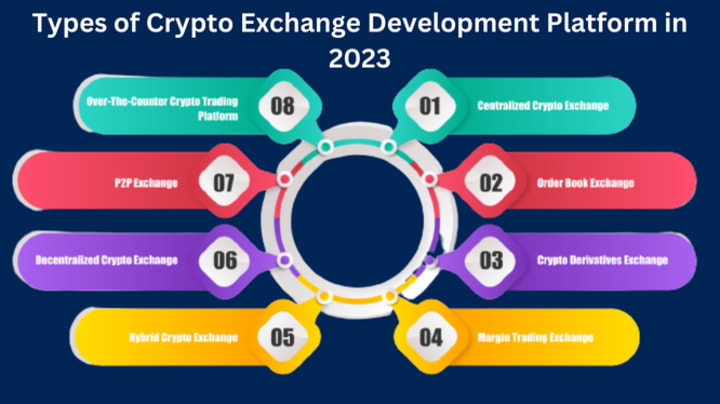 Developing a crypto exchange platform with a futuristic approach, tailored to meet the needs of your target audience, is a promising business concept. However, the question remains, how does an individual go about building a cryptocurrency exchange website or application? To understand the process, we first need to examine the various types of cryptocurrency exchange development.
Centralized Crypto Exchange Development
Centralized exchanges are comparable to traditional stock exchanges in terms of their structure and operation. In stock exchanges, individuals have the ability to purchase and sell shares using conventional currency. Similarly, on centralized cryptocurrency exchanges, users can trade digital assets such as Bitcoin and Ethereum by depositing their fiat currency.
A centralized exchange operates with a designated middleman or administrator who oversees all crypto and fiat transactions. This individual holds the authority to freeze assets at any time, granting them full control over the funds of users. Trading of virtual assets is only possible after receiving approval and verification from the exchange's administrator.
Centralized exchange development is a widely used term and can be categorized into different types. Let's See them
Order Book Crypto Exchange Development
As technology progressed, order books became an essential tool in the stock market, and as the crypto market grew, centralized exchanges widely adopted this functionality. Nowadays, order books are the most popular trading feature in the market. In a crypto exchange, the order book module allows traders to keep track of the market price for a specific trading pair. This way, they can quickly place their buy or sell orders according to their desired criteria.
Ads-based P2P Crypto Exchange Development
Bitcoin's foundation lies in peer-to-peer trading. A peer-to-peer crypto exchange is a platform where users can exchange cryptocurrencies directly with one another, offering efficiency and the potential for reduced operational costs. As a business owner, developing a p2p crypto exchange allows you to tap into the potential for revenue through various means, including an advertising-based model where users can post ads while conducting trades.
OTC Crypto Exchange Development
OTC (Over-the-Counter) trading in cryptocurrency involves purchasing and selling digital assets without any public record on the exchange's order book. This type of trading is popular among wealthy investors and traders who require a large amount of liquidity and digital assets to carry out trades in bulk, often reaching over a hundred Bitcoin per transaction. To establish a successful OTC crypto trading platform, a comprehensive OTC crypto exchange development solution is necessary. With the right tools and resources, businesses can enter the world of OTC crypto trading and tap into the potential for significant returns.
Crypto Derivatives Exchange Development
The popularity of crypto derivatives trading has been on the rise in recent years, as evidenced by the increasing search volume for terms like futures trading, options trading, and perpetual trading. This trend has led many major crypto exchanges, such as Coinbase, Kraken, and Kucoin, to integrate these trading functionalities into their platforms. This growing interest in crypto derivatives is a positive sign for the development of crypto derivatives exchange.
Margin Trading Exchange Development
The process of margin trading involves lending funds to individuals for the purpose of engaging in trades with leverage. Typically, this service is offered by financial institutions that conduct extensive background checks on their clients. However, this restriction does not exist in the world of cryptocurrencies. To participate in margin trading, a user simply needs to have a verified account on a cryptocurrency exchange. This opens up the opportunity for them to increase their capital by borrowing funds from the exchange operator. As a result, the exchange operator can earn a daily passive income through offering this service. Therefore, the development of a cryptocurrency margin trading exchange is a lucrative opportunity for entrepreneurs.
Decentralized Exchange Development
The decentralized exchange, also known as the DeFi exchange, provides a unique way for users to trade cryptocurrency without the need for intermediaries. This eliminates trading fees and increases privacy, making it an attractive option for those seeking a more secure and anonymous platform. However, the current liquidity of DEX platforms is still low compared to centralized exchanges, but this is expected to change as the popularity of DEX platforms continues to grow. With increasing demand for anonymous and secure crypto trading, DEX development is poised to become a highly profitable venture. So, if you're looking for a lucrative opportunity in the crypto industry, investing in DEX development might be the right choice for you.
Hybrid Exchange Development
The world of finance is undergoing a major transformation with the rise of CeFi and DeFi. While both offer innovative solutions, they also come with their own challenges. In the DeFi space, decentralized exchanges (DEX) struggle with low liquidity and trading volume, making them less appealing to traders. A solution to this issue is a hybrid crypto exchange (HEX), which combines the strengths of centralized exchanges (CEX) and DEX, while minimizing their respective risks. This makes HEX development an ideal option for startups looking to venture into the crypto exchange business. Whether it's a CEX, DEX or HEX, the crypto exchange development landscape offers a variety of options to suit any business needs.
Why Build a Crypto Exchange Platform in 2023?
The rise of cryptocurrency has made crypto exchanges the gateway for individuals to enter the world of digital assets. By downloading a trading app, completing KYC and opening an account, one can easily buy cryptocurrency using fiat money. This highlights the crucial role crypto exchanges play in the crypto market. Entrepreneurs can take advantage of this by starting their own crypto exchange, with the potential for high returns on investment. The high demand for crypto exchange development services has made it a hot topic in the global digital market. With the right support from a reputable cryptocurrency exchange development company, you too can create a feature-packed platform and become a leader in the blockchain world. Before starting your own exchange,
Prominent Crypto Exchange Development Methods
Cryptocurrency markets are a hub of innovation and originality, boasting the broadest reach in the digital arena. To thrive in this arena and launch a successful crypto exchange business, it's essential to comprehend the multiple methods of developing crypto exchanges.
Cryptocurrency Exchange Software Development from Scratch
Creating a cryptocurrency exchange platform is not an easy feat. The software that powers these exchanges requires extensive development, and startups must take on the challenge of building it from scratch. One of the biggest obstacles in this process is the integration of blockchain technology into the exchange. This means that the entire development process must be closely monitored, from beginning to end, to ensure proper interaction with the blockchain network. Every feature added to the software will play a crucial role in determining the success and uniqueness of the exchange, making it essential to choose wisely. As of 2023, the development process will require a team of blockchain experts working for a minimum of 12 to 18 months, with no guarantee of successful operation even after investing hundreds of thousands of dollars.
White-label cryptocurrency exchange software
Starting a successful and risk-free crypto exchange business is made possible through the use of white-label exchange software. This ready-to-use software is designed to follow existing trends and models in the industry, whether it be a centralized (CeFi) or decentralized (DeFi) exchange. The software comes with ample customization options, making it possible for startups to tailor their exchange platform to their desired specifications.
The beauty of utilizing a white-label solution is that it streamlines the exchange development process and eliminates the need for a team of experts or a significant investment of time and money. Instead, you are given the choice of opting for a cost-effective and instant solution that will launch your crypto exchange in no time.
The decision to start a crypto exchange platform lies in your hands. If you are willing to take financial risks in the crypto market, then the scratch method may be your preferred option. However, if you are looking for a risk-free solution, then the white-label crypto exchange software is the way to go. It provides startups with a minimal-cost and low-risk option for entering the crypto world, making it a valuable asset for those with limited funds and optimal plans.
Must-have Features of Cryptocurrency Exchange Software Development
As an entrepreneur seeking to develop a reliable crypto exchange platform, it's important to be aware of the standard features that are typically offered in such solutions. These features can play a crucial role in attracting a diverse range of crypto users. Here is a list of some of the essential features that are commonly included:
User-friendly dashboard for both users and administrators
A variety of different order types
Support for both cryptocurrencies and fiat currencies
Advanced charting tools for analysis
KYC/AML tools for compliance
Admin-level profit management tools
Comprehensive API documentation
Multi-lingual support for global accessibility
A referral system to encourage growth
Margin trading and futures trading capabilities
An IEO launchpad to support new projects
In-built app tracking and usage monitoring tools
If the development solution you are considering doesn't include these features, be sure to ask if they are available as add-ons.
Have an Eye on Add-on Modules
When you purchase a new phone, you often personalize it by changing the wallpaper, adding new ringtones, and adjusting settings to your preference. The same goes for software solutions provided by development companies. Customization requires technical proficiency, but the chosen company will handle it for you. Some of the top add-on modules available to startups include:
App Tracker
API Integration
Wallet Connectivity Packages
Wallet Integration Packages
Blockchain Bridge Module
Basket Smart Contract Module
Bug Bounty Program Module

These are just a few options to enhance your exchange development solution.
Mandatory Security features to Develop a Crypto Exchange
When it comes to safeguarding a crypto exchange platform, be it CEX, DEX, or HEX, security is a top priority. To prevent the most common issue in the crypto space, cyberattacks, certain security measures must be integrated into the platform's development. These include HTTPS Authentication, Jail Login, Data Encryption, Two-Factor Authentication, SQL Injection Prevention, Anti-Denial of Service (DDoS) Prevention, Cross-Site Request Forgery (CSRF) Protection, and Server-Side Request Forgery (SSRF) Protection. This list constitutes the fundamental security features that are typically included in most crypto exchange development services. However, you can always request additional security measures from the development firm to enhance the security of your exchange.
Time to Develop a Cryptocurrency Exchange
Starting a cryptocurrency exchange can be a complex and lengthy process, with the minimum time frame being 8 to 12 months if building it from the ground up. However, for those who wish to simplify the process and speed it up, a white-label crypto exchange software solution is available. This pre-made software can be tailored to your specific business requirements, enabling you to launch a top-notch exchange in as little as 7 to 14 days, depending on the complexity of your concept and needs.
Final thoughts
Starting a successful cryptocurrency exchange business in 2023 can be a challenge for entrepreneurs and startups. Without proper knowledge and situational awareness, unexpected difficulties may arise that can negatively impact your business. To avoid this, seeking guidance from a professional crypto exchange development company can be a smart solution. Their expert assistance and consultation can help turn your crypto business vision into a successful reality with ease.
Reader insights
Be the first to share your insights about this piece.
Add your insights