Black Hat SEO
7 Ways/Tricks To Do Black Hat SEO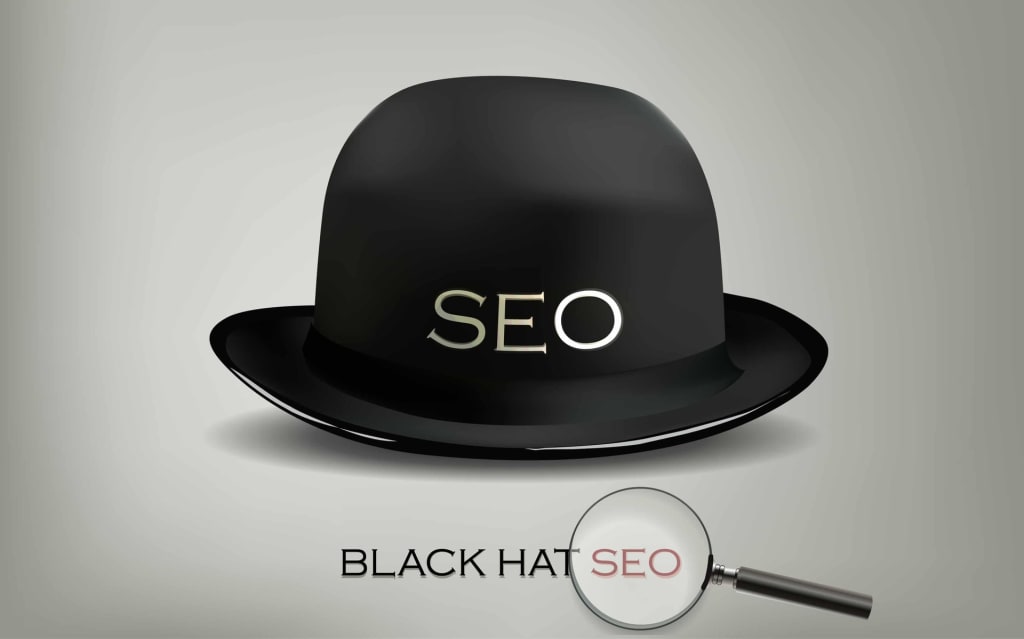 What is Black Hat SEO?
Black Hat SEO is an SEO Technique whose purpose is to rank the website high on Search Engine Result Pages (SERPs) but this SEO does not follow the rules of Search Engine, by using the wrong way, only keeping in mind the bots of Google. Keeping is done. So that traffic can come to the website and ranking will increase. This is called Black Hat SEO. By doing Black Hat SEO, a website is able to rank on Search Engine Result Pages (SERPs) for some time only and as soon as Google's bots come to know, then such websites can also be fined. If you are a beginner then you should have complete knowledge about it so that you can avoid making such mistakes and improve your website in a search engine by doing SEO properly.
Now you know that what is Black Hat SEO, so the question arises that how is Black Hat SEO done?
How To Do Black Hat SEO: 7 Ways/Tricks
1. Cloaking
Cloaking is a technique of Black Hat SEO by which two versions of the pages of a website are made, when a visitor visits the website, the visitor is redirected to one page and the search engine crawler is shown the second page. These two pages are very different from each other, this process is called Cloaking, it is used to rank the website on Search Engine Result Pages (SERPs). But if Google comes to know about Cloaking, then it can also penalize such a website.
2. Keyword Stuffing
If keywords are being used more than the limit in the content, then it is called Keyword Stuffing. In any content, the use of Focus Keyword is 0.5% and the use of Related Keyword is only 0.2% is considered correct. If it is used more than this, then it is included in the Black Hat Technique. The website gets ranked down in Search Engine Result Pages (SERPs) when keyword stuffing occurs. Therefore, write quality content and avoid keyword stuffing, which can improve the ranking of the website.
3. Content Scraping
When content from a website is scraped and published on its website, then this process itself is called Content Scraping. This is the technique of Black Hat SEO. Example: When a website publishes any news or any different content about which Google does not have information and any other website scrapes that news or content using RSS Feed and publishes it on its website. At that time, Google is compelled to rank the content of both those websites, and then after some time Google down the ranking of the website with that duplicate content. Now you must have understood what is Content Scraping and how it works. For this, there are many tools available on the Internet, with the help of which you can easily do Content Scraping.
Here are the names of some Scraping Tools:
Scraping Bee

Scraping Bot

Octoparse

Apify SDK

Scraper API

Bright Data
4. Duplicate Content
Publishing by copying the content of a website and pasting it on your website, such content is called Duplicate Content, it is included in Technique Black Hat SEO. Many new bloggers copy-paste the content of popular websites and publish them on their website, they feel that by doing this their website will also be ranked on top in Search Engine Result Pages (SERPs). But it doesn't happen. Google only ranks Unique and Quality Content, not Duplicate Content.
5. Private Blog Network
Private Blog Network is a group that includes many websites with a good ranking that are targeting to get a website ranked in Search Engine Result Pages (SERPs). It is also called PBN in short. This is a Black Hat SEO Technique. Example: When a businessman creates a new website and he finds such a private blog network to save his time and money and to rank his website on Search Engine Result Pages quickly. If there are thousands of websites from which it can get backlinks, then that businessman can make thousands of backlinks for his website by paying some amount to the owner of that private blog network. Which can help in the ranking of the website on the search engine. But if Google gets to know a little bit about this, then it can penalize such websites.
6. Spam Comments
Backlinks can also be created for the website through comments, many website owners do this. When a visitor gives a link to the relevant post of his website by writing a quality comment in the content of another website, then it is included in White Hat SEO. But when a visitor makes a wrong comment in the content of a website or gives a direct link without writing any comment or gives a link repeatedly or gives a link to a wrong website, then such comments are called Spam Comments. Comes under Hat SEO.
7. Link Schemas
When you search for a website on a search engine, links to some popular pages are also coming along with the metatag of that website. With the help of which you can easily install Schema on your website and do Link Schema. These are some tools Hall Analysis, Merkle Structured Data Tool, The RankRanger Structured Data Tool, etc. But the Technique of doing this Link Schema comes under Black Hat SEO.