Best Earbuds for Running in 2021
Best Earbuds for Running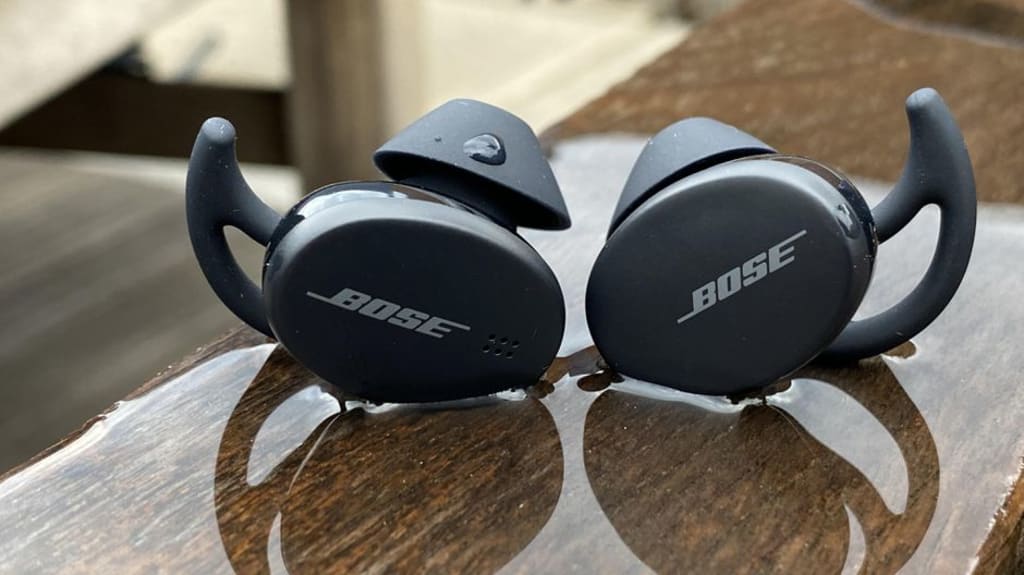 Best Earbuds for Running in 2012
The best running earbuds are capable of much more than just playing music. After all, having a workout music blasting while you push yourself through a tough run has its own motivating value, and all of the headphones and earbuds on our list may help you with that.
However, to be a genuinely fantastic set of earbuds or headphones, they must include a fitness emphasis. That might be a clever design that stays firmly in your ears even while you exercise, or IP-rated water and perspiration resistance. So, out of all the earbuds we've tried, these are the ones that are best for pounding the pavement: the best running earbuds overall.
What are the best running earbuds?
The Jabra Elite Active 75t is our current top selection for the best running earbuds. Despite the lack of ear hooks or wingtips, these true wireless earbuds are incredibly light and provide a secure and reliable fit. When you combine strong battery life, superb music quality, and full waterproofing, this is a great option for any run.
The Beats Powerbeats Pro comes in second, using the same Apple H1 processor as the excellent AirPods Pro for quick and smooth connectivity to iPhones. The Powerbeats Pro also has a more balanced sound profile than other Beats earbuds, and while it doesn't support ANC, you can get it on the JLab Epic Air Sport ANC for a good price.
The AfterShokz Aeropex, an amazing pair of bone-conduction earbuds, and the Amazfit PowerBuds Pro also deserve special attention. This is a more loose-fitting pair of sports buds, but it has no equivalent in terms of built-in fitness monitoring technology.
The best Running Earbuds you can Buy right now
1. Jabra Elite Active 75t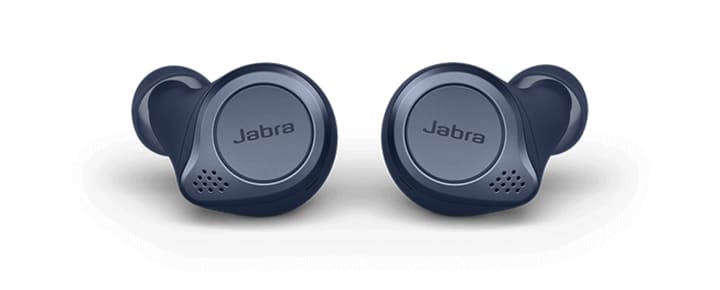 Rich-sounding, compact and stylish, the Jabra Elite Active 75t is a fantastic pair of wireless earbuds in general, but there's a lot here that also makes it a near-perfect set of running earbuds. First is the fit: it's unusual to find a pair of true wireless buds with no wing-tips or ear hooks that manages to stay planted so securely in the ear.
Then there's the weatherproofing, which scores an IP57 rating: enough to completely protect against dust and even full submersion in shallow water. Sweat or a spot of rain, as such, poses no threat. Battery life beats that of the AirPods Pro, too, and Jabra's buds even offer ANC for a lower price.
Specifications
Size and Weight: 0.8 x 0.7 x 0.6 inches, 0.2 ounces
Battery Life: 7.5 hours; 28 hours
Bluetooth Range: 30 feet
Water Resistant: Yes
Pros
The sound is loud and rich
During runs, it does not budget
Audio customization inside the app
Noise cancelling, both active and passive
Cons
At full volume, it may be rather loud
2. Beats Powerbeats Pro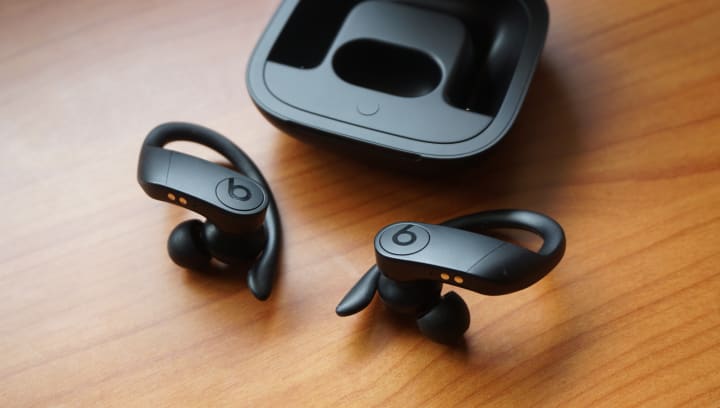 The Beats Powerbeats Pro may not look like Apple's AirPods, but they are clearly inspired by them. It even utilizes the same Apple H1 chip as the AirPods Pro, which means it can pair with iPhones instantaneously. You may even switch to other iOS and Mac devices you may have at home if you've upgraded to iOS 14.
That's great, but how does the Powerbeats Pro perform when you're running? It turns out that everything went really nicely. The ear hooks keep each bud in place during vigorous jogs, the sound signature is adequate, and an IPX4 grade indicates water resistance. The Powerbeats Pro isn't completely waterproof, but it can withstand perspiration.
Specifications
Size and Weight: 2.2 x 2.2 inches, 0.7 ounces
Battery Life: 9 hours, 24 hours
Bluetooth Range: 100 feet
Water Resistant: Yes
Pros
Magically seamless setup, just like with AirPods
Lengthy battery life
Well-balanced sound
Comfortable, stable fit for running
Cons
Charging case that is bulky
3. AfterShokz Aeropex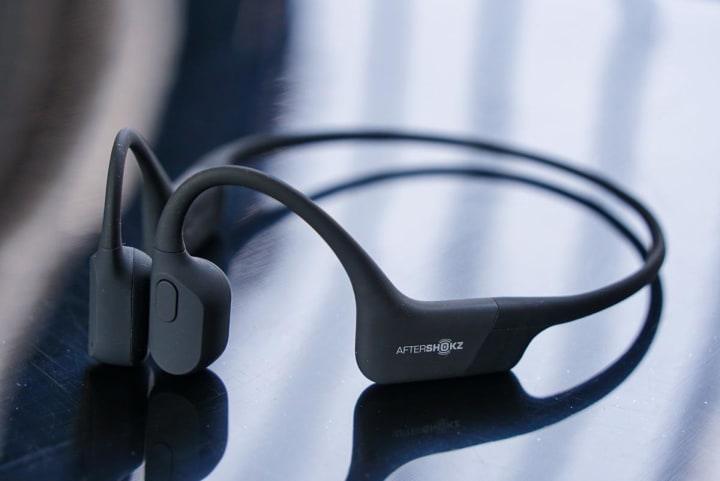 Running with bone-conduction earbuds allows you to keep your ears open and alert for possible risks. The AfterShokz Aeropex is as fine an example of the form as you'll find right now: it's not too pricey, but it's undoubtedly one of the best-sounding bone-conduction earbuds on the market, and it lasted considerably longer in our battery tests than any pair of true wireless earbuds.
It also has an excellent IP67 certification, which is more than adequate to guard against perspiration and spills, and it fits perfectly despite the lack of adjustability. Even though the Aeropex is comfortable enough to wear for hours without weariness, you won't have to worry about it wiggling free while you're out running.
Specifications
Size and Weight: 1.7 x 4.3 x 5.1 inches, 0.9 ounces
Battery Life: 8 hours
Bluetooth Range: 33 feet
Water Resistant: Yes
Pros
Fit that is both comfortable and secure
Long-lasting
Waterproof to the core
Sound that is respectable
Cons
There is no way to change it
Earbuds produce a better sound
How to Buy the Best Running Earbuds in 2021?
You could choose earbuds that hook over your ear or those rest completely within your ear. When it comes to running, we discovered that there isn't much of a difference in terms of stability between the two designs, however if you wear glasses, the addition of an ear hook may get in the way.
Even if you don't like jogging in the rain, we recommend investing in a pair of running earphones that are certified water resistant and perspiration resistant. Consider what you'll need and the dangers of your earphones getting really wet. An IPX7 certification implies full waterproofing, while an IPX4 grade denotes basic moisture resistance; consider what you'll need and the risks of your earbuds becoming severely wet.
Although ANC is found in many of the finest running earbuds, it is not required for running. In fact, you may want to turn it off for greater situational awareness when exercising near traffic and people – it all depends on how important sound quality is to you. ANC allows you to concentrate on your entertainment, but it may need to be interrupted for safety reasons on occasion.
How we test the best running Earbuds?
We evaluate running earbuds by listening to a variety of music genres — including hip-hop, rock, jazz, classical, and electronic — and using them for at least one 2-hour session over the course of a week, just like any other earbud. This allows us to offer a realistic assessment of how they sound as well as how comfortable they are when worn for extended periods of time.
We'll take the running earbuds out for a few runs to evaluate how well they keep up while exercising. This includes determining how well they remain in place, as a seemingly secure fit when relaxing might get undone while jogging or otherwise exerting out.
We rank running earbuds on a five-point scale once we've completed all of our testing. An Editors' Choice label is given to the best running earbuds.