Back to the Drawing Board
Modern times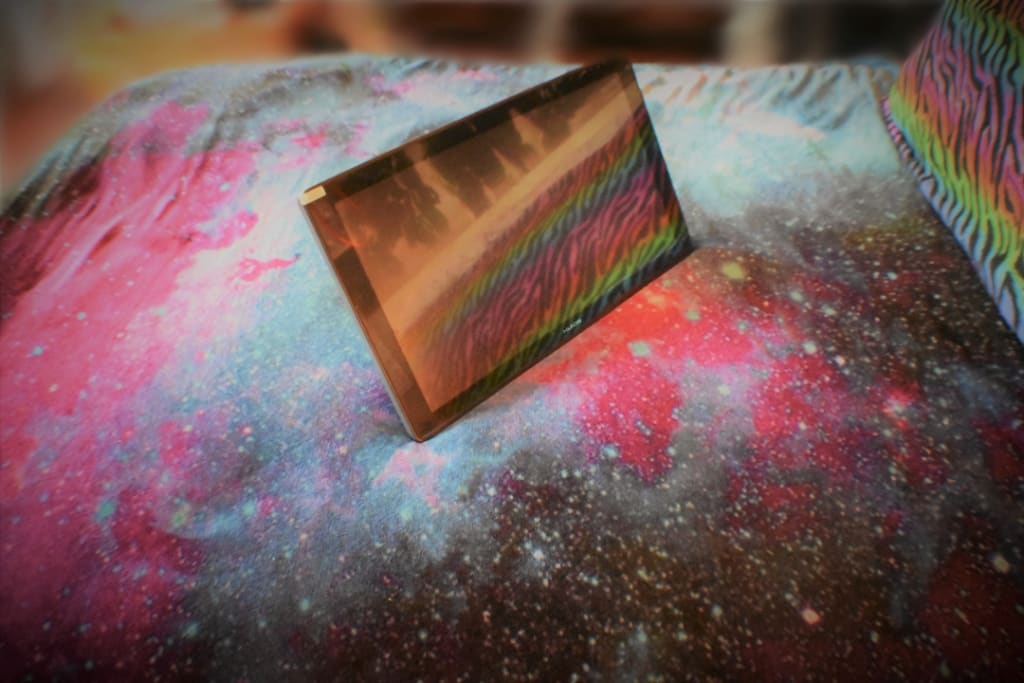 Taken with the help of alexmatrixphoto (Check them out on Instagram!)
If you're not into drawing, this is the Huion KAMVAS 22. It's one of the best drawing tablets that I've used so far. If you're curious about this particular tablet, scroll to the bottom for a quick review of it.
If you're like me and you work at a desk all day, then it can be really nice to get comfortable in a soft bed and pillows. That's where I like to draw from. Drawing while I have a soft blanket on me while there's music playing is one of the most relaxing things I can do after a long day of work; next to reading in my reading nook, of course (check out my last story/article to get that).
The adjustable back makes it super easy for when you are completely awake and are sitting up all the way or when you are fighting the urge to close your eyes and have sagged down all of the way to a laying down position and are losing that battle to stay away.
For me, drawing isn't just a way for me to relax and get comfortable and cozy. True, I believe that I do some of my best drawings when I am comfortable and in my coziest space: my bed. Here's an example of a quick drawing that I've done while a storm was raging not long ago:
However, it isn't just about being comfortable. It's about getting out of that comfort zone. I am a bit of a perfectionist when it comes to anything that I'm passionate about, and drawing is no different. So, if you're like me in that aspect, you might find yourself pressing the back button more than a few times when you're drawing digitally; or using an eraser if you are traditionally drawing.
The reason I draw is to try and get out of that not-comfy zone where I am looking for everything to be perfect. True, I want my drawings to look nice, but I don't want to try and shoot for perfection. I want to go for satisfaction. I want to be satisfied with my own effort and the results that come with it, and that's what I'm drawing for. That's how I plan to get and stay in my cozy zone.
I got my first drawing tablet for my birthday about a year ago; another Huion but one without a screen. It was nice and I used it a lot for pixel art, but I found it a little bit difficult when it came to more detailed drawings since I like to look where I am drawing.
(A screenless drawing tablet uses the monitor of the computer while a drawing tablet with a screen can be used as a second screen or the main screen depending on your preferences.)
Tips I have if you want to get into digital art:
1. Start off with a screenless drawing tablet if you have never done digital art before.
If you are set on getting a drawing tablet, then you may want to save your wallet the extra stress by getting a screenless tablet first. They are generally a hundred dollars or less and can last a long time if you take care of the wire(s) and pens.
2. Watch some Youtube videos
If you have no drawing experience at all, the best place you can learn for free is Youtube. You can get inspired by watching animation videos, how-to videos for different art styles and techniques, and the list goes on.
3. Start with traditional sketching
The cheapest and easy way to get introduced to digital art is to have some experience with traditional art; aka drawing/sketching with paper and pen. It may not be exactly what you want to do since the simplicity of technology, but if you are broke and are looking for a chance to express yourself in your own comfy-cozy zone, a paper and pencil is all you need.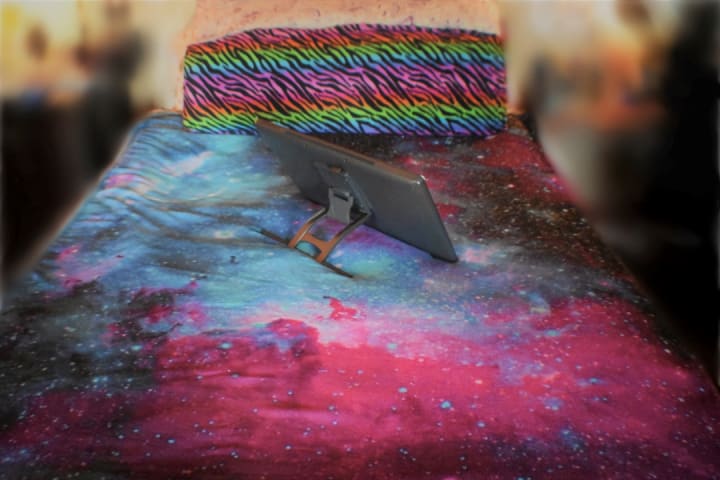 A quick review of the Huion KAMVAS 22
The screen is one of the best that I have seen and drawn with. As a relatively-noobish artist, it was super easy to adjust the settings to how I want them.
The pen was also a huge upgrade, too. For some of the older models, finding the buttons on the pen can be a little hard since they blend in with the grip of the pen, which feels comfortable enough to use for hours. However, the newer design has a silver border around the buttons that makes it easier to find, especially if you tend to twirl your pen a little while you're thinking.
I was a little worried that the wires wouldn't be long enough but was relieved to find that they were more than enough when it came to the length. The only thing I would change is the length of the connective wire between the computer and the tablet.
Thanks for reading! If you liked it or the tips that came with it, please give this a like and share it. It really helps. If you're interested in more of my work, check out my Twitter for live updates when articles, stories, and poems are available.