Austin SEO Company: 8 Ideas for 404 Error Page Conversions
As an Austin SEO company, we have put together 8 creative ideas for optimizing your 404 error page, which can help boost web traffic and conversions.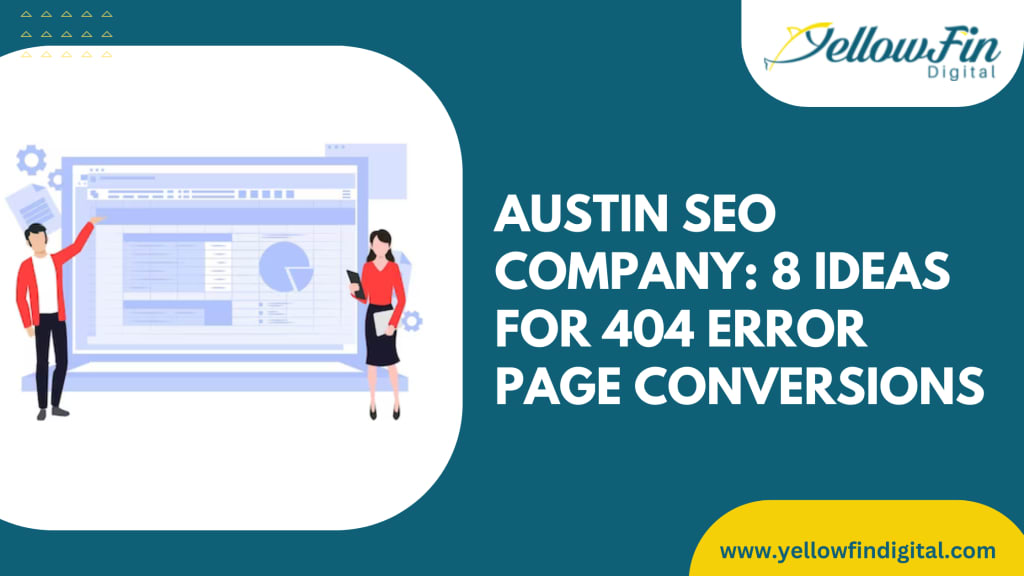 In digital marketing, website owners strive to increase conversions and improve their online presence. Providing a smooth user experience is essential to achieving success. However, despite best efforts, visitors sometimes end up on a 404 error page when they need help finding the content they seek. This is where an Austin SEO company can come to the rescue, offering innovative solutions to turn these error pages into valuable opportunities.
Despite the negative connotations, 404 error pages can be an opportunity to boost conversions and cultivate positive interactions. This article offers eight creative ideas to enhance 404 error pages and improve visitor engagement. Let's explore these ideas and learn how to turn this situation around.
What is a 404 page?
A 404 page is an error page that appears when the server cannot find the requested webpage. This can happen when a link is broken or outdated, a URL needs to be corrected, or a page has been removed or relocated without a proper redirect. As a result, the visitor is directed to a 404 page, which informs them that the content they were looking for is unavailable.
8 Ideas to Improve Conversion Rates on Your 404 Error Pages
1. Display Some Of Your Products
When a visitor encounters a 404 error page on an e-commerce site, it can be a missed opportunity to make a sale. However, with some creativity, you can use this error page to showcase your products or services and promote your brand. By providing relevant product recommendations or featuring new arrivals or popular items, you can keep visitors engaged on the page and potentially convert them into customers.
After all, a frustrated visitor may still be interested in making a purchase, and by leveraging your 404 page, you can offer them an alternative path to explore your offerings. You can positively impact potential customers by utilizing your 404 error page to showcase your products and services.
2. Engage with Interactivity
Engaging site visitors is crucial in preventing them from leaving your website. One effective way to do this is by adding a humorous meme that instantly transforms frustration into amusement. One way to make a 404 error page more interesting is to add interactive elements like games, quizzes, contests, polls, or an interactive site map. Website owners can use interactive features to capture the attention of their visitors and keep them engaged with their website, which can result in reduced bounce rates and increased conversions.
3. Appeal with Enticing UI/UX Design
One aspect that can significantly impact these goals is an appealing design on your 404 page. The design of the user interface (UI) and user experience (UX) must be carefully considered if you want to develop a strong relationship with your visitors. By incorporating attractive graphics, animations, and visually pleasing elements, you can capture visitors' attention and make your 404 page more visually appealing.
Furthermore, incorporating branding elements such as logos and color schemes associated with your SEO agency in Austin helps visitors quickly recognize and associate the page with your brand. Alongside these design considerations, it is essential to ensure the message on the 404 page is clear and that visitors can easily navigate to other relevant pages on your website.
4. Create a Search Box
A search box on your 404 page is a valuable strategy to enhance engagement and minimize bounce rates. By allowing visitors to search for the specific page or content they originally sought, you can keep them on your website and improve their overall experience. It's essential to make the search box prominent and easily accessible, ensuring that it stands out on the 404 page.
You can try A/B testing on your website to find the most effective approach. By comparing the performance of a search box against a CTA or testing different designs and placements, you can gather data-driven insights and optimize your 404 page accordingly.
5. Add User Reviews of your Products
Using your 404 page to feature your products and services is a great idea. You can also enhance it by incorporating reviews from users who have used your products or services. Since consumers always seek feedback from other customers, showcasing positive experiences can help build credibility and trust. Including reviews on your 404 error page can help increase your conversion rate. You can make the visitors' experience more engaging and interactive on the 404 page by encouraging customers to share their experiences and stories.
6. Connect to Blogs or Other Relevant Pages
When visitors land on a 404 error page, it presents an opportunity to redirect them and keep them engaged with your website. If your website includes a blog section or other relevant pages, you can utilize the 404 page to suggest related articles or topics that pique their interest. By offering valuable content that aligns with their initial intent, visitors may discover something of value on your website that they had yet to anticipate.
In addition, you can place links to other pages, like a contact form or FAQs section, on the 404 error page for better navigation. By incorporating the expertise of Austin SEO services into your website's optimization strategy, you can ensure that these redirected visitors are more likely to stay on your site, engage with its content, and potentially convert into customers.
7. Add a Human Touch
One aspect to consider is the addition of a human touch. Incorporating an image and name of a company representative or customer can connect visitors to your brand. Consider creating a 'Meet the Team' page where you introduce each employee's role in your organization.
You can also showcase stories from satisfied clients or feedback from industry experts to build trust and transparency with your customers. To make users feel less frustrated and learn more about your company, include a personal touch like your name and contact information on your 404 error page.
8. Entertain with Games
One creative approach is incorporating games or interactive quizzes that align with your website's culture and brand identity. Engaging elements can reduce bounce rates and increase visitor engagement, leading them toward the conversion funnel. The best SEO company in Austin can assist you in creating interactive games or quizzes that align with your brand's messaging and values.
These interactive features provide visitors with a delightful and lighthearted experience and keep them on your website longer. You can seamlessly turn a frustrating experience into a memorable and enjoyable interaction by integrating entertainment into your 404 page. This improves the likelihood of visitors navigating further through your website, which could lead to them becoming devoted customers.
Related Posts: Why is it Important to Focus on SEO for Insurance Agents?
Final Thoughts
You can use a 404 error page to create a positive visitor experience. To do this, be creative and include interactive elements that could entice visitors to explore more of your website, leading to higher conversions. An experienced Austin SEO agency can help you create an effective strategy for your 404 error page that aligns with your brand objectives and customer needs. Implementing these creative ideas can boost conversions and keep visitors engaged with your website.
Reader insights
Be the first to share your insights about this piece.
Add your insights