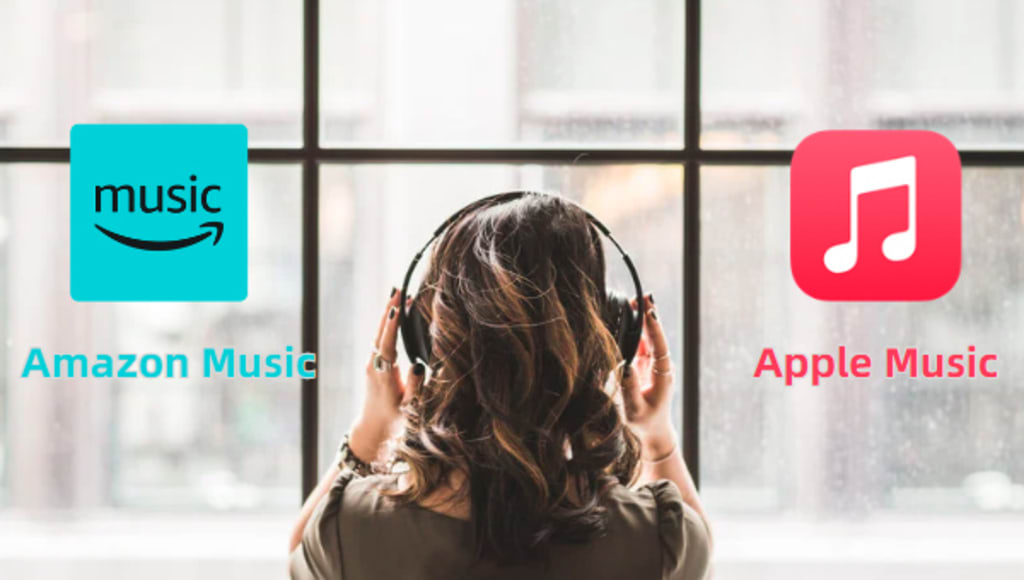 As two big companies in the world, Amazon and Apple have developed many different kinds of business. Among these business, Apple Music and Amazon Music has become popular music streaming for users. These two platforms have their own features and advantages. Therefore, many people get into trouble when making a choice. Today, we will compare Amazon Music and Apple Music in many aspects so that you can have a deeper understanding and help you make a better decision.
Part 1. Subscription Plan
Part 2. Music Library
Part 3. Sound Quality
Part 4. Music Discovery
Part 5. User Interface Design
Part 6. Device Compatibility
Part 7. Amazon Music VS Apple Music: Which Is Better
Part 1. Subscription Plan
Amazon Music has several subscription plans for users. If you want to listen to all Amazon Unlimited on all your devices, you can choose Amazon Music Unlimited plan, which is $8.99 for Prime users and $10.99 for non-prime users. If you want to share the account with your family, the family plan is $15.99/month. For students, Amazon Music also promotes a plan with only $5.99 for one month. In addition, Amazon Music provides a special plan called Single Device Plan, which is designed for users who only want to enjoy Amazon Unlimited on a single device such as Echo Dot, Echo Look, Echo Show, Amazon Tap, or Fire TV. It is very cheap and only costs $4.99/month.

Apple Music also offers 3 tiers: $10.99 per month for an individual, $16.99 per month for up to 6 family members, and $5.99 per month for a student. That's the same price as most music streaming platforms on the market. For new users, Apple Music provides a 3-month free trial to fully enjoy the features of Apple Music. And you can decide which plan to buy after the trial. Similar to Amazon Music, Apple Music also launch a unique plan called Apple Music Voice Plan. It is a service designed for use with Siri that allows users to access more than 100 million songs with just their voice. This plan costs $4.99 per month.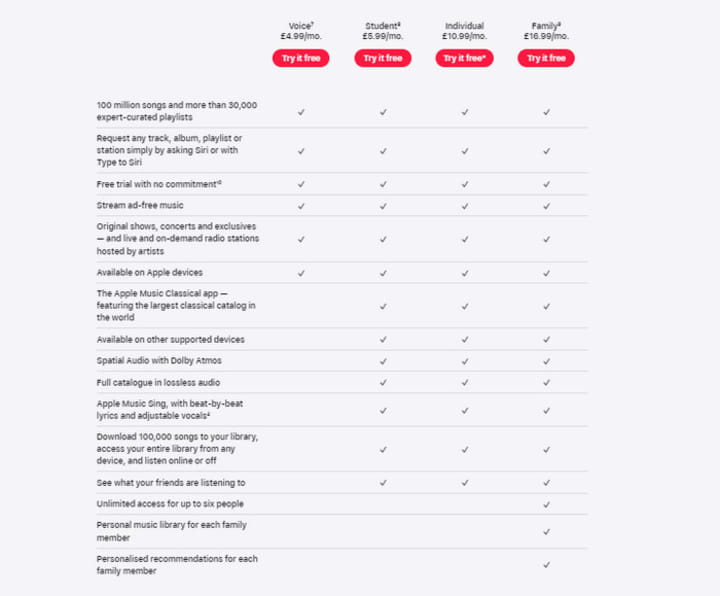 The biggest difference between Amazon Music and Apple Music is that Amazon Music has a Free Plan and Apple Music doesn't. Unlike the prepaid trial, Amazon's free plan allows users to listen to Amazon's music and radio indefinitely, but this listening is a limited list and does not allow more than two skips. So you can decide on the subscription plan according to your needs.
👍Winner: Amazon Music
Part 2. Music Library
Both Amazon Music and Apple Music have provided more than 100 million tracks for their users. But their focus is different.
In Amazon Music, you can find many songs on the Home page. Amazon Music will generate various recommendation lists for you to choose from based on your usual listening habits. At the same time, another feature of Amazon Music is podcasts. Amazon Music's podcasts cover a wide variety of genres, including economics, politics, music, toddlers, science, and more. It's a podcast lover's paradise.
Apple Music also has personalized recommendations. When you log in, Apple Music will let you choose a few of your favorite artists, use them as a basis for creating playlists, the daily mix, and updating the 'For You' section according to your taste. In addition, Apple Music also launched Apple Music Classical, which is software specially designed for the majority of classical music lovers. Here you can enjoy high-quality and comprehensive classical music.
👍Winner: Amazon Music
Part 3. Sound Quality
Sound quality is a key factor for users to choose a music platform. Amazon Music and Apple Music are no slouch in this regard.
Amazon Music claims that the highest audio quality can be up to HD which is 16-bit/44.1kHz and Ultra HD which is 24-bit/192kHz in FLAC format. But if you want to get such high quality in iPhone, you have to use an external DAC (digital-to-analog converter) for the Hi-Res Lossless tier. At the same time, you can select audio quality (low/medium/high), which varies from 48 Kbps to 320 Kbps.
Apple Music also provides lossless audio quality with the same bit rate. It uses ALAC format to record the lossless audio file streaming at up to 24-bit/192kHz and CD-quality at 16-bit/44.1kHz with True Hi-Res Audio. This means that the songs you listen to in this format will be infinitely close to the way the artist recorded them in the studio.
Of course, if you are not so pursuing lossless sound quality, both Amazon Music and Apple Music provide basic 256kbps high-quality music, which can meet the needs of most users. In addition, both two platforms support music in spatial audio but you need to rely on supported devices to enjoy them.
👍Winner: Draw
Part 4. Music Discovery
A good recommendation algorithm can help users find more music that matches their taste. Amazon Music and Apple Music also have different characteristics in terms of music discovery capabilities.
Amazon Music mainly discovers songs through the two modules of Search and Home. But its discovery capabilities are limited and it lacks personalization. In some personalized mixes such as 'Songs For You', these songs are not composed according to the user's personal preferences, but are selected by the platform based on currently popular songs. Although some songs may satisfy users, they cannot bring much freshness. If you want to know the latest released songs, you can find New Release under the Search page to explore new songs.

Compared with Amazon Music, Apple Music's music discovery function is more comprehensive. First of all, it also has some classic recommendation modes, such as 'New Music', and 'Best New Songs' to help you discover some new songs. Plus, it has mood playlists for when you don't know what to listen to. Last but not least, the most unique aspect of Apple Music is its Charts. This section features 'City Charts' and 'Daily Top 100', providing listeners with a wider variety of options to learn about trends around the world. You can find that it is something Amazon Music doesn't have.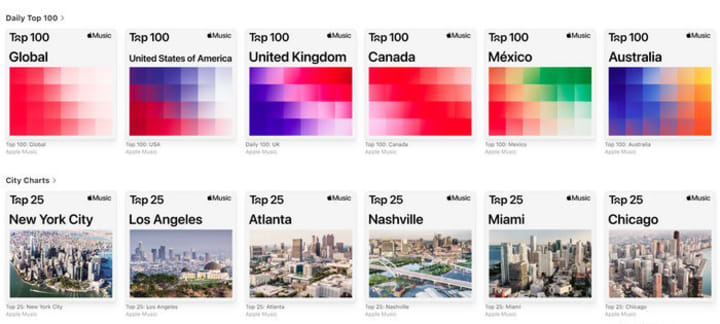 👍Winner: Apple Music
Part 5. User Interface Design
Amazon Music is mainly a dark interface and you can find four main parts on the top of the desktop app, including Home, Podcasts, Library, and Search. The simple design allows users to find what they need at a glance.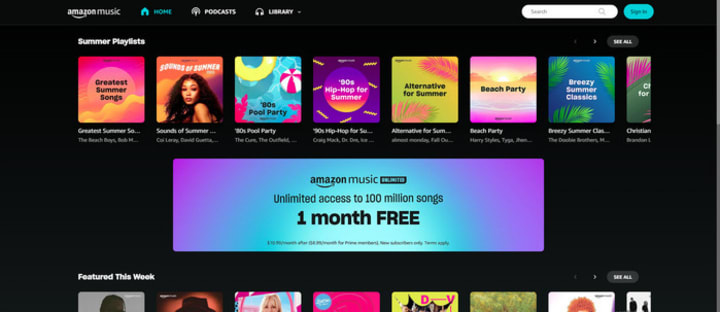 Apple Music's design is a little different than Amazon Music's. First of all, Apple Music uses a brighter and simpler white as the main background, plus some red icons dotted in it, making the entire page cleaner. At the same time, it chooses to set the navigation bar on the left, listing 'Listen Now', 'Browse', 'Radio' and playlists, etc. This enables users to find their list information quickly. Apple Music also makes the side navigation bar editable, allowing users to add or delete lists at any time, and at the same time freely drag and drop the content they want to move to different lists, improving the flexibility of use.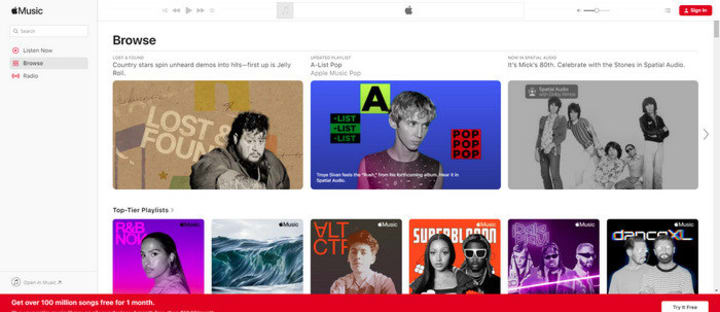 👍Winner: Apple Music
Part 6. Device Compatibility
As the two big music platforms, Amazon Music and Apple Music rely on Amazon and Apple to support a series of devices. Amazon Music works with most devices, including Amazon Echo devices and other Alexa-enabled speakers, mobile devices, computers, and more.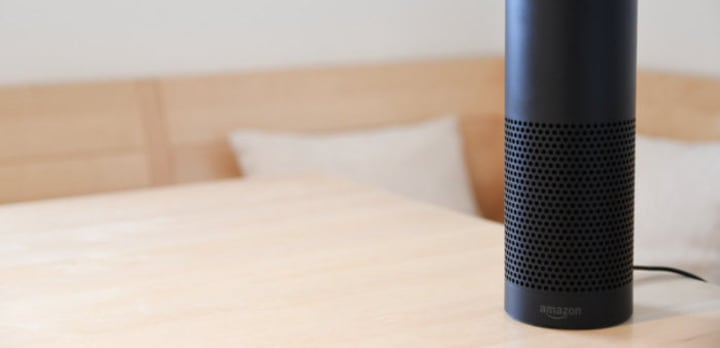 Apple Music, on the other hand, has a strong relationship with other Apple products and applies to a series of Apple products. For the Android system that cannot be used directly, iTunes has also been launched to cooperate.
Generally speaking, if you are an Apple fan and own a lot of Apple products, then Apple Music is very suitable for you. If you pursue more device compatibility, then Amazon Music is a better choice.
👍Winner: Amazon Music
Part 7. Amazon Music VS Apple Music: Which Is Better
After discussing so many comparisons, I believe you have a deeper understanding of both Amazon Music and Apple Music. Both have their advantages in different aspects. For example, if you need a more complete and large music library or a free account, then Amazon Music can meet your needs. If you pursue more personalized and rich recommendations and hope to be more compatible with your Apple products, then Apple Music will be your first choice.
Each product has its unique charm, which is also the confidence for them to gain a firm foothold in the music platform market. How to choose a music platform, the most important thing is that you need to list your needs and sort them, so that you can find more suitable products for you.
Part 8. Extra Tip: How to Download Amazon Music to Computer Forever?
Although Amazon Music allows you to download and play offline, once your subscription expires, previously downloaded songs will lose their validity. So, here, we will introduce you to a tool called TuneBoto Amazon Music Converter that can help you save Amazon Music forever.
How to Download Amazon Music to Computer
STEP 1 Run TuneBoto on Your Computer
Open TuneBoto on your computer and there are two modes for you to choose from: Amazon Music App and Amazon Music Webplayer. App mode supports downloading Amazon Music up to Ultra HD at 5X speed (1X in Mac version). Webplayer mode supports downloading Amazon Music up to HD at 10X speed. Select one of them as you like and log in to your Amazon Music account according to the instruction.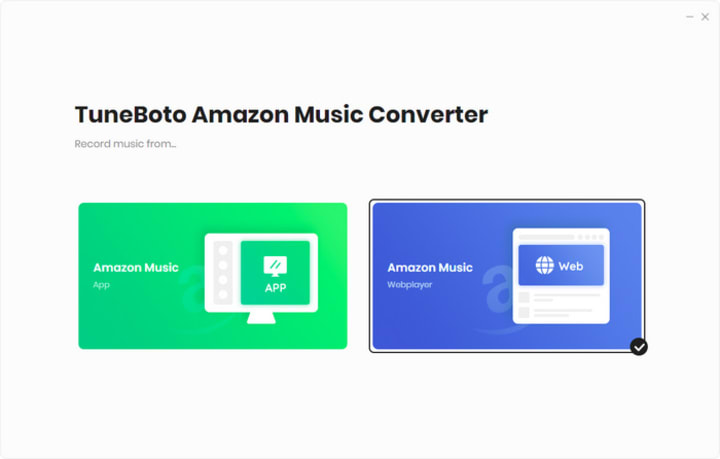 STEP 2 Choose Settings As You Like
Go to TuneBoto's main interface and click the "Settings" tab in the lower left corner. Here you can modify the output settings freely, including output format, bit rate, output path, and so on. If you want to retain the HD or Ultra HD quality, choose FLAC or Auto as the output format.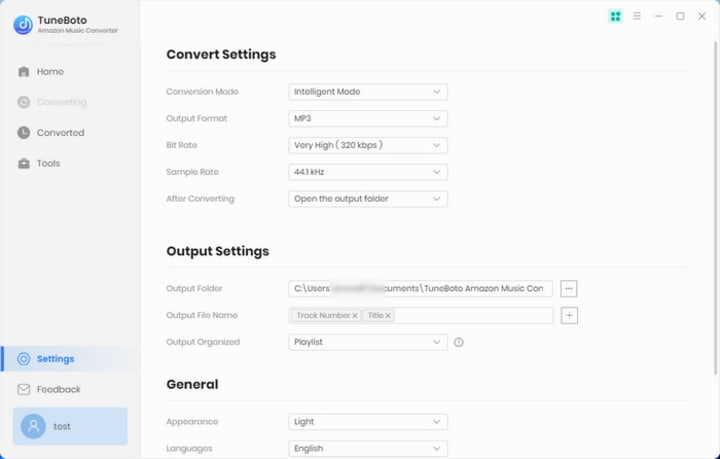 STEP 3 Pick Up Amazon Music You Want
If you choose Amazon Music App, go to the Amazon Music app to select the playlist you want. And then drag and drop the playlist to TuneBoto or copy the link and paste it in the box. Then a parsing window will automatically pop up. Pick up the specific songs you want and click "Add".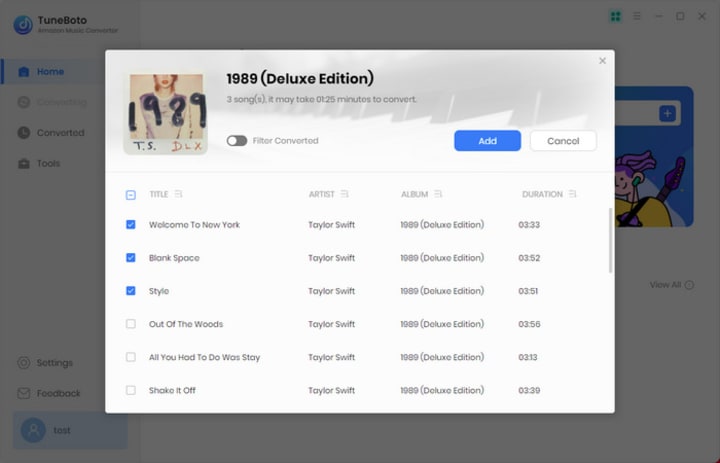 If you choose Amazon Music Webplayer, go to the Amazon Music webplayer and browse to find the playlist you want to download. Open it and then you'll see a blue "Click to add" button in the lower right corner. Then select the songs you need and click "Add" in a new window.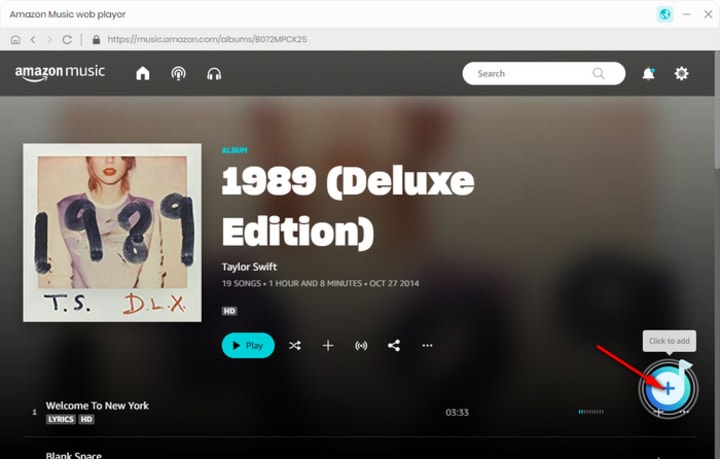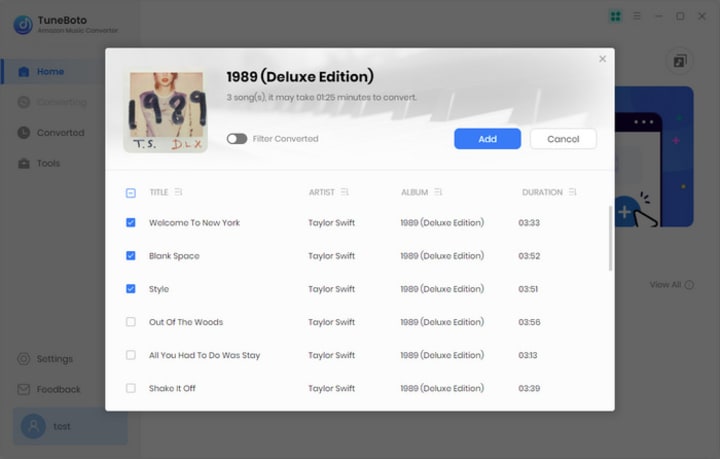 STEP 4 Convert Amazon Music
After the selection is finished, you just need to click "Convert" to start conversion. Then once the conversion is complete, go to the Converted section to check your downloaded songs.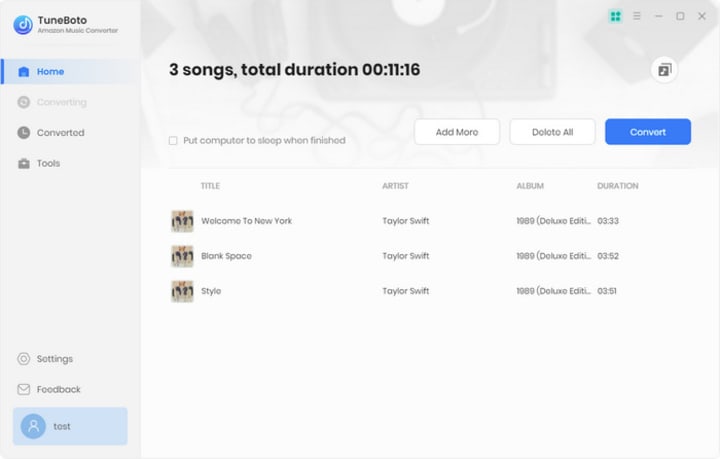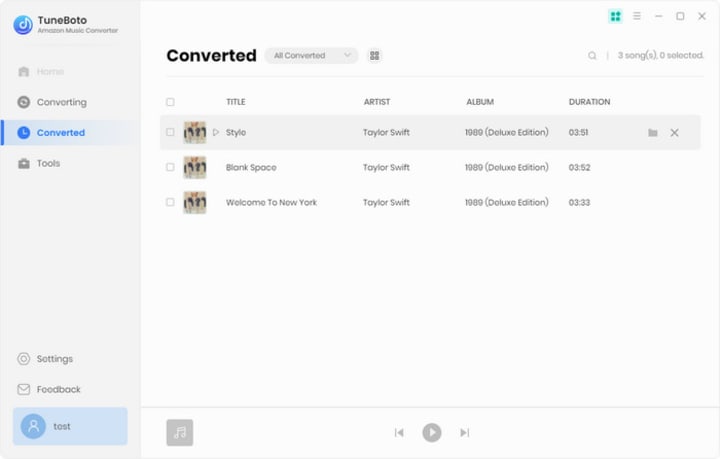 Summary
In this article, we compare several aspects between Amazon Music and Apple Music. Both have various strengths and advantages. When choosing a music platform, you should start with your own needs and choose the products that suit you. At the same time, in the face of the situation that the downloaded songs are invalid, you can use TuneBoto Amazon Music Converter to help you download Amazon music permanently.
Reader insights
Be the first to share your insights about this piece.
Add your insights