Alcohol Delivery Business
Alcohol Delivery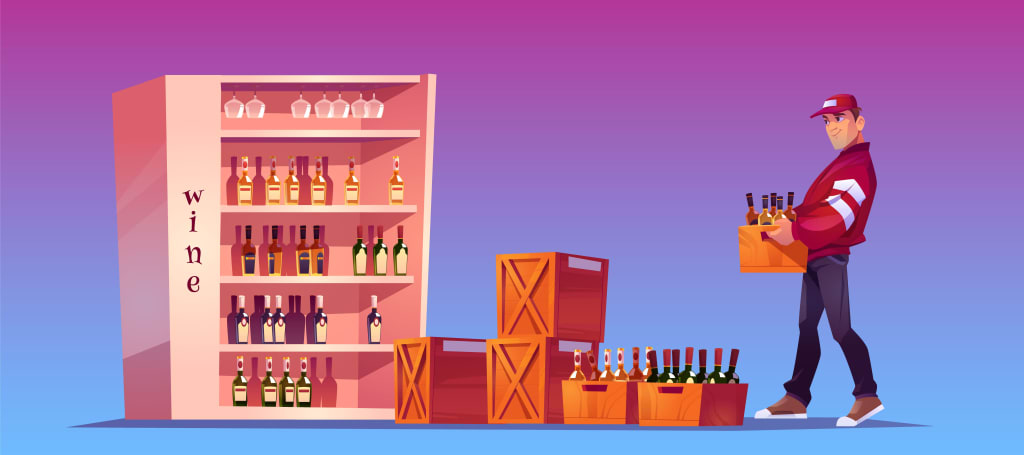 Starting an alcohol delivery business might have been tricky a few years back, but not anymore! Since alcohol delivery has been legalized in some parts of the world.
You, as an entrepreneur, have to think of entering this market.
Let us know how to start an alcohol delivery business by learning the five core steps of developing an on-demand marketplace.
To make it more interesting, we have given a few examples of alcohol delivery apps that are flourishing in this industry!
Get going! There is more to know!
How an on-demand delivery app can help your alcohol delivery business?
These are some of the reasons why you should consider trying an on-demand delivery app to get your alcohol delivery business off the ground.
Your business will reach more customers through an online alcohol delivery service-providing app.
You can promote your online app-based business much easier when compared to running a traditional business.
You can manage your entire alcohol delivery business using a simple-to-use dashboard.
When you own an app-based platform, it'll give you ease to customer management and support.
You will be able to track the performance of your alcohol delivery business as all the data is downloadable in a CSV format, which can be used for data analysis.
Registering your online business is much simpler than having a brick-and-mortar business.
We gave you ample reasons! Now it's time to get to know how to start your alcohol delivery business!
What are the 5 things to consider before developing an alcohol delivery app?
These are the five things that you should be knowing and analyze before starting an on-demand alcohol delivery business using an on-demand delivery app.
1. Business & revenue model of the on-demand alcohol delivery business
A business model is the basis of any startup idea.
Having a futuristic and scalable business model will always help your business be flexible and adaptable to the future.
Have you considered an aggregator business model for your alcohol delivery business? You definitely should.
Let me tell you why!
An aggregator business model is designed to connect the service provider and the end-user under one roof. And that one place will be your on-demand marketplace.
How will I earn out of it? – will be your next question for sure! A commission-based revenue model is said to be more supportive of the aggregator business model.
You can earn from the commission fee you get from the end-user, the alcohol store, and the service provider for using your platform.
This is how the on-demand alcohol delivery platform will function!
2. Cost of developing an alcohol delivery app solution
There are two things to consider while thinking about the cost of developing an alcohol delivery app.
Let's discuss both!
Let's say you are considering a solution that is developed from scratch, the cost of developing skyrockets as most development teams use native technology which means;
It's time-consuming.
Incurs more development costs.
No guarantee of timely delivery.
Now, if you are planning on considering the ready-made solution which is a 100% customizable and scalable platform.
Saves time.
Comparatively less cost.
Assurance of timely delivery.
Innovative UI & impeccable UX.
Tech support at your beck and call.
All these perks and more for just $5000 (to the maximum)
3. Tech stack that can be used to develop the on-demand alcohol delivery app
Flutter is an open-source UI software development kit that helps in building web and app solutions on multiple platforms at once.
It was created by Google in 2017 and since then there have been a lot of updates to give developers the space to enjoy building apps more easily!
Flutter runs on a single code base. This means the developers don't have to code Android and iOS apps separately.
The testing time reduces since your ready-made development team will have to test just one code.
The hot reload feature in Flutter can help the developers to simultaneously perform the fixes while testing the output, which ultimately saves time.
4. Features and functionalities that you must consider
Here's the list of MVP features that you should consider having in your on-demand alcohol delivery platform.
User app
Advanced search filter.
Wallet options.
Save favorite locations.
Contactless delivery options.
Tipping the delivery partners.
Give add-ons on the orders.
Delivery partner app
Documents submission while signing up.
Navigation (Google Maps and Flutter location)
Viewing the earning report.
Receiving the earnings from the admin through bank accounts.
Order and profile management.
Alcohol store web panel
Store status.
Operating hours.
Multi-language.
Menu management.
Order management.
Admin web panel
Monitoring all the users.
Service fee management.
Delegate privileges to sub-admins.
Automatic earnings distribution system.
Manage the promo codes.
We have all these features and more in our ready-made on-demand delivery solution – WooberlyEats!
Check out our FREE Demo to know what more we can offer for you at a reasonable price!
5. How will our team technically guide you to start an online alcohol delivery business?
You can contact us to enquire about our product and services via WhatsApp or by dropping an email at [email protected]
You can then discuss your business plan with us which will be strictly confidential.
You can pick a pricing plan.
Our technical support duration depends on the pricing plan you choose.
We have a project management team who will pass on valuable information about the development process.
We promise to deliver your product on time with no compromise on quality.
Best examples of alcohol delivery apps that are doing great!
These are a few alcohol delivery apps that are doing a fantastic job in the industry and soon you could be one of them!
Drizly.
Minibar delivery.
Saucey.
Buttery.
Klink Delivery.
Thristie

As we already disclosed and made a few promises to give you the dream alcohol delivery app.
Now it's your turn to trust us to realize your business dreams!
Reader insights
Be the first to share your insights about this piece.
Add your insights