A Look Into the History of Mobile Apps
A Sneak Peek Into the Evolution of Mobile Applications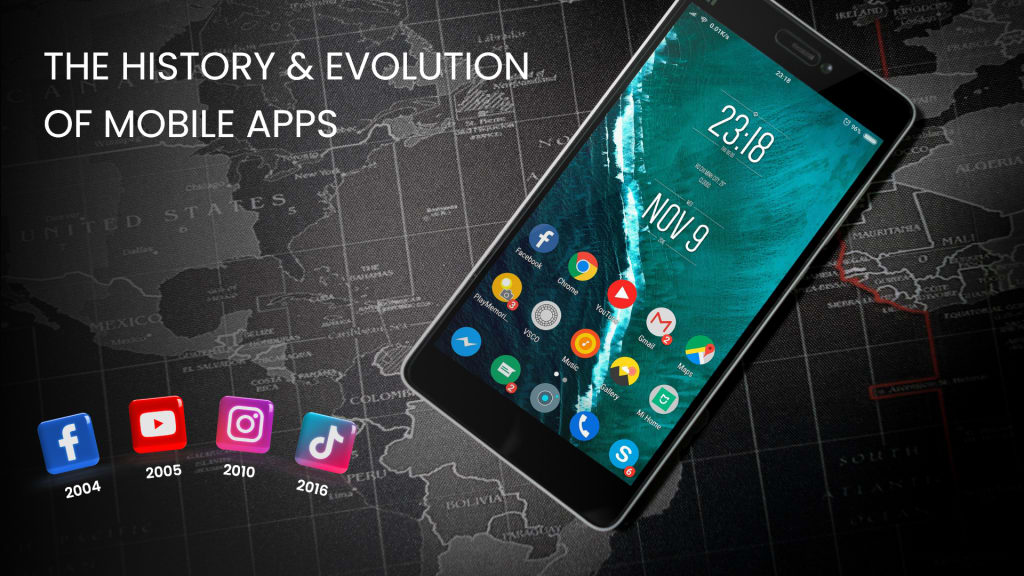 History of Mobile Apps
Mobile applications have increasingly become integral to our daily lives. There is no denying this fact, but it wasn't too long ago when apps were virtually unheard of. Some cellular phones back then came with dedicated features like calendars, calculators and world clocks, but a mobile app as we know it today only recently barged into the limelight along with personal digital assistants (PDAs) and smartphones. But even if mobile apps have only been around for a relatively short period, they definitely have a storied history.
First Smartphones
If we are to trace the history of apps, we need to look at the first smartphone released by IBM on August 16, 1994. Oddly named "Simon", the iconic phone paved the way for the ones we are using today by introducing the touch screen feature. It came preloaded with at least 10 apps including the Address Book, Calendar, Calculator, Note Pad, Mail, and Sketch Pad. These were not called 'apps' at that time. Rather, they were referred to as 'features' found in the phone's Mobile Office section.
In 1990, the Nokia 6110 was released. It's a GSM mobile phone with a built-in version of the addictively simple game "Snake" which many consider as the first mobile application. The first iPod launched in December 2001 and it also came with a built-in game called Brick which was invented by Apple co-founder Steve Wozniak.
In March of the following year, the BlackBerry 5810 was officially released. It was the next major milestone in the realm of mobile app development and it was considered a breakthrough in wireless convergence as it delivered email, SMS, and browser features in a single handheld form factor.
The 4.6-inch phone was a Java-based wireless device that combined BlackBerry's wireless email solution with cell phone service on Global System for Mobile Communications (GSM) networks. It went on to become standard in offices across the globe, boosting collaboration and productivity. It enabled users to make and answer calls, check their calendars, and send and receive emails - all from a single handheld device. Users were likewise able to sync their email exchanges with their personal computer's Sent Mailbox via Lotus Notes Server or Microsoft Exchange. This feature was so cool back then that it was described by the New York Times as 'amazing mirroring magic.'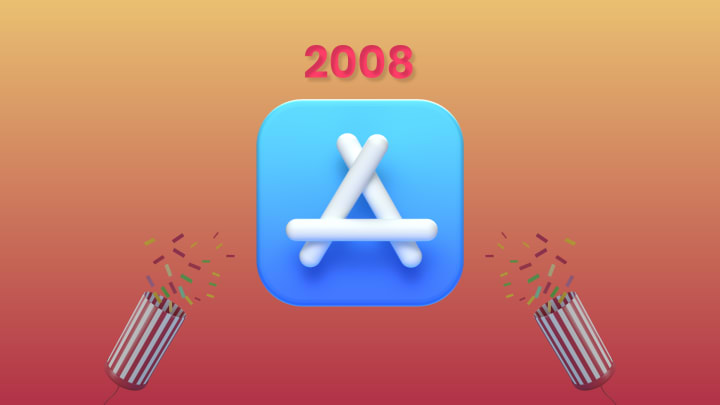 Launch of the App Store
In 1983, the late Steve Jobs first conceptualised the App Store…or at least a rudimentary version of it. He envisioned a place where people can purchase software over phone lines.
Shortly after the iPod was introduced, Apple launched the iTunes store on January 9, 2001. It served as the forerunner to the Apple App Store. Six years later, the iPhone was released to huge critical and commercial success. Developers pounced on the opportunity and started crunching out native apps and then a little over a year later, the App Store was born and featured 500 apps.
This means that there is really no 'true' first mobile app. Nonetheless, as new breed of smartphones was released, new app clients also barged into the lucrative market. Google Play, Blackberry's App World, and the Amazon App Store also allowed users to enjoy a variety of apps on their phones. Each of the aforementioned stores offered both free and paid apps.
Shift in App Usage
Starting in 2014, there was gradual shift in how people use their apps. From mere games and social media, usage expanded to include virtually every aspect of daily life. At one point, Snapchat users were sharing 700 million photos and videos per day. On Facebook, there are roughly 4.75 billion items shared by users each day.
Today there's practically an app for everything. Apple even registered a trademark for 'There's an App for That' and used it as the tagline for their iPhone 3G commercial. The use of mobile apps is very evident in areas like education, communication, transportation, banking, fitness, shopping, business, and tourism, among others.
Mobile Apps Aren't Going Anywhere Anytime Soon
Smartphones are continuing to sell, with mobile apps alongside them. The smartphone industry is a multibillion-dollar business. Led by multinational corporations like Apple, Samsung, Xiaomi, and OPPO, it is estimated that more than 1.5 billion smartphones are sold annually.
With more than 6.3 billion smartphone users and over 1.14 billion tablet users across the world, it's no surprise that mobile apps are thriving… and this is even an understatement. It's not that you need a phone or tablet in order to use apps, there are also smartwatches and smart appliances. Apps have become so intertwined to everyday life that there's only a handful who don't use them.
They have become so ubiquitous it's tough to imagine our world without them. According to a Q2 2021 report by Statista, users have already downloaded 7.9 million from the App Store and a staggering 28 billion apps from Google Play Store. While there have been some lemons and uninstalls due to performance issues, nothing has stunted the growth of the mobile app industry. The global revenue of $581 billion in 2020 is projected to rise to $808 billion in 2022.
apps
About the author
Rahul has been working in Australia's IT industry for more than 10 years. He is the director of JhavTech Studios, a Melbourne-based tech hub which offers top-notch and personalized services in the area of Web and Mobile Development.
Reader insights
Be the first to share your insights about this piece.
Add your insights