7 Ways to Make Your Smart Home Still Look Stylish
With new technologies being introduced regularly, several cool gadgets are adorning various homes, changing the lifestyle of people.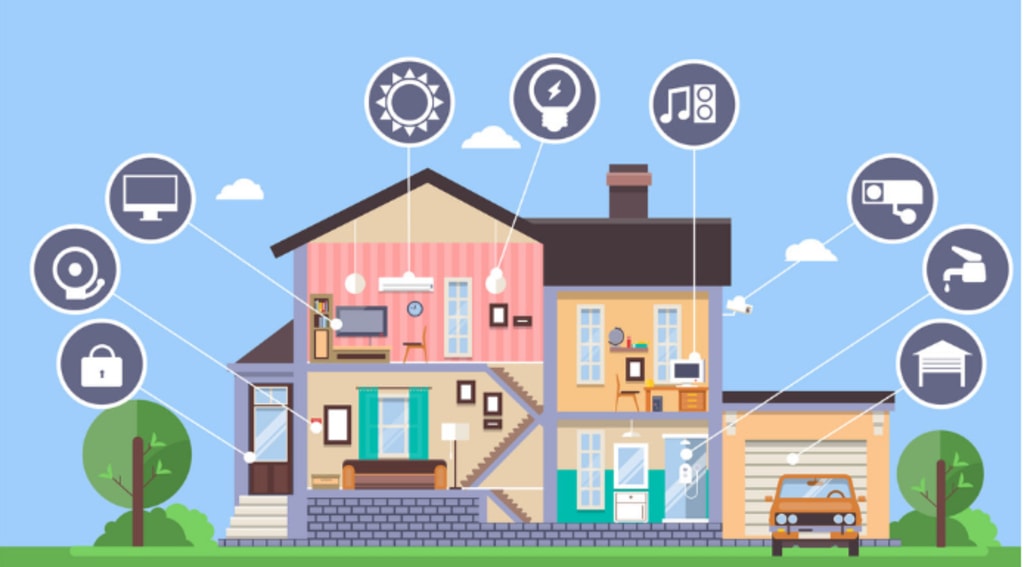 These gadgets are not only fancy but they also provide easy and quick solutions to an individual's problems. Most of them have a simple design and come with improved functions that reduce human effort while conserving space. You will find that many of them are also available within your budget and would be worth the investment.
These innovative technologies are great for daily use and should be put to use inside the homes. Integrating smart technology in a house can not only make your life easier but even boost the property price. In this article, we have listed 7 simple ways to make a house smarter and stylish.
Bluetooth Speakers and Sound Systems
In a tech-savvy household, Bluetooth sound systems and wireless entertainment systems are a huge craze. These devices are not only easy to install but are also easy to use. They eliminate the requirement of multiple devices. The systems can be controlled with just a click of a button on a smartphone or tablet.
Since Bluetooth speakers are generally portable, they can easily be carried around the house and outside it. These speakers are particularly popular among the younger generation and people who love music. They also make the house look modern and stylish, speaking volumes about the owners' personality.
Smart Appliances
Smart appliances are intelligent devices that can be controlled automatically or using a remote-based system such as smartphones for daily use. These can be dishwashers, automatic vacuums, coffee makers and so on.
With the advent of smart appliances such as smart televisions, one can upgrade the house and simplify the visual media experience. These appliances can be controlled using your smartphones and also come with several automatic features to make your life easier. Additionally, with some of these appliances, you can also access the internet, without even getting up.
LED Lightbulbs
Switching to LED lightbulbs is a great way to cut down on energy consumption which is sure to save you a lot on your electricity bills. This also helps in enhancing the technology profile of your home. LED bulbs to consume, on average, 20% less energy than regular bulbs and also last 40 times longer.
Installing smart LED lights can help you control them using your smartphones or computers, also giving you complete information about how much energy is being consumed. This can turn out to be a huge convenience when you are out of your home.
Smart Toilets
Smart toilets are another technology-driven convenience for the modern household. There are many smart devices specially designed for toilets that help in enhancing convenience while using a bathroom. For example, an environment-friendly faucet is a great way to conserve water as it can save up to 15,000 gallons per unit in a year. It also helps in conserving energy while reducing the carbon footprint. It is a great device for the elderly, children and the disabled. Smart faucet is an expensive way to ensure hygiene and the contamination-free environment in the toilet.
Another useful smart device for the toilet is the thermal leak detector. It helps in detecting leakages and fixing insulation in the home. They can also monitor windows, ducts and other insulation spots. You can save up to 20% on your electricity bills using this smart device. Smart devices for toilets also include self-powered water meters that help in conserving water. They help in saving energy and display real-time information about water volume and temperature. It is also very easy to install and does not require any tools.
Lighting Controls
The home lighting system has become quite easy and convenient thanks to the Lighting Systems being offered by some well-known brands such as Philips. One can say goodbye to the traditional wall switches and install a modern and smart lighting system that can be controlled using a smartphone.
Most of the lighting systems come with an app that can be installed on your smartphones. This app helps in turning the light on or off from even a remote location. One can even schedule the lights to turn off or on at a particular time using a smartphone or tablet. These types of lighting systems and controls are suited for office as well as a home environment.
Robotic Vacuums and Machines
The high-tech robotic vacuums are cleaning machines that have been around for quite some time now. Manufacturers and developers constantly lookout for ways that can improve this existing technology. Robotic vacuums not the only mop but can also vacuum your home. It can be controlled remotely with the help of a smartphone or tablet. This device ensures that you would never have to hold a broom again.
There are many other high-tech gadgets that can help in improving your life. These include aromatherapy diffusers, wireless washing machines as well as dryers, robotic personal assistants, self-cleaning surfaces and so on. Although they might require a good amount of investment on your part, they are worth the money and are sure to make your life much easier.
7. Thermostats
Thermostats are a great way to increase the sustainability of your home and lower the environmental footprint. The sensor led, learning thermostats can be remotely controlled by connecting it to a Wi-Fi. A thermostat can display the temperature in the home. You can even schedule to turn them on or off at a particular time. This will give you complete peace of mind when you are out of your house or traveling.
Conclusion
You can easily turn your home 'smarter' with the help of the above innovative and convenient technology-driven tools. Some of them have been in the market for a long time now and hence are economical and reliable. Including smart devices can help you save on electricity bills while giving you peace of mind. These devices are also a great way to impress your family and friends who come and visit. They also enhance the value of your home in the real estate market.
gadgets
I'm Emily Browne, a web content enthusiast. I am working as a content writer for three years and I like to contribute articles on different niches to explore knowledge.