7 Ways Artificial Intelligence Can Help Your Company to Beat Competitors
Role of AI in Your Business.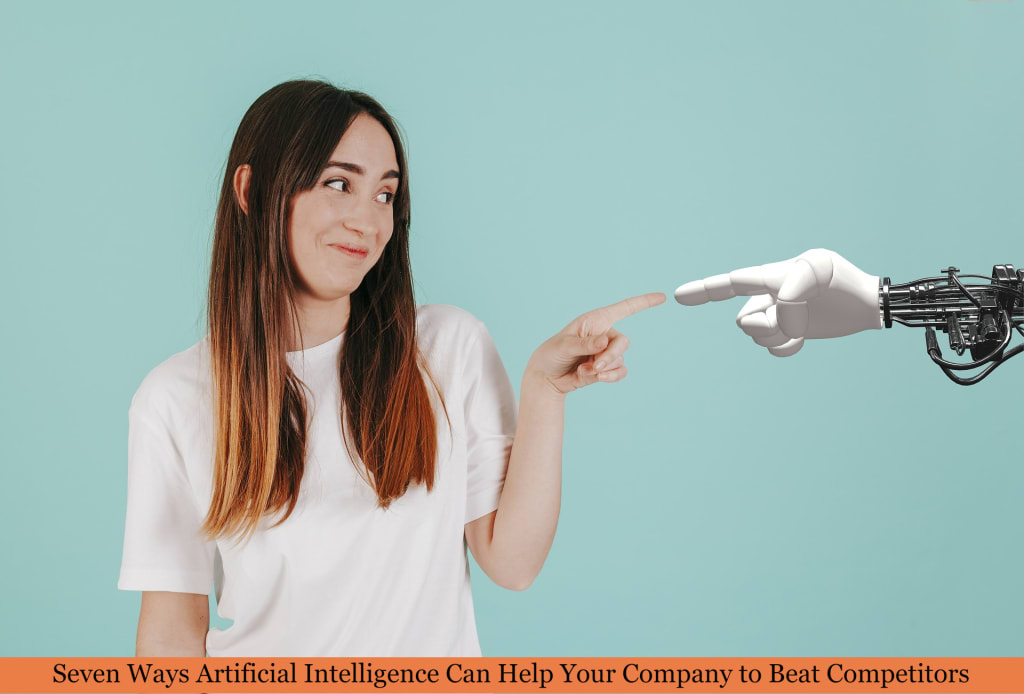 Artificial intelligence has emerged as one of the most popular topics among business owners and marketers. Research also reveals that the robotics market is growing at a yearly growth rate of 36.62%, which might reach over $190.61 billion by the year 2025. Today, businesses in many Arab countries and Western countries are relying on innovative technology to bring digital transformation in their business.
The rate at which this automation is progressing has affected nearly every industry. It has impacted every aspect of society and has also reshaped careers. Many companies have included AI in their policy to increase their worth in the market. The famous motorcycle manufacturer, Harley Davidson, is also using this platform for marketing, which has successfully boosted their sales leads by 2,930%.
From e-commerce to healthcare and to transportation, different businesses and organizations are adopting the technology to drive digital transformation, increase their worth, and to get ahead of their opponents. In this post, we will discuss seven ways by which increasing the use of computers and machines can help the business to beat their competitors.
1. Improved Customer Service
Behind every successful business, there lies a great team of customer service, which by every possible mean turns satisfied customers to permanent loyal advocates. It also shows a gradual increase in the annual sale of the company. However, experts have predicted that 85% of customer service will not include humans by 2020. Many organizations are already using AI chatbots to deal with customers by offering exceptional services.
If you haven't started using this technique, then you should because by doing so, you can move ahead from your contenders. Smart chatbots are trained to understand and address clients' queries and provide them with proper answers more quickly than humans do. All these tools ensure 24/7 availability and support, which proves to be effective in cutting operating expenses.
2. Automatic Workflows
By adopting a complete automatic workflow, companies can beat their competitors. AI can empower any business by taking over the time-consuming and frequent tasks. This allows other workers to focus more on their work in a creative manner. Computers manage all the routine operations, such as managing a schedule or forwarding a request, and this indeed saves time.
Using innovation in the workplace might also help you in administrative work. The HR team can speed up the hiring process by making proper use of AI tools to scan through candidate resumes and find the best contender.
3. Coaching and Training
With the latest artificial intelligence and machine learning software, you can provide training to your employees with all the required tools so they can give their best. The machine learning algorithms capture and analyze client interactions and also recognize the successful sales techniques, which can be used later to train more salesperson.
By using intelligent chatbots, training can be given to the sales team. These chatbots rely on in-depth engagement analysis to cause conversations with a client and suggest the right things at the most suitable time.
4. Competitive Intelligence Strategy
In order to leave your competitors behind, you need to be active, act smart, and respond faster. To do so, you have to pay attention towards the marketplace and be aware of your competitor strategies and next move. To excel in this area, take help from competitive intelligence. These AI-powered software keeps an eye on your counterpart's activities across different platforms and reveals their product and service gaps along with their strengths and weaknesses.
5. Opinion Mining
It is also known as sentiment analysis. It uses machine learning and natural language processing to examine social media news, posts, or reviews. All this data is essential in analyzing public opinion regarding your brand, product, or service. By tracing customer sentiments, you will have a better understanding of your customers, easily identify their concerns, and will be able to address them with time.
To move more forward, you can combine this data with the client's demographics, which enables you to divide consumer database. This will help you in developing a customized strategy for every group and you can improve at a quicker rate.
6. By Adopting Effective Marketing Strategies
Artificial Intelligence creates opportunities for effective marketing strategies. AI-enabled analytics tools can be used to analyze large data to grow and develop useful insights into consumer behavior. For example, AI successfully tests human reactions from different ads. It can examine the length, music, and language of the ad. From here, it can pick up ads with the potential of producing an accurate response for the targeted audience.
With the data collected, a better understanding of the trends and patterns can be achieved. Moreover, it can guide the company on how to create an ad for your specific brand and adopt an effective marketing strategy to reach the customers.
7. Improving Conversion Rates
The success of every business is determined by the sales and progress made in their conversion rates. For example, AI-supported tools and software help the company's revenue engine to run effectively. It allows customers to buy their products and suggest other related items based on their previous search queries.
Moreover, it also helps in tracing certain products by using photos instead of searching by text tags. With these tools, brand sales have improved, and it has also simplified the process of searching for customers. The businesses who are adopting this technique are experiencing increased customer satisfaction along with improved conversion rates for their business.
Conclusion
More and more companies are including AI technology to grow their business and go-ahead from their competitors. This technical resource will not only progress their workforce productivity, but also strive to improve their brand's image and make their customers happy. Therefore, don't miss out any chance to involve AI tools in your business.
Author Bio:
Ahmad Raza is a professional thesis writer who writes theses on different subject areas. Besides this, he also likes to write about various topics like artificial intelligence, cyber-security, health, and lifestyle.