7 Reasons Why You Should Rely On Commercial Credit Checker!
Commercial Credit Checker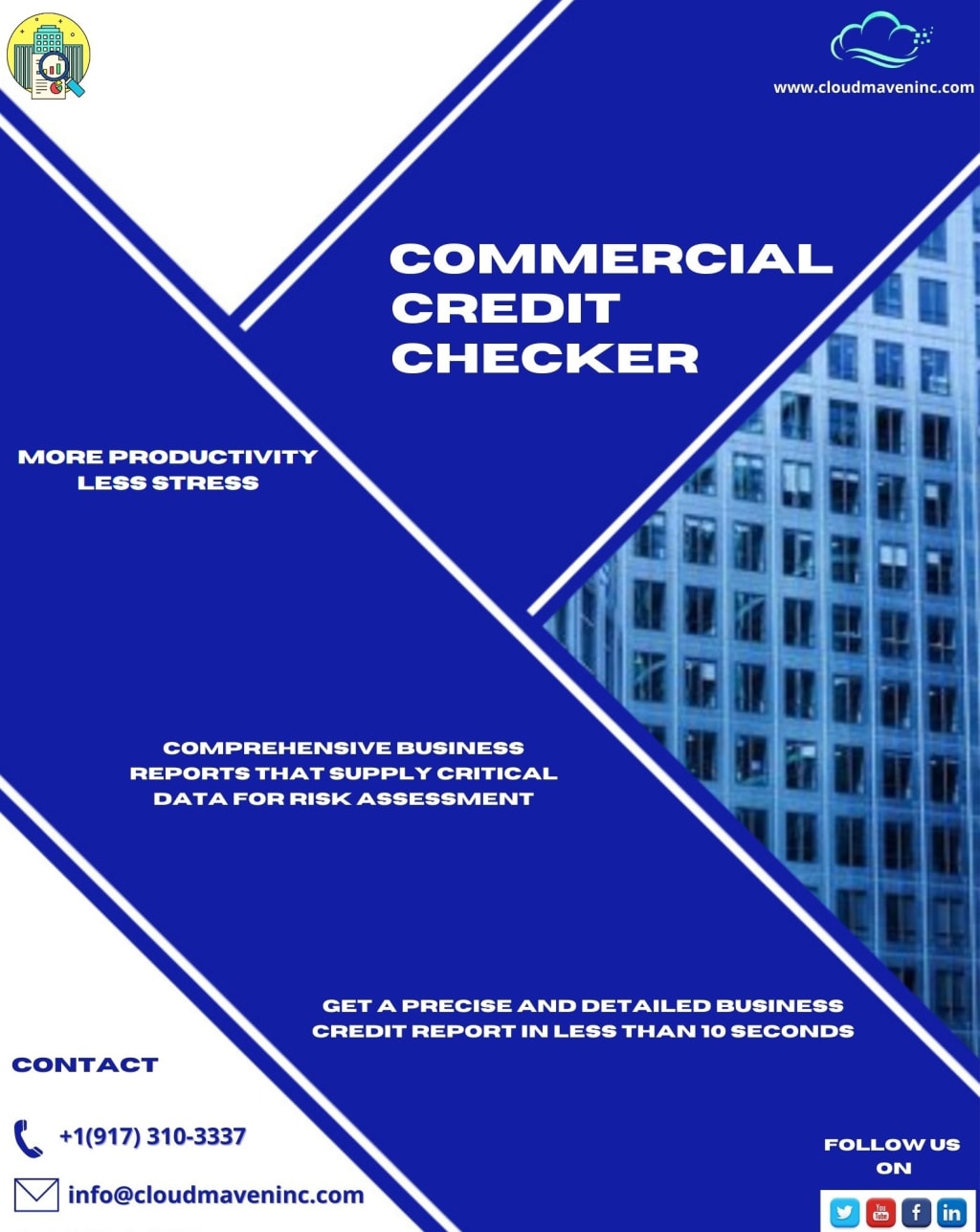 Commercial Credit Checker
Credit risk is the biggest risk in a business. No one ever wants to have an immense financial misfortune or get bankrupt. A few years back, there were no such applications or tools that could assist with business risk while dealing with a new client, expanding your credit limit, or putting resources into a project. Earlier all the process was manual and results were not precise.
To avoid such risks and to help businesses in making a precise and sound decision Cloud Maven, Inc. has developed a revolutionary application "Commercial Credit Checker".
"Commercial credit checker" is one of the best applications available on the Salesforce AppExchange to help you make an informed credit decision.
Cloud Maven, Inc. is a SaaS company and Salesforce ISV, partner. We help businesses, start-ups, and non-profit organizations to automate their business so that they can focus on increasing productivity and expanding their business.
Commercial Credit Checker is one of the Salesforce-native applications through which customers can pull Experian, Equifax, & PayNet reports in no time without leaving the Salesforce to make accurate and effective decisions for their business. These reports help you understand customer's financial stability, creditworthiness, payment trends, and more.
Commercial Credit Checker provides a combined report of credit risk, credit score, corporate registration, fraud & compliance check, payment trends, in one report. Through this, you can analyze the buying capacity, the possibility of bankruptcy of the client.
The amazing thing is that you can pull credit reports from any standard and custom objects in salesforce. Easy installation and real-time support from our highly skilled team of developers is an added advantage.
The application currently supports real-time enterprise credit reports in 62 countries over 365 million organizations. customized credit report from multiple bureaus is just a click away with Commercial credit checker.
You require a Business name and city to pull a credit report and the application will provide a list of similar businesses matching the name along with the reliability search score. Once mandatory fields are filled then click run business reports and it will show you the list of bureaus from which you want to pull the credit reports. You get the required information with one click to make any decision.
If your company needs credit reports for businesses then "Commercial Credit Checker "would be the best choice for you. Our most advanced application will surprise you with the instant output you ever wished to get.
Commercial Credit Checker's automated systems have access to credit reports and get instant information about the targeted client. Thus, you can make an informed decision by examining the reports.
The final report has details like:
Business Info
Risk Dashboard
Business Facts
Commercial Fraud Shield
Credit Risk Score
Payment and Legal Filings Summary
Payment Trending
Collection Experiences
Trade Payment Summary
New and Continuously Reported Trade Details
Additional Trade Details
Legal Filings
UCC Filings
Additional Business Facts
Corporate Linkage
These are some of the details you will receive from Experian. In the same way you will receive information from Equifax & PayNet. Installation is easy and can be embedded into any workflow inside salesforce without any custom coding.
While the benefits of Commercial Credit Checker are uncountable, but the major things you may consider are
Combines credit, fraud, and compliance checks with company background data in a single report
Provides comprehensive business reports that supply critical data for risk assessment
Fraud capabilities include personal and business – something D&B can't do.
Get a precise and detailed business credit report in less than 10 seconds
Fast and user-friendly interface
Real-time supports from skillful developers
Run credit report from any Salesforce standard or custom object
To avail of a free demo contacts us at https://cloudmaveninc.com/contact-us/.
Check out the app at Salesforce AppExchange.