7 Portable Skin Remedies for a Glowing Complexion On-the-Go
Skincare at home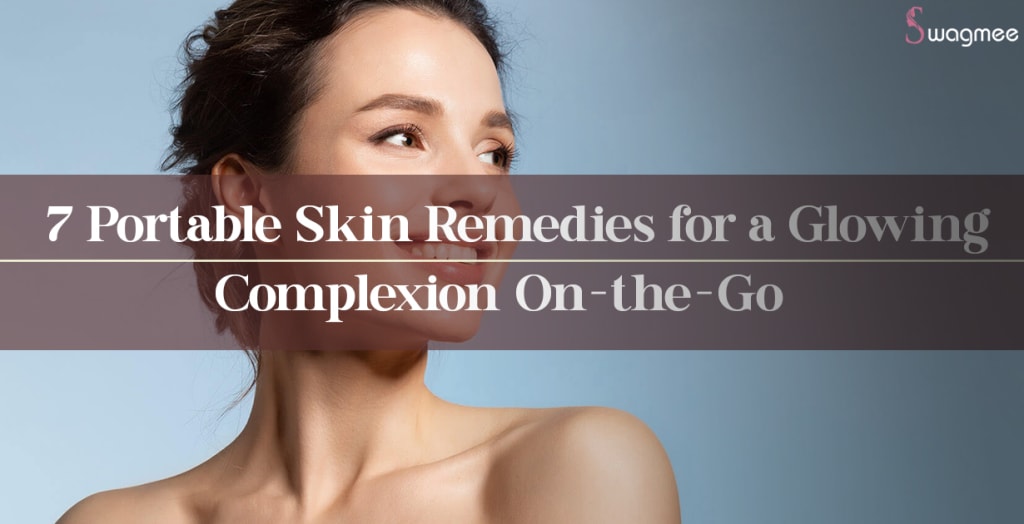 Are you tired of dealing with skin problems on the go, like dryness, dullness, and breakouts? Do you want to keep your skin healthy and glowing, no matter where life takes you? Look no further! Here are 7 portable skin remedies that you can easily carry in your bag and use whenever needed.
Facial Mists: A facial mist is a quick and easy way to hydrate and refresh your skin. Whether you're on a plane, in a crowded office, or just in need of a pick-me-up, a facial mist can provide a burst of hydration and revive your complexion.
Lip Balm: Dry, chapped lips can be a real bummer, especially during the winter months. Keep a nourishing lip balm in your bag to protect your pout and keep it soft and supple. Look for ingredients like shea butter, beeswax, and vitamin E.
Hand Cream: Your hands are one of the first things people notice, so make sure they look their best with good hand cream. Choose a cream that's rich in nourishing ingredients like coconut oil, shea butter, and glycerin.
Face Oil: Face oils are a great way to give your skin a boost of hydration, especially if you have dry or mature skin. Choose a light, non-greasy oil that absorbs quickly and doesn't leave a greasy residue.
Sunscreen: Sunscreen is one of the most important things you can do for your skin, and it's especially important when you're on the go. Choose a broad-spectrum sunscreen with an SPF of 30 or higher.
Cleansing Wipes: Cleansing wipes are a quick and easy way to cleanse your skin, especially when you don't have access to a sink. Look for wipes that are gentle and free from harsh chemicals.
Spot Treatment: Breakouts and blemishes can be a real hassle, especially when you're on the go. Keep a spot treatment in your bag to quickly and effectively target problem areas. Look for ingredients like salicylic acid, tea tree oil, and benzoyl peroxide.
Using these 7 portable skin remedies can help keep your skin looking healthy and glowing, no matter where life takes you. Whether you're travelling, at work, or just on the go, these remedies can help you maintain a beautiful complexion.
When it comes to facial mists, there are a variety of options to choose from. For example, if you have dry skin, you may want to look for a mist that contains hyaluronic acid, which is a powerful hydrator. If you have oily skin, look for a mist that contains tea tree oil, which can help control oil production.
When choosing a lip balm, look for one that is moisturizing and contains natural ingredients like shea butter and beeswax. These ingredients can help protect your lips and keep them soft and supple.
When it comes to hand cream, look for one that is rich and nourishing, but not greasy. Coconut oil, shea butter, and glycerin are all great ingredients to look for.
For face oil, look for a light, non-greasy oil that absorbs quickly into the skin. Jojoba oil, argan oil, and rosehip oil are all good options.
Conclusion
Finally, taking care of your skin while travelling doesn't have to be a difficult task. No matter where you are, you can easily maintain a radiant complexion with these seven portable skin remedies. These treatments, which range from facial mists to sheet masks to facial rollers, are made to hydrate and renew your skin, leaving you with a radiant and healthy glow.
Always keep in mind that a healthy lifestyle and skincare regimen will give you a complexion that glows. Therefore, it's essential to maintain a balanced diet, drink plenty of water, and get enough sleep in addition to using these portable remedies. It's simple to take care of your skin and keep it looking its best by incorporating these remedies into your skincare regimen.
Furthermore, it's important to choose remedies that work well for your skin type. For instance, oily skin may benefit from a mattifying mist, while dry skin may require a heavier cream or oil-based serum. Therefore, take time to understand your skin type and choose products that will nourish and protect your skin.
Last but not least, remember to pack these remedies in a handy travel bag so you can quickly get to them whenever you need them. These remedies are a necessity for a glowing complexion, whether you're travelling or just on the go.
In conclusion, maintaining a healthy lifestyle in addition to using the right products is essential for having glowing skin. Your skincare routine will benefit greatly from including these portable remedies if you want to develop a healthy and radiant glow. So go ahead, try them out, and enjoy the benefits of a beautiful complexion on the go.
Reader insights
Be the first to share your insights about this piece.
Add your insights