7 Easy Ways to Earn Crypto Online
Get paid in crypto to learn, have fun, and browse the Web
If you want to get exposure to cryptocurrencies, there are multiple benefits to earning them rather than investing in them. For one, it's a lot more convenient than converting your fiat money to crypto. You'll save the fees as well.
What's more though, you may experience some tax benefits if you can avoid the double taxation that comes from investing in crypto and paying capital gains taxes on your already-taxed income. Earned crypto will hopefully only get taxed once. All this will vary a lot from jurisdiction to jurisdiction and I'm by no means a tax expert, so please do your own research.
Now, while you most likely won't get rich from the activities covered below, you will be able to make a few extra bucks' worth of crypto while learning, having fun, browsing online, or without really doing anything at all…
1. Learn about crypto
Some platforms reward you in crypto to learn about crypto. If you're new and curious about the space, does it get much better than this? I've personally used Coinbase Earn back in the day and earned a few dollars worth of crypto by watching explainer videos, reading short introductions, and answering multiple-choice questions. CoinMarketCap, one of the go-to places for market rankings and stats, offers a similar service.
Sites that pay you to learn:
2. Complete surveys and other micro-tasks
There's no shortage of sites that pay you for completing micro-tasks of various kinds. One of the most common tasks is answering surveys, but many sites also reward you for trying out new products, services, and games, joining contests, watching ads, and sharing your opinion in different ways.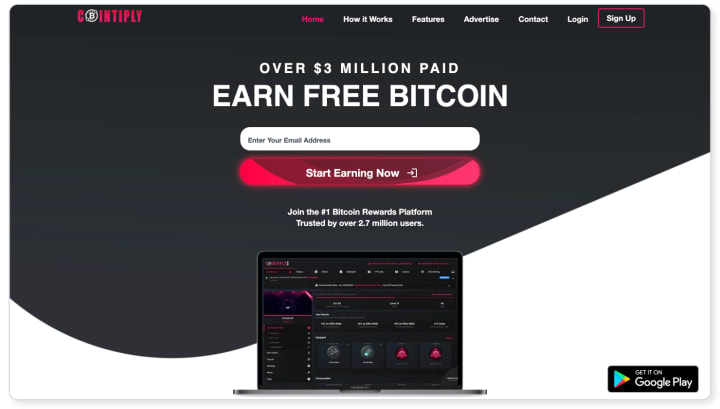 The cryptocurrencies, payment methods, and selection of tasks vary from one site to the next. They provide a low-effort and fun way to earn a few extra bucks in crypto. I've listed some of the most popular sites below but you can easily find more than these by doing a bit of research.
Micro-task and survey sites:
3. Browse the web
The Brave browser is created with privacy and seamless browsing in mind. It basically separates out the ads from your browsing experience and lets you view them in your own time - and get paid for your attention!
Brave pays you in BAT (Basic Attention Token) for browsing and viewing targeted ads. You can choose to pay it forward to content creators whose sites you like, either manually or automatically in the Brave browser settings. The browser works and feels very similar to Google Chrome and you can easily import your bookmarks to get up and running in no time.
4. Play games
Poker and casino sites were some of the first to embrace cryptocurrencies, both for deposits, rewards, and withdrawals. If you've got the skills, games like poker, blackjack, and others that do actually require skills and not just luck can definitely be viable ways to earn a little extra crypto. On that note, I do not recommend the roulette table or slot machines in this context…
I'd also be remiss not to mention the popular play-to-earn concept in an article like this. Games like Axie Infinity, Gods Unchained, and Splinterlands let you earn rewards in the form of cryptocurrencies and NFTs by playing and achieving certain things in their games.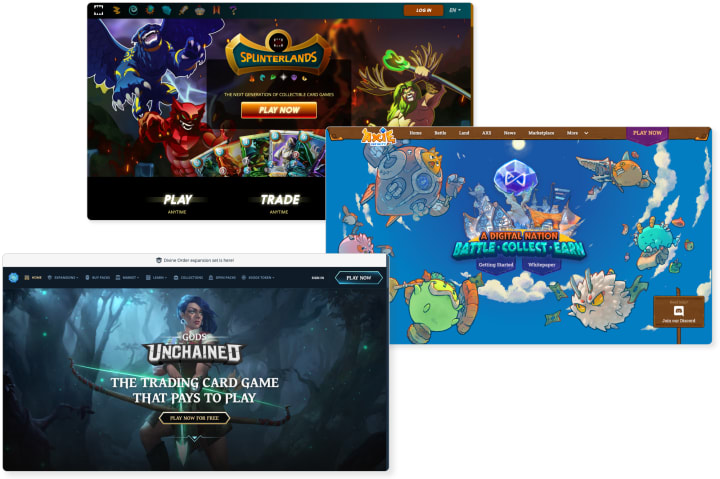 I haven't spent a lot of time in the P2E world yet, but I'm very curious and excited to learn more. I get even more excited when hearing about people who make thousands of dollars a month and have turned Axie Infinity into their full-time job.
Games and casino sites to get you started:
5. Publish content
If you have something to share with the world and enjoy writing, you have a few interesting options. Sites like Steemit, Read.cash, and Publish0x let you publish your content and earn crypto from views and direct tips from readers.
In my first month of publishing on Publish0x, my 23 articles earned me ~$20. Not exactly life-changing money but a nice little extra for content I'd write and publish elsewhere anyway. I also hope to see it grow along with my follower count and the overall popularity of the platform.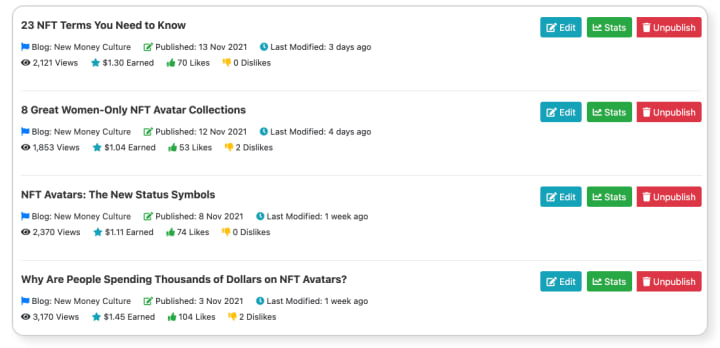 Two other interesting opportunities I'm watching are Substack and Twitter. Substack enabled bitcoin payments back in August, albeit only for select crypto publications. Twitter recently enabled its users to reward tweets and publishers with bitcoin tips. With Twitter's focus on helping content creators monetize their work and their addition of a newsletter feature and paid Spaces, I'm very excited to follow their development in the coming months.
Interesting sites for publishers:
6. Sell your creative work as NFTs
Now, the topic of selling your creative work as NFTs warrants a lot more attention than I'm able to give it here, so I won't even attempt to go into detail. Furthermore, it's not something you can just dedicate an hour to one night and get a guaranteed payout. You need to put in a certain amount of work to figure it all out and have an audience that will buy what you create.

That being said, it is a huge and exciting opportunity and something that's definitely worth exploring if you are a creative of any kind. It's also been the main topic of my writing over the past couple of months, so feel free to check out my other articles or suggest a topic you'd like me to cover!
7. Earn a yield on your crypto or NFTs
This one's a little different in that it doesn't require your time or effort beyond the initial setup, but rather requires you to already own some crypto or NFTs. If you do that, however, and you don't need it to be readily available, you might as well stake it and earn some passive income.
Many cryptocurrencies offer some kind of yield-generating staking so I encourage you to look up any currency you're interested in. I'm personally earning a 5–7% APY (annual percentage yield) on some of my ETH and SOL. SOL is easily staked directly through a wallet like Phantom, while several services let you stake your ETH and other cryptocurrencies. You can find plenty of great guides on YouTube and various blogs.
Staking has become a big thing in the NFT world as well, with many projects enabling their holders to stake their individual NFTs and periodically earn a certain amount of their own native token. Some of the most popular of these include CyberKongz and Anonymice which pay out $BANANA and $CHEETH respectively, but lots of other projects have created similar concepts.
However! Please note that most of these NFT projects make it very clear that their tokens are 'utility tokens' and NOT passive income. The fact that the tokens are being traded on secondary markets and have thus been assigned a monetary value is beyond the creators' control and promises. While I do own a few token-generating NFTs myself, including cMyKatz and Spookeletons, I see the tokens as even more speculative than the NFTs themselves and don't rely on them to have any value in the future.
8. Bonus: Get a job!
I know this one deviates from the general premise of this article, but I felt I had to at least mention it: You can actually find jobs that pay in crypto!
More and more companies allow their employees to receive their salaries in crypto, and many of them let you work from anywhere. Not surprisingly, many of these companies are directly related to crypto with some of the most prominent being Blockchain.com, Fairlay, TrustSwap, and Sequoia.
More and more crypto-focused job boards are also being created, along with some attempts at platforms for freelancers. I've listed a few of them below.
Final note on this, companies like BitWage provide a service that enables you to receive a portion of your regular salary in crypto, so you may want to check that out and bring it up with your current employer.
Crypto job boards:
In summary
In case you were wondering, I left out cryptocurrency trading because I'm sure everyone is aware of that option and will search for that specifically if they want to learn more. This article was about the lesser-known, alternative ways to earn a bit of crypto online, of which there are many!
While most of them have limited earnings potential, they do offer some easy, accessible, and even fun ways to make a few dollars' worth of crypto in your spare time. Combine that with the expected value appreciation of these assets and it all suddenly seems a little more interesting. Furthermore, some people do manage to make a full-time living by playing games like Axie Infinity and play-to-earn is arguably the most promising of all the opportunities above.
I'd love to hear about your own experiences in the space and whether you decide to explore some of these ideas!
cryptocurrency
I'm a designer, investor, and crypto nerd, writing about the intersection of creativity, culture, technology, and finance.
#NotFinancialAdvice