6 Easy Hand Care Tricks for Soft, Healthy Hands
Skin care At Home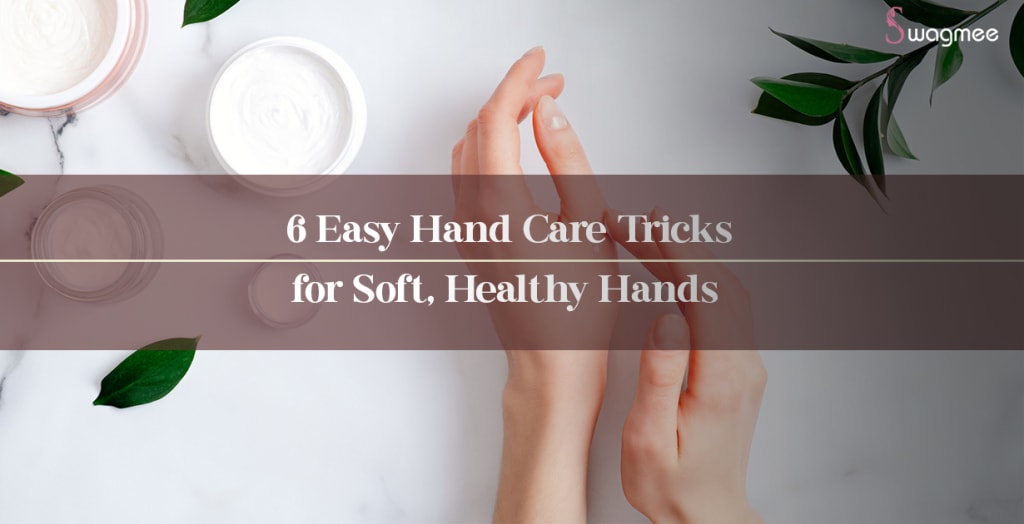 Our hands, whether a handshake or a friendly wave, make the first impression, right? As a result, we require a proper hand care routine to make our hands look and feel good.
It is not difficult to care for your hands. All you need to know is the best way to go about it. As a result, we've sorted things out and gathered the best hand-care tips to help you up your hand's beauty. If you have problems with taking care then you can go to a salon at home with swagmee.
Hand Care Suggestions
Here's how to give your hands the best possible care.
1. Keep your hands moisturised at all times.
Every time you wash or sanitise your hands, you remove moisture from your skin. That is not to say that you should not wash or sanitise your hands, but you will need to follow a proper hand care routine to control moisture loss.
The moisturiser will assist you in locking in moisture and deeply hydrating your skin. After applying the moisturiser, the whiteness caused by the scratch on the back of your hands will be gone.
Always keep a small bottle of moisturiser on hand so that you can apply it whenever you need to. In addition, in cold weather, you should apply it more frequently. When shopping for moisturiser, look for one with SPF 30+.
2. Using a Hand Mask, Lighten Your Dark Knuckles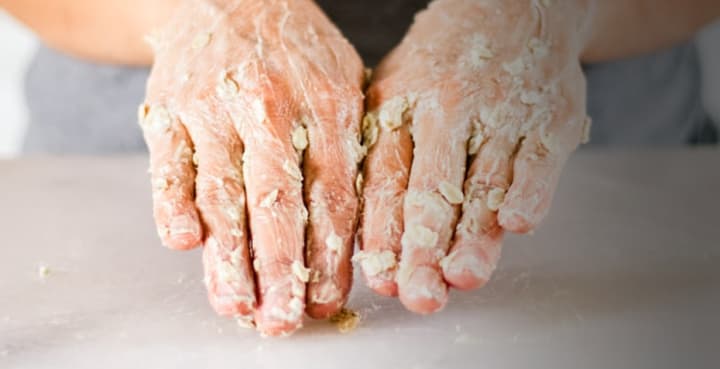 The dark knuckles, ahh. They are too upsetting. However, using a hand mask can assist you in lightening your dark knuckles. You can make a hand mask at home or purchase a dark knuckle lightening cream.
You'll need baking soda and half a lemon for this. Take the lemon and sprinkle it with baking soda. Rub it on your knuckles for 5 to 10 minutes. Then, using a clean cotton cloth, wipe it away.
You can also combine 2 tablespoons of honey with a few drops of lemon juice. After thoroughly mixing it, apply it to the knuckle. It works flawlessly on the skin.
3. While doing chores, put on protective hand care gloves.
Domestic work is endless and never-ending. So, when doing dishes, laundry, or anything else, you should wear hand-care gloves. These gloves will keep your skin from becoming dry, chapped, or cracked.
When immersing your hands in water, put on rubber gloves. For light yard and gardening work, cloth gloves are the best choice. Also, for any type of chore, try leather gloves because they provide the best protection for your hands.
4. Moisturise your nails with Vitamin E oil.
While maintaining a proper hand care routine, the nails require special attention. As a result, it is critical to moisturise the nails and the skin around them, known as cuticles. If you want beautiful nails and healthy skin on your hands, you must take care of your cuticles. Apply vitamin E oil to the skin around your nails every night.
You can also purchase a cuticle cream to properly moisturise your cuticles. The reason for this is that skipping the cuticles can cause painful hangnails. A hangnail is a ripped piece of skin near a finger or toe.
5. Every month, get a manicure.
Your hand care routine will be enhanced by a manicure session. It will assist you in cleansing, exfoliating, and massaging your hands, resulting in beautiful and soft hands. Taking your own manicure service at home is not difficult, but you must carefully follow all of the instructions to achieve the best results.
However, doing your own manicure pedicure can be stressful. Not to worry! Swagmee is here to help you provide top-tier manicure sessions at your home by top-tier professionals at the best prices.
6. To heal cracked skin, apply a dye-free ointment.
Because hands are frequently overlooked in the skincare routine, they are the most affected by skin dryness. It causes cracked skin, which requires the use of an effective ointment or hand cream to combat.
The ointment will heal and moisturise the cracked skin. You do not need to apply moisturiser after applying the ointment. If you stop using ointment, you should return to your moisturiser because it is critical to apply it more frequently in cold weather.
Conclusion
The skin on the hands is more sensitive and thinner. As a result, it ages faster than any other part of the body. Furthermore, because they are used to doing all of the chores throughout the day, this skin is more susceptible to germs and other polluted items. The only way to keep your hands safe is to take good care of them. As a result, hand care is critical. It also helps to maintain the health and softness of your hands.
We have concluded that caring for your hands is just as important as caring for your face. You must incorporate proper hand care into your daily routine to achieve this. As you can see, these hand care tips do not necessitate major lifestyle changes. As a result, you can begin whenever you want.
These hand care tips will help you level up your beauty game for your hands. Swagmee is also here to assist you in the hand care game with its mani pedi at home in many parts of cities such as Faridabad, Noida, Gurugram and many more.
Reader insights
Be the first to share your insights about this piece.
Add your insights