5 Ways to Make Money as a Content Creator
How to easily make extra money as a content creator?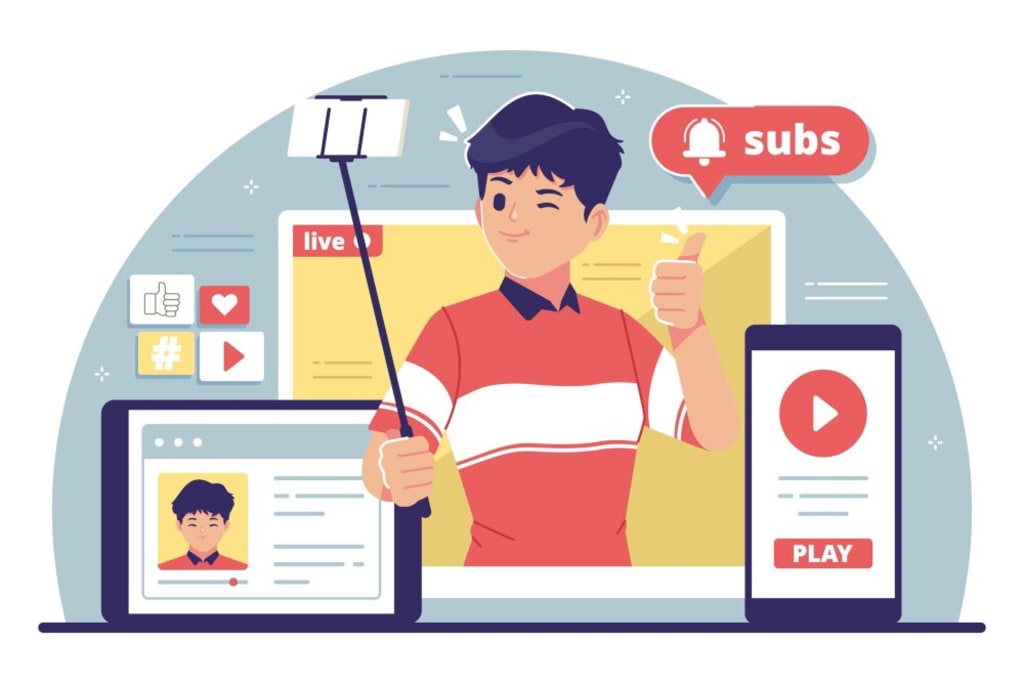 The age of content creators has arrived. You can create content and develop an audience if you can bring value to people's lives or provide a solution to their problems. What's the best part? To get started, you don't need to spend a lot of money. You could get started right away with a laptop or smartphone.
If your content strikes a chord with your audience, you'll begin to gain daily followers. It's time to think about monetizing your content. You'll have to start thinking about how to make money when a content creator as you gain traction.
It isn't going to happen immediately. It will necessitate a lot of effort and imagination. But, as thousands of content creators on different channels have discovered, if you get it right, it can be a lucrative revenue source. Here are five ways to make money as a content creator.
There are five different ways for content creators to make money.
1. Grants and sponsorships
Brands are constantly on the lookout for new and more innovative ways to reach out to their target markets. Since most consumers are turning away from conventional forms of advertisement, marketers are turning to more reliable approaches to communicate with them. One method is to use content creators such as yourself.
To do so, you'll need to demonstrate that you're a prolific content creator who specialises in a specific subject. Even if you don't have a huge following, your current followers should be involved and consistent. As a result, you should approach brands in your industry and see whether they can benefit from a partnership.
You may approach tourism boards, travel portals, hotels, adventure tour operators, travel bag or accessory brands, and travel aggregators if you create content about travel and tourism. If you "unbox" gadgets, you can approach consumer electronics companies, smartphone accessory suppliers, and so on.
Don't restrict your quest to well-known companies. You're looking for medium-sized brands or newcomers. Demonstrate how you can incorporate their brand into your content and tout the advantages of a long-term relationship.
2. High-quality material
If you've built up a loyal following, you can split your content into free and paid options. Then you should produce premium content for those who have the financial means to pay for it. Keep in mind that findings will take time to appear. Until then, you can concentrate on your free stuff.
Your audience should respect you for all of the free advice and feedback you offer them on a regular basis. You should inform them of the premium content on a regular basis when doing so. Once you have paying customers, you must treat them with dignity and provide them with high-value content.
You're looking for testimonials from these people to persuade others to start paying for the premium content. You should tell your "free" members about their experience.
Several platforms have made it simple to build a paying subscription base. If you're a blogger, you may want to check out Medium, Substack or Vocal Media. You might use Patreon if you're an artist or a multi-media content producer. As a developer, you could also explore Gumroad's options.
3. Teach
As a content developer, the main goal should be to develop knowledge in a specific niche. It may be on printers in offices or grills in backyards. On that topic, your audience should expect fresh, interesting, and value-added content from you.
After you've established yourself in that small corner, you'll be shocked by how many other people are involved in the same thing. You'll be able to train others now that you have your skillset. You'll need to identify your area of expertise, market yourself, and produce outstanding content to accomplish this.
What distinguishes this from premium content? To teach, you'll have to leave your channel and switch to an online platform like Udemy or Skillshare. They already have a large number of users. All you have to do before going there is build your authority.
Their established customer base will help you gain visibility and, hopefully, a large number of students. These paying customers will have the opportunity to leave you a review on the website. If they like what you're teaching, you'll get more students.
Keep in mind that you won't have to build your teaching material very much. It's possible that you'll just have to make the text and videos once, and they'll pay off for years.
4. Work together
Look for ways to work with other content creators as well. Look for people who work in industries that aren't yours. You could sell premium content to each other and split the profits. You may also give their supporters a portion of their earnings in exchange for their support.
This cross-selling should be done with caution only for a limited period of time. What you need is new audience exposure, not a drop-off of your current audience.
5. Affiliate marketing
Affiliate marketing is one of the simplest and most reliable ways to make money as a content maker. By referring to another brand or service, you will receive consistent commissions. There is no need to create any exclusive or personalised content. All you have to do is bring up the brand and persuade the audience to try it.
EasySignage has a fantastic affiliate scheme that pays out well to our partners.
A commission of 30%
Any new subscriber that comes via your connection will gain you 30% of the revenue. Every new customer brings in 30% of total sales.
Signing up is easy.
You can sign up for free and get your tracking connection right away. Through our referral service, you'll have access to a dashboard where you can monitor your sales.
Encourage people to use EasySignage.
You can build your own referral connection and share it with your fans, clients, and friends once you have access to your dashboard.
As much as possible
You will receive as much as you can as an EasySignage affiliate marketer. There's no limit to what you can do!
Signup today and start making money, click on the below link for more information:
About the Creator
EasySignage is a cloud-based digital signage solution designed to be simple, secure and yet full of features.
Reader insights
Be the first to share your insights about this piece.
Add your insights