13-Inch Apple MacBook Pro Review
Review, First Impressions, and Brief Comparison of the MacBook Pro Without the Touch Bar (Not Sponsored)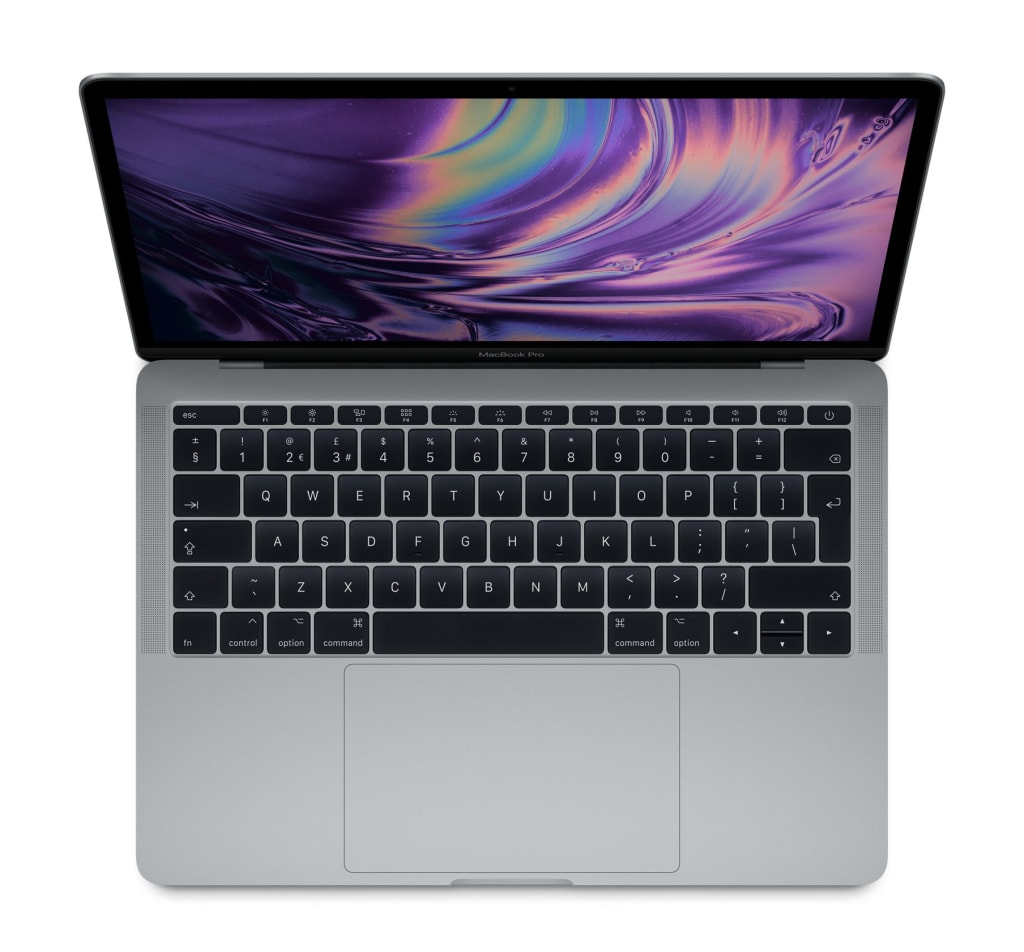 13" MacBook Pro 2018. Image belongs to Apple International.
In this article, I will be reviewing the 13-Inch MacBook Pro. I will talk about the specifications, my own experience, and I will be giving my own opinion. We will look at my own first impressions on the MacBook and comparing it to the MacBook air, as well as a mini comparison to the Pro's older sibling, the 15-Inch Pro with Touch Bar.
If you just want to see the verdict and want to know if I would recommend this laptop, then go ahead and skip right to the bottom if this page. I won't mind. :)
General and Tech Specifications
For this review, I purchased the 13-Inch MacBook Pro with 256GB of SSD storage in Space Grey priced at £1,449.00 ($1499.00). It is available in its cheapest form with only 128GB of storage, for £1249.00 ($1299.00).
The machine comes as standard with a dual-core 7th-generation Intel Core i5 processor which runs at a comfortable 2.3GHz or turbo boost of up to 3.6GHz. This can be upgraded, however, to an i7 Intel processor for an extra £270 ($300) which will give you 2.5GHz or a turbo boost of up to 4.0GHz.
The graphics card is an Intel Iris Plus Graphics 640 which cannot be upgraded on the models with the touch bar, but the 8GB 2133MHz LPDDR3 memory (RAM), which comes as standard, can be replaced with 16GB of memory which is good if you plan on running multiple programs at a time, or editing photos or videos; although I highly recommend looking at a slightly more powerful machine for video editing if rendering time is important to you. The RAM upgrade will cost you an extra £180 if you live in the UK like me, or $200 in the US.
I opted to have 256GB of SSD storage but there are four available options. You have the basic 128GB, the 256GB, 512GB or a nice 1TB of storage, perfect for if you will be creating a lot of documents, and great for storing games if you plan on doing light gaming, which I will go into gaming in its own section for all those interested.
Now obviously the 13-Inch MacBook Pro comes with a corner to corner 13.3", 2560x1600 LED-backlit retina display with native resolution at 227 pixels per inch if you care about pixels. The touch bar version of the Pro has True-Tone as well but honestly the difference between the two is minimal. So if you're worried about price and not too bothered about the touch bar, I would defiantly opt out of getting the touch bar as you will be getting a very similar quality laptop anyway. However if you want the newer 655 graphics card, then the touch bar version is for you as the graphics card is not configurable on the 13-Inch version but is on the 15-inch with the touch bar.
The thunderbolt ports... Boy do I have a lot to say about the new C-USB thunderbolt 3 ports. For now, though, let's just say the MacBook comes with two thunderbolt 3 ports which are used for charging and connecting other devices to your Mac. They can also be used as a display port so you can display your screen on a larger monitor if you so wished.
The ambient light sensor is built into the MacBook Pro and as you would expect, it detects ambient light and dims the brightness of the screen when surrounding light is reduced.
The wireless connectivity of the MacBook includes a 802.11ac Wi‑Fi wireless networking chip and Bluetooth 4.2 wireless technology. You'll find the Wi-Fi module is exactly the same on the touch bar versions, however the touch bar MacBooks have bluetooth 5.0 rather than 4.2. I don't personally think that make much of a difference anyway if you're not using bluetooth 24-7 to notice the difference.
There is a 720p FaceTime HD camera located in the centre above the screen.
The MacBook has Stereo speakers with high dynamic range and two built in microphones for audio and recording, and you'll also find a 3.5mm headphone jack on the right hand side of the laptop.
The laptop came running iOS High Sierra, rather than the new Mojave, but that is understandable considering it has only been available for about two or three weeks now. Although High Sierra is good and is currently still being updated, I updated to Mojave quite quick just for the added features including dark mode and the extra security. If you would like me to do a comparison of High Sierra and Mojave, leave a donation and I will get to it the first chance I get.
Size and Weight
If portability is important to you, here are the size and weight specs of the 13-Inch MacBook Pro;
Height: 1.49cm (0.59 inches)
Width: 30.41cm (11.97 inches)
Depth: 21.24cm (8.36 inches)
Weight: 1.37kg (3.02 pounds)
For comparison, the 15" has an added 1.8" to the width and weighs 1.83kg. So if you want lightweight and portable, definitely go for the 13-inch.
Battery Life
The Macbook Pro boasts a built in 54.5-watt-hour lithium-polymer battery. Apple claims that this can give you approximately 10 hours of constant use but from my own usage experience, I genuinely believe it might actually last a little longer than that while in use. However, I'm sure that as with everything, over a long period of time, this will gradually reduce as your laptop gets older.
Apple also promise an approximate 30 days of standby time which I think is very accurate.
The charger is a 61W USB‑C (Thunder Port) power adapter. I find it takes a little over half hour to maybe even 45 minutes to fully charge the battery from about 60 percent while in use. From this I would estimate that it could probably charge from zero to a hundred in just over an hour if the laptop is properly shut down and maybe only a tiny bit longer if it is on standby.
In conclusion, its charging speed and battery life is pretty impressive compared to some Windows laptops I have used before which need charging after about three, maybe four hours. That is just my personal experience, however, using typical Windows laptops but I know the Microsoft Surface, for example, has a pretty impressive battery life too.
Pricing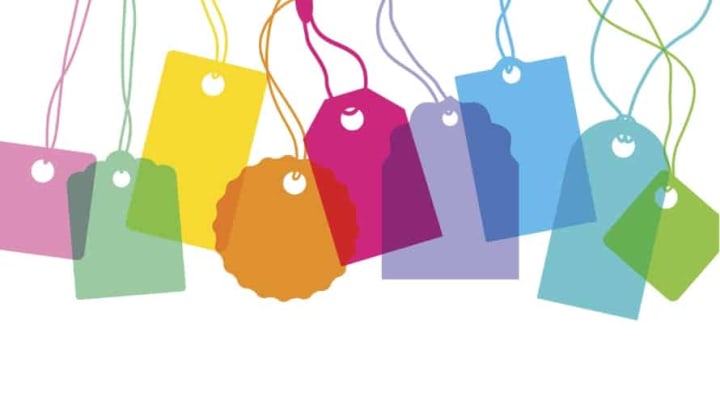 The 13-Inch MacBook Pro is available as standard from the Apple Online Store and in-store in two configurations. This means you don't have to wait for the laptop to be built and is ready for next day delivery or to collect straight away, providing it is in-stock of course. As we have already established the cheapest configuration is £1249 ($1299) with the 128GB SSD, with the other standard configuration the 256GB priced at £1449 ($1499).
Too fully spec out the machine with the i7 processor, 16GB of RAM and a 1TB SSD, it'll cost you a whopping £2499 or $2599. This is £700 ($800) more than the cheapest 13-Inch with touch bar and touch ID and £100 ($100) more than the 15-Inch model.
The cheapest 13-Inch model is still however £300 ($250) more than the cheapest MacBook Air but is £135 ($250) cheaper than a fully specced out Air. With this being said, the MacBook Air is now extremely outdated using only Intel HD Graphics 6000 and the best CPU you're looking at is a 2.2GHz i7 dual-core processor. You are also limited to only 8GB of Ram and a maximum of 512GB of SSD storage so you are limited for configuration choices.
With this in mind, let's look at the value for money of the 13-Inch MacBook Pro compared to the Touch Bar model and the 15-Inch model.
Value for Money
If you're looking for value for money, the 13-Inch with touch bar possibly comes with the best "standard" CPU as it is 8th gen quad-core rather than 7th gen dual-Core and still runs at 2.3GHz. Saying this, it is an i5 processor whereas the standard 15-Inch model runs at only 2.2GHz but has an 8th Gen i7 6-core processor and can be upgraded to a 2.9GHz i9 for an extra £350 ($400). The 15-Inch also comes with 16GB of RAM as standard to allow for more strenuous tasks such as video rendering and has a better graphics card.
In a nut shell, it really depends on what you want out of your MacBook so now let's take a look on the actual value for money for the 13-Inch MacBook Pro without considering the other models.
I personally believe that the storage options shouldn't make such an increase in price. The extra £200 ($200) for just about 125GB of storage is not worth the jump in price. I could purchase a 1TB SSD for around a similar price and have 1TB worth storage for the same increase in price.That is the only thing I have to moan about when it comes to value for money.
In terms of performance value for money, I am more than pleased with my MacBook and I know that it should be able to survive at least three times as long as some of my old Windows laptops. I can say this with absolute confidence and certainty considering my 2006 iMac 5,1 is still running perfectly fine, be it extremely outdated as it can only run iOS 7. This brings me onto my next point! Resale value for money. Apple products always seem to hold their value rather well. My outdated iMac can still be purchased from eBay for just over £100 in the UK. So it's not the small fortune we paid for it but it's more than my 2011 Toshiba Satellite, which I might get about £30/£40 for if I was to sell it right now. The point is, if you were to upgrade in one or two years time, you would get back almost what you paid for it if you kept it in good condition. Not that you would really need to upgrade because I can see this MacBook lasting me a good five years at the very least! Even after that time, I would imagine you could probably sell on your MacBook for around £600 or $700 depending on its condition.
And that is the beauty of the iMacs and MacBook Pros.
With all this considered, most of what you are paying for with the MacBook Pro is the name, but if you want that Apple name tag, the price is 100 percent worth it! Only if it is within your budget of course. If the MacBook is a little out of your price range and you want performance rather than name, I would definitely suggest doing some research on some Windows laptops as you might be able to find one just a reliable for almost half the price. However, I can't say that it will hold its resale value as well as the MacBook Pro.
First Impressions
When you open the sleek white box, you are greeted by your new MacBook Pro sat at the top of the box in its plastic film. Once you remove the laptop from the box, you will find the included paperwork, the USB-C charging cable and the power adapter under the paperwork.
That's it for the box but it is so satisfying to peal the protective plastic films off of everything and it is even better to open your laptop and set it up for the first time... Or maybe that's just me!?
The set up was insanely simply to do and I was quite impressed when I realised it turns itself on when you open it, even if it's been completely shut down. Another thing which made me happy, even though I already knew that all Apple products do this, was the fact that after I had connected to the wifi and logged into my iCloud account, my laptop started automatically connecting to my usual wifi ports which I have previously connected my phone too which is super convenient when staying with either of my parents or at a friends.
The only thing I was disappointed with was the USB-C drives which I will go onto in a second.
Over all, I was excited and really impressed with the MacBook.
The ThunderBolt 3 (USB-C) Ports and Why I Love, Hate Them.
Urrrg! The USB-C ports! I know some may have differing opinions but I can't say that I'm not slightly disappointed with the new ports on the 13-Inch MacBook Pro.
This model of the MacBook only comes with two USB-C ports and no standard USB ports. There is a headphone jack on the right side of the laptop which is great, but personally all my headphones are wireless so I don't need to use the port, but I am definitely glad it is still there and I hope Apple doesn't remove it from the Macs like they did with the iPhones.
Now the fact that the 13-Inch only has two USB-C ports can be quite frustrating. One of these ports is usually connected to the charger for most of the time, leaving you with only one usable port. Not only this, but in order to connect anything such as a USB stick, external hard drive, extra display or SD Card (and more) you need to purchase an adapter. Although adapters can be picked up cheaply on eBay it is still a little irritating. You can also purchase a USB-C to lightning cable to connect your iPhone to your MacBook.
Having said this, it is not all bad as the USB-C ports are supposed to be much faster than the standard USB ports which can be beneficial if you are running programs from an external hard drive. They are also rather sleek and don't take up as much room on the side of the laptop.
In my opinion so far of the USB-C ports, I am not a huge fan, but I can definitely see the appeal of them and I will most like become accustomed to them rather quickly.
I think that if Apple had added an extra standard USB-3 port as well as the two USB-C ports, I would be very very happy.
If you are a photographer like me and have your heart set on a SD card slot, then you will have more luck on the MacBook Air but I don't believe that the substitute in processing power is worth it just for an SD card slot and the USB slot that you will also find on the Air. You are 100 percent better off getting an SD card reader/adapter.
Performance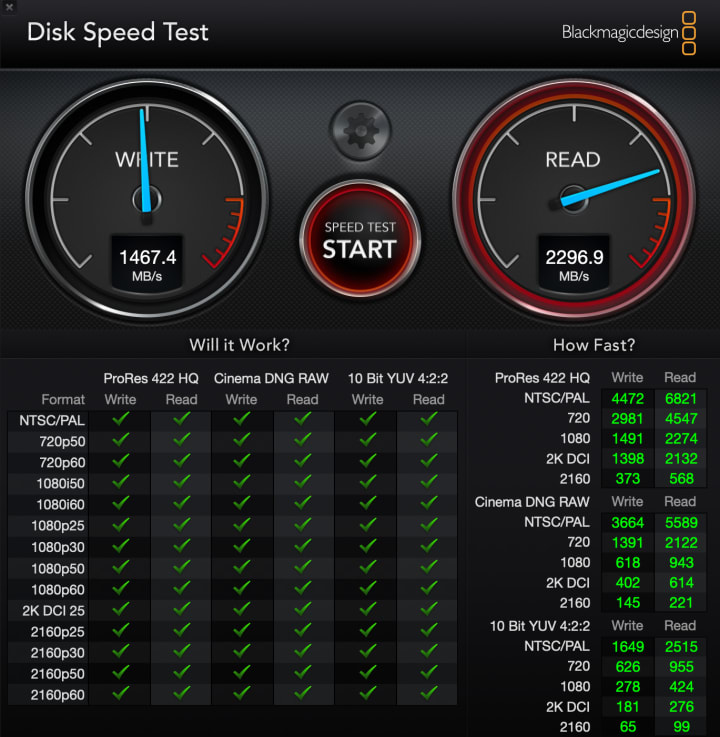 I ran a CPU speed test to show you the speeds of my MacBook Pro. As you can see its read speed is 2296.9MB/s, clocking in only just in line with the suggested 2.3GHz.
I haven't experienced any lag what so ever yet and it runs Photoshop CC which absolutely no issues what so ever. I got a little bit of a delay when editing a video using Adobe Premier Pro but nothing the MacBook wasn't able to handle. When it came to rendering, again it had no issues, but the rendering would probably be quicker with more RAM and definitely quicker on an iMac.
If rendering is important to you, I would highly recommend going for the iMac as you can get a more powerful machine and a much bigger screen for less. The only thing you really loose is the portability.
Gaming
I'll keep this section nice and short, but bottom line, it could be better.
It ran games within a browser perfectly with any brief lag only caused by the internet connection.
From my other testing, I found that low(ish) resolution games such as Minecraft run like a dream on relatively high graphics but I did get the occasional struggle on max graphics for Minecraft. Unfortunately it struggled a little with Forza Horizon Four but managed to handle Subnautica surprisingly well on both low and medium graphics. However, it was not able to cope with the higher resolutions for Subnautica.
So yeah... It's better than what you would expect from most laptops but if you want a gaming laptop or gaming PC, I would definitely look at getting one actually built for gaming or even a custom built PC. The iMac can handle games a little better and I believe the iMac can even handle VR now, but again, if you want something for gaming, get something built for gaming.
Final Verdict
So the final verdict. I advise that you take my final verdict with a grain of salt. The following will be based off of my own experience and opinions of the 13-Inch MacBook Pro.
So is it worth the money? Yes, if you don't mind paying a little bit more for the name. Based on performance however, I think it beats most standard laptops and holds its value much better than Windows products.
Is it practical? If you are looking for something light and portable, then yes, 100 percent. You will be able to take it with you to cafés to do work and even use it when you are out and about working with clients. If you are self employed and on the go a lot, I highly recommend it. However, if you're looking at gaming practicality and not so bothered about portability, I would opt for the iMac if you are set on Apple products as you get more for your money and it handles itself a lot better.
Design Honestly, it is a beautifully sleek laptop, so if you're looking to impress, then the MacBook Pro is definitely for you. However, depending on the time you are reading this, I would suggest doing sone research as to when the next MacBook is being released as it might be worth going for the updated model if it is being updated anytime soon. Only reason I say this is because I hope that they will fix the keyboard as you don't get that satisfying feel as you press in the keys. I also hope they will either add a few more USB-C ports to the 13-Inch modes at the 15-Inch has four of these, or even an additional USB-3 port would be amazing. Personally I went for the space grey but both the silver and the space grey are amazingly smart and only make the laptop look more sleek.
So... Should you buy it? Well the honest answer is that it completely depends on your needs. If you're looking for something light weight to take around with you and to create Word documents, then it is perfect for you. It's even fine for simple internet browsing and will also handle photo editing.
If you need something with a little more power, have a look at alternatives.
Would I recommend it? Yes! I haven't had my MacBook Pro very long but I have definitely fallen in love with it already, despite some of the things I don't necessarily like about it.
Final Words
As I have said before, I hope to do a review of Mojave and my first impressions on the new iOS system. I would also be outlining the new available features and I will tell you if it is worth updating to Mojave or staying with High Sierra for a while longer.
I would also like to do a review of the new iMac and definitely write an article about my 2006 iMac 5,1.
If you would like to read about any of those things, please help me out with donations. It will really support my future on Vocal and will allow me to allocate more time to writing my stories.
Thank You <3
About the Creator
Literally just an average white girl... I love my iPhone, my MacBook and my Starbucks... You can't get any more white girl than that! Haha! I'm just about getting by at twenty years old and living with Autism but making the most of it <3
Reader insights
Be the first to share your insights about this piece.
Add your insights