12 Promising Social Media Platforms Fit for Creatives
Learn and do more visually (and textually) with these up-and-coming social media platforms.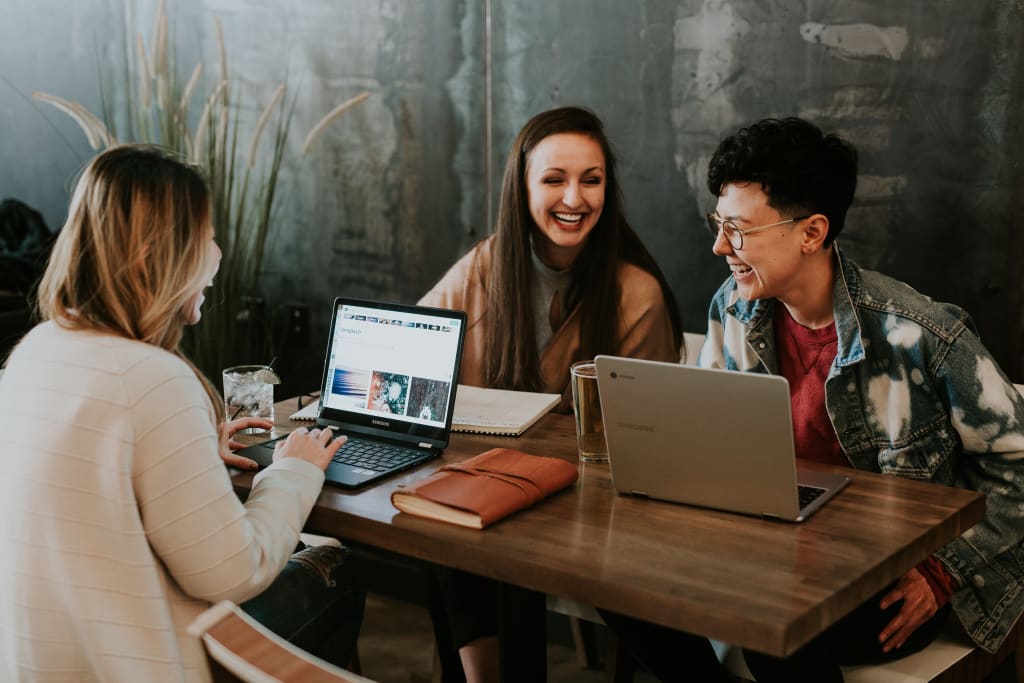 Photo by Brooke Cagle on Unsplash
If you still haven't deleted your Facebook account yet, then you probably know that it's kind of a big deal to be present on social media. Although sometimes social media can feel like antisocial, it all depends on how effective you are with your social interactions.
These platforms might be unknown to you. They are not necessarily brand new, just that some of these platforms caters to a very specific audience. I've chosen them because they are free, and because they are or can be perfect for sharing your visual content.
Other publications call it an article, Stampsy calls it a "stamp." A couple of stamps make a collection that falls into the following categories: photography, art, film, music, and design. All the interesting stuff. It's where you go to when you've got to share something more than an Instagram post but "more dynamic than a portfolio site."
You curate your own collections on specific topics and invite others to contribute, or submit them to any of the available collections. On Stampsy, collections are a way to collaborate with other creatives. You can pitch your story to an owner of a collection, recruit stories from your friends and connections, or start your own curated series. Even remixes, with the "collect button" for a collage-like experience in curation.
Collect stamps with me on Stampsy.
Content curation is the core of Mix. The platform works in discovering, sharing, and saving contents based on curation. Once you get the hang of how things are done, take a look at their Curator Playbook for details on Mix's curator incentive program. With the program, curators earn points for being in the spotlight and for doing social media takeovers. You can even become a Mix Ambassador or apply to become a MixMC – what they call their curators.
Curate with me on Mix.
This is a global community of Google Maps users who spend some of their time writing reviews of places, sharing photos and videos, and answering questions about places in the map. Guides are also able to add and edit a place, or verify facts about places. As a local guide, you'll have the ability to share to the Local Guides Connect forum your tips on taking photographs, your lists of places to go, and your journeys.
Not only will you have a community where you can share with online, you might also have the opportunity to meet up with other local guides – whether in person or through an online conference. Local guides learn a lot from each other and share their concerns with one another. They also share opportunities, so be on the lookout for that, too.
Guide with me (and my pets) on Local Guide.
The next platform on our list is Ello. This is a creators network built around an online community of artists. Its main aim is to empower and reward "today's creators." Ello does this by providing visibility, nurturing influence, and delivering creators the professional opportunities. Once you've joined Ello, you'll be able to immediately put your work for sale.
First, you'll upload an image of the work and update the category. Ello has 37 categories that include Digital, GIFs, Music, Writing, Illustrator, and others. Next you have to provide a URL for the product detail, add a description to your image, and then voila! You're ready to sell your first work on Ello.
Check out the Artist Invites for information on how you can submit your art to brands, agencies, fans and publishers. You'll have access to a list of creative briefs to choose from. Ello buys artwork from their artists three times a week and then give them away to the community members in a program called Art Giveaways. Your artwork might be featured in the Artist Collective, Artist Email (daily newsletter), Arts Editorial, or the Not For Print (NFP) print publication. The community also has a premium monograph package, accompanied by artist interview zines, called "Underscore."
Make art with me on Ello.
Perhaps you've already taken a look at LinkedIn and decided that it's too white-collar, blue-collar for your liking. Well, take a look again. LinkedIn Stories is a great chance for you to share content to help your potential clients find you.
People use the stories feature to share the lessons learned in building relationships, building a brand, and to share their career-related journeys. But they're not always success stories. So if there's something about your business, your creative work and processes that you think would help other people find you, be sure to share them on the LinkedIn stories section.
Connect with me on LinkedIn.
This curation-based platform has been around for quite a while, but it only recently added an article writing feature. On We Heart It, you can upload your visuals or add them from a URL, and then put images of a similar theme into a collection. When you encounter an image of interest on We Heart It, you have the option to "heart it," by clicking on the heart button.
But that's not all. You'll also follow the creator, share the post, send it to another person, or turn it into your cover image. Add a Heart It widget on your blog or website to help other people find your brilliant works.
Heart things with me on We Heart It.
If you're not already on Pinterest yet, you should definitely consider the platform. To pin an image or a post from the internet, all you have to do is use the Pinterest browser button. You can also create a pin by entering the website URL manually, and then curate similar pins into a board.
The recent Pinterest addition lets you create sections within a board. So if previously you have a board called "All My Arts" to store all your digital arts, you can organize them into a couple of sections, say "Digital," "Abstract" and "Collage." Create a website with Pinterest-ready images and add the Pinterest button to help the community share and discover more of your content online.
Make boards with me on Pinterest.
This social media platform recently was entered as an entry into the Merriam-Webster new dictionary. So if you're not already Instagramming your selfies, you can start doing that now. Take pictures, create a slideshow, or record a short video to share through the IGTV channel, or simply share a cute GIF or your pet to bless the timeline.
There's many features that you might not be utilizing fully yet, such as the message button. Use the button to thank people for interacting with your post, congratulate or simply to chat about an interesting post they made. Who knows you'll find someone to collaborate with?
Instagram with me.
So you love to read. Here is a place where you can connect with readers who enjoy (or loathe) the same books as you. It's not as visual as the other platforms, but you can share a lot: what you are reading, what you plan to read, and as you are reading the books, share the inspiring quotes you unfolded.
One you've created an account with Goodreads you can join Groups of people with similar interest. The groups are generally pretty fun and the community managers are good at engaging the members to interact with each other. Check out the discussion boards for topics that you might want to contribute to, share your achievements, and be active!
If you're looking for a place to share your own writing on Goodreads, you're in luck. From the Community tab, look for Creative Writing. That is where you can post anything you want, be it an excerpt from a book you wrote, an article, a chapter of your book, poetry, short story, whatever you want.
On Goodreads, just like in other social media platforms, you are encouraged to engage with fellow readers. Leave a thoughtful comment on a friend's page, or comment and leave a like on the books they want to read. Just make sure that you're contributing positively to the community. The downside is you probably can't embed any image to your comments and posts.
Read with me on Goodreads.
This is not just another blogging and social networking website. SteemIt uses Steem blockchain to reward creators using their platform. Once you created a post, other community members can upvote it and you may get rewarded for the amount of upvotes you received. In addition to the author rewards, if you upvote a post you predict will become popular, you will earn a curation reward.
Learn about blockchain with me on SteemIt
11. Medium
Medium is all about the quality of your ideas. People don't really buy into your qualifications on the platform, but they will go gaga over your viewpoints. Bold, engaging content that make others feel something are what gets the most engagement—claps, shares, bookmarks, and comments.
Before posting to your Medium or submitting to one of the Medium publications, you should always ask yourself whether or not the blog post is better off on your own blog. True, there are millions of readers on there, but that also means the competition is pretty fierce. So why not focus the attention on your own blog or website?
Go bold with me on Medium.
Despite focusing solely on words, Boldomatic is a very visual platform. With one app, you'll be creating text images that could increase your visibility on other social networks. Also based on curation, the quotes you upload compete for fame, glory, and what the team calls "sexy rewards". Boldomatic prefers the boldness and shameless statements that they describe as "partially offensive yet strangely profound."
Write with me on Boldomatic.
Your Next Move
As you enter these platforms, your first challenge is to find friends to engage with. It's not going to be easy, especially if you're a non-English speaker, but if you want, you can try and add me. I've provided a link to my accounts. Be sure to read the about page and the FAQ sections of each individual media to make sure that you're not writing off-topic or missing out on a lifetime opportunity that would have fit been a perfect match for your personal brand.
Many of these platforms, if they are based on curation, already has a way to deal with possible copyright issues. For example, on Boldomatic, when you choose to repost, what happens is a copy of the original will be added to your feed, while crediting the original writer. The same goes for Mix and Pinterest.