10 Cryptocurrencies (Other than Bitcoin) Creators Earn Today
Bitcoin isn't the only cryptocurrency around, and mining them isn't the only way to earn.
Creators everywhere are earning multiple cryptocurrencies for what they're able to create. Rewarded directly through various monetization methods, powered by numerous digital currencies. They can even create new currencies of their own to support a small but loyal following.
Before we get to them, though, let's review a little bit what three big types of currencies are currently being exchanged.
The three main types of cryptos
You might find this hard to believe, but other cryptocurrencies aren't in competition with Bitcoin.
Sure, you've probably seen its prices soaring, hitting record highs a couple of times a year, almost every year, since it was launched in 2009. Bitcoin is the first blockchain to be created.
Since then, other blockchains have produced more than a thousand altcoins, the second type of cryptocurrency. They're mostly just an imitation of Bitcoin with minor changes here and there.
The third one is tokens. They're used on decentralized applications or dApps. These tokens don't have their own blockchain and are built on other blockchains.
Check out the following cool video for an explanation of Blockchain suitable for all levels... 👇👇
Cryptos for creators - a ✨list
I've compiled this list below of the "digital money" anyone anywhere can earn from publishing quality content. Please note: I might not be able to link to all of them; only the ones I've looked into in more detail.
1. Ethereum (ETH)
The development for Ethereum was proposed in 2013 by Russian programmer Vitalik Buterin. Ethereum is now commonly viewed as "the next Bitcoin." Many tokens you can earn online are built on the ETH ecosystem, therefore, many investors believe in the long-term future of Ethereum.
The publishing platform Publish0x rewards publishers and their readers in ETH via tipping. The tips are free for readers, as they come from the platform's rewards pool.
Bounty0x also rewards ETH to creators through its bounty hunting platform. If you want to earn there, you must complete creative tasks to help bounty hosts with their marketing and software development.
Another place is the open-sourced, crypto blogging platform Minds. The site keeps track of your unique interactions and rewards the creators with ETH, which you can also withdraw as fiat money to a local, supported bank. With Minds, though, you can offer membership tiers or reward packages for your supporters (the way Patreon does).
2. Steem (STEEM)
This fairly new altcoin was founded by Dan Larmier of BitShares, who wanted to build a rewarding community build on content. I joined the blogging ecosystem Steemit out of curiosity when it was just getting started sometime in 2016, so I did have some skin in the game.
By signing up with Steemit, and then sharing original, valuable content of course, creators can eventually earn the two tokens introduced by the social blockchain: STEEM and Steem Dollars. A third token, which is the Steem Power, is used for investment and staking.
To earn tokens with the Steem blockchain, try the following active blockchain-based apps:
• DTube: video uploads
• DLive: live-streaming/videos
• Fundition: fundraising
• SteemHunt: product sharing
• Musing: question & answer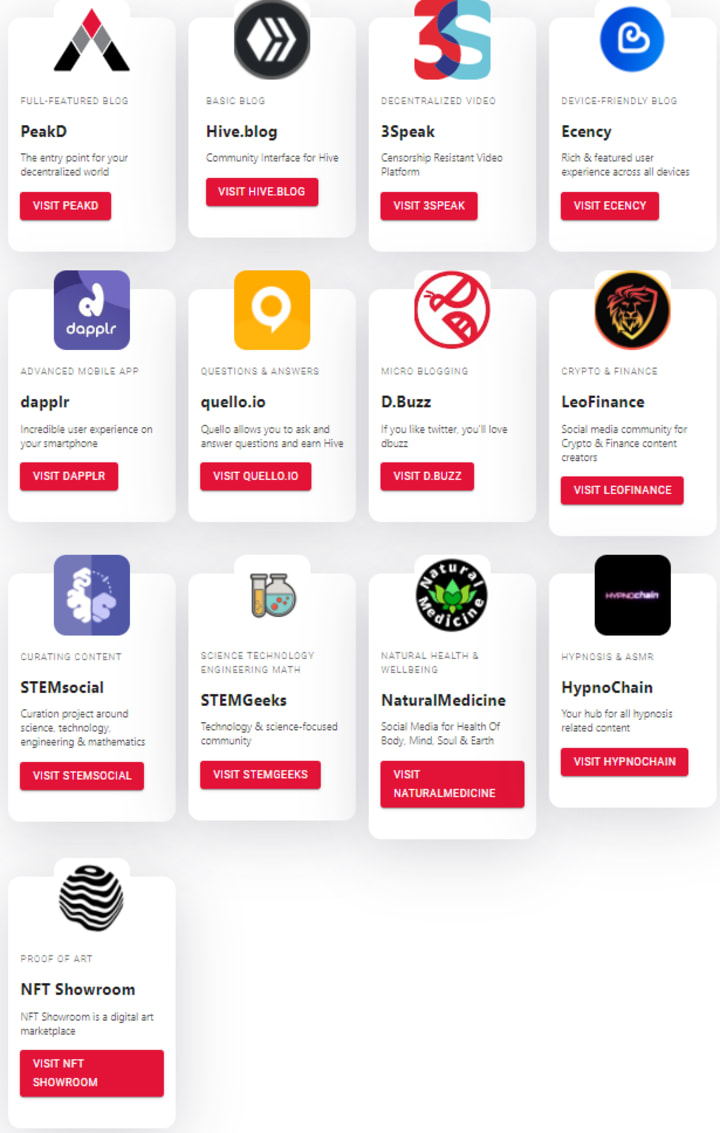 3. Hive (HIVE)
The HIVE altcoin is a direct result of the community-led hard fork of the Steem Network on March 20, 2020. The forking created HIVE, HIVE Dollars, and HIVE Power that work in the exact same way the three Steem tokens work.
Creators are earning HIVE from the following publishing platforms. You'll find links to all of them from the HIVE On Board page:
• Hive Blog and PeakD for blogging.
• Ecency (online communities)
• Leo Finance (crypto blogging)
• D.Buzz microblogging platform
• Curated content hubs: Natural Medicine , STEM Social, STEM Geeks, STEM Social, Hypno Chain
• NFT Showroom digital art marketplace
• Dapplr for mobile sharing
4. Bitcoin Cash (BCH)
This altcoin has "Bitcoin" in its name but the two are really not the same at all. Bitcoin Cash or BCH and Bitcoin has long parted ways after a hardfork in August, 2017. BCH facilitates day-to-day transactions on the blockchain, and creators can earn it by sharing content on the blogging platform Read.Cash. If you prefer short-forms, Noise.Cash is the microblogging platform where you can earn BCH.
5. XTorum (XTM)
Torum is a crypto-centric social media platform that could as well be another Facebook of the crypto community. It connects blockchain enthusiasts with like-minded people but, unlike Facebook, rewards them for completing simple tasks.
Currently you can only earn XTM on Torum by:
• Completing daily missions and related tasks
• Inviting friends on board and becoming their mentor
• Receiving direct supports from other Torum members in the form of Gift
6. Leo (LEO)
Remember Leo Finance we talked about earlier? Other than earning HIVE, you can also earn their native coin LEO.
7. Uptrennd (UP)
To earn UP, you need to register with Uptrennd.com. Once your content creation is shared, you can start earning from upvotes given by users of the platform. According to their whitepaper, the token economy project counts 1 upvote as 1 point. Jeff Kirdeikis, the founder of Uptrennd, optimistically projects the platform to have 630K members by 2021, and 3.7M by 2022.
8. Theta Fuel (TFUEL)
To earn TFUEL, you can start a live stream on Theta TV, which offers its creators ways to monetize their content while promising freedom from censorship. To support creators, you can watch the streams, interact with them by chatting, following, and participating in giveaways. The TFUEL you earn from watching can be donated to streamers as a thank you. The entire Theta blockchain seems to specialize on delivering decentralized video streaming.
9. Library (LBRY)
The LBRY protocol and platform was created in 2015 by a group of founders with help from friends at the Rensselaer Polytechnic Institute. To earn LBRY you need to be producing video content and publishing them on LBRY TV or Odysee. Established YouTube channels can be synced with the new LBRY 3.0 platform. But if you do not have your own channel, you can also earn from watching videos and soon, from reposting them.
10. Brave Attention Token (BAT)
You can earn BAT from browsing and from the content you publish by joining the Brave Creators Program. You can start with your own websites and publications, your YouTube channel, Twitch channel, and Twitter account. It recently also included Vimeo Channel, Reddit account and GitHub. To start earning BAT from browsing, download and use the Brave Browser.
I've joined the flock of creators on Brave by getting verified last year, mainly because I wanted to earn more from the content I create, and because I also wanted to support other publications. Many sites I often visit for general information, such as Wikipedia, are already verified with Brave, so I can be sure that the BATs I send their way will reach their wallets.
So if you're already producing original, valuable content on topics that you and others love, why shouldn't you be earning a fair share of the cryptos for creators?
About the Creator
A Riau-born full-stack freelancer. A storyteller, poet at heart, a short story writer in my own time. I'm published on Hubpages, Medium, and a Google local guide.
On a scale of $1 to $20, how attractive are you?
Reader insights
Be the first to share your insights about this piece.
Add your insights