Anthropomorphism anyone?
How to create authentic animal characters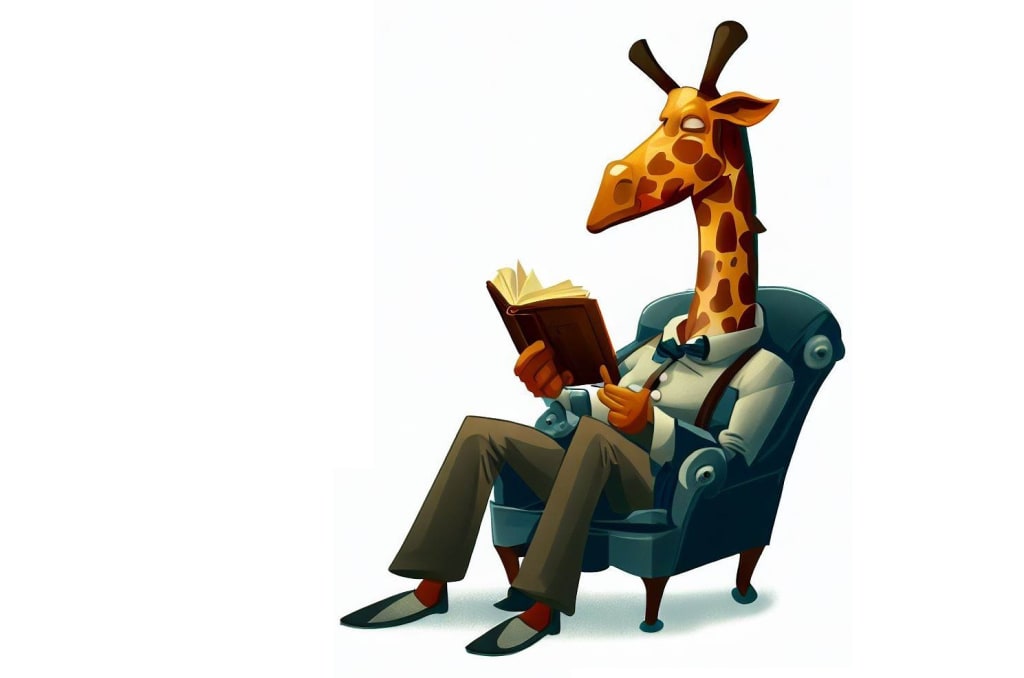 Image generated by author using Bing / Dall-E
Just how do you create memorable animal characters that readers can relate to, can root for, are believable, and which will take the reader with them through all the highs and lows?
When I first attempted to write a story from an animal perspective there was no template that I could use. There were no animals in fiction courses that I was aware of an no guidance on offer. Not that I was looking. I just made it up as I went along. Then again, isn't this what we do as creative writers? Isn't that what fiction is all about? Making it up?
Don't think I can cover this subject in a single article so will do a series, if there is enough interest. Please comment if you would like me to continue.
How, then, do you go about writing animal stories and animal characters? And why would you want to? I can only speak from my own experience but the reason I first wanted to dramatize creature action was a story prompt I came across from the facebook writing support group Writers Unite! It was a picture prompt featuring a very snowy woodland scene. When I saw this, I immediately thought of a half-starved lone wolf prowling the forest in winter, searching for food. I wrote the story from the wolf's point of view.
I could have written the story without dialogue. Wolves, after all, do not have speech, as we know it. That, however, would be immensely boring and really hard to write. So I went on to think about how to incorporate some kind of wolfy speech without resorting to a series of growls, snarls, and howls. The short story I ended up with subsequently developed into my first novel.
Read my wolf adventure: Run with the Pack: Chapter 1
Before breaking into dialogue, I had to think about what was happening in my story. Why was the wolf alone in the forest, what was she doing, where was she going? Oh, I guess one problem solved, for some reason I decided the wolf was female. In Run with the Pack the main character, a she-wolf called Elha has been cast out by her family to fend for herself in a winter forest where food is scarce.
To me, the starting point for any story involving animals has to be exactly the same as it would be if the story only involved people. If you were alone in a forest, how would you feel? You might feel lonely, scared, hungry, cold. Would it be any different for an animal alone in a forest on a cold winter's night in thick snow? If you can imagine your way into the mind of your character, you are already halfway to writing the story.
An ability or willingness to empathize with your characters is essential for an author. Why would it be any different if you were writing about animals? I might therefore suggest that the first principle of writing animal-centered fiction is to write strictly from the point of view of your animal characters.
Assuming you already have in mind some kind of scenario or story, you probably also know what species of animal will become your main character or characters. It may be your favourite animal, perhaps a pet, a farmyard animal or something you have seen in a zoo or on a natural world documentary.
What kind of personalities do these creatures have? What are their particular attributes and how human are such attributes. Are they sociable and family oriented or are they 'lone wolves'? Asking yourself these kind of questions will get you well on the way to mapping our how your story will take shape.
TOP TIPS FOR WRITING ANIMAL FICTION
Ask yourself what is the starting point for your story, what is it all about? Summarise the story in as few words as possible.
Write from a strictly animal point of view.
Ask yourselves how your characters feel, what are their needs?
What are their motivations? Is it just survival or is there something more?
Are they sociable, family-oriented, communal animals, or are they 'lone wolves'?
Who are the animals' friends (if any), who are their rivals or enemies?
Decide on a balance between zoological authenticity and humanistic characterisation - how much are they human like, how much like animals.
Read other books about anthropomorphic animals such as Watership Down, The Plague Dogs, 101 Dalmatians, The Dun Cow or children's books like Winnie the Pooh or Peter Rabbit. Or, for that matter, Run with the Pack: link to Chapter 1.
Research animal behaviour generally. Know your subject.

The above tips will hopefully give you a good start when planning your story, or when you begin the writing process. I will look at these questions in greater depth in subsequent episodes in this series. That is, if anyone would like me to continue.

What will the series cover?
Animal characteristics
Levels of authenticity and degree of humanity
Character names
Setting and atmosphere
Dialogue
If you found this article useful, please leave a comment below. Please let me know if you would like me to continue the series or if you would be interested in attending a seminar on the subject of these articles.
I will post part two of the series in a little while, if enough people are interested.
Meanwhile, you might like to start to read my book Run with the Pack. Hopefully it will give you some ideas.
You can either read it in serialized form, starting here:
Run with the Pack: Chapter 1
Or you can buy the book from Amazon: Run with the Pack
Available in Kindle and paperback
Another and more recent story from an animal perspective is a reimagination of the Town Mouse and the Country Mouse fable. The story features two foxes and is considerable more of an antropomorphic adventure than Run with the Pack.
Please read: The Town Fox and the Country Fox
Thanks for reading
Ray
About the Creator
Author based in Kent, England. A writer of fictional short stories in a wide range of genres, he has been a non-fiction writer since the 1980s. Non-fiction subjects include art, history, technology, business, law, and the human condition.
Reader insights
Outstanding
Excellent work. Looking forward to reading more!
Add your insights