Signs of a Faulty Brake Wheel Cylinder
Complete a MOT history check online to see how many times the braking system has failed the MOT test. If your vehicle has drum brakes, you may experience a spongy brake pedal, poor brake response and leaking brake fluid. If yes, the brake wheel cylinder may need to be replaced.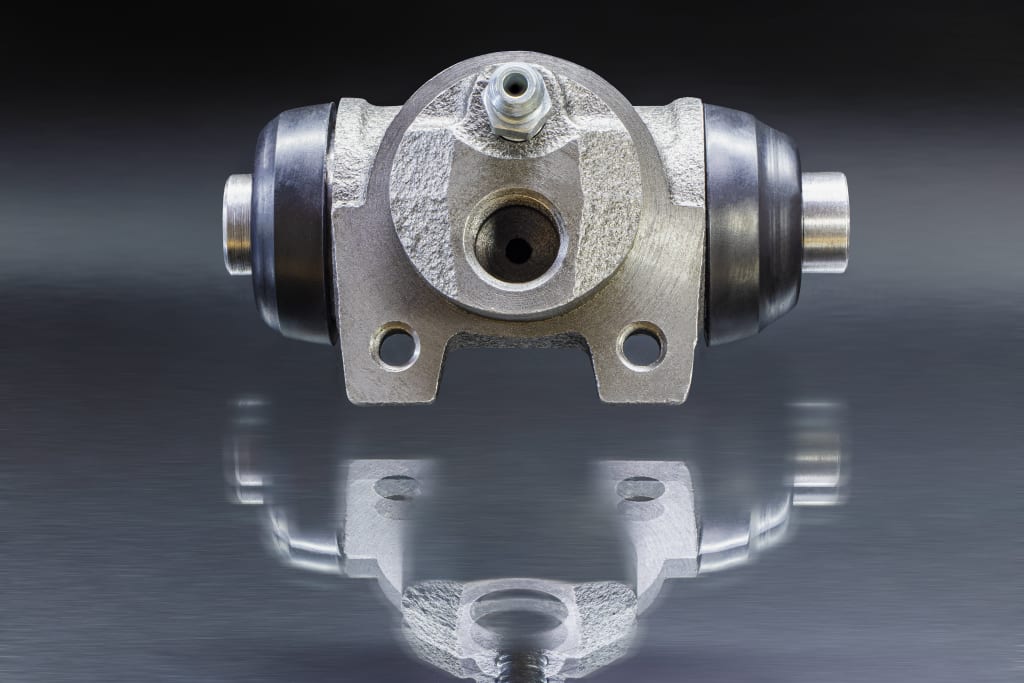 Brake wheel cylinders are a component of current drum brake systems. The hydraulic component expands when the brake pedal is depressed, forcing the brake shoes against the brake drum. Because they are a hydraulic component that is subjected to the harsh conditions of braking and normal wear and tear, they will eventually need to be replaced.
When brake wheel cylinders fail, they usually display a number of symptoms that alert the driver to the need for replacement.
If your vehicle is equipped with a brake drum system, look into and check MOT history online to see how many times the braking system has failed an MOT and if the wheel cylinder was to blame.
A wheel cylinder is part of a hydraulic drum braking system. It may be found on every wheel, usually above the shoes at the top of the wheel. The wheel cylinder's job is to deliver force to the shoes, making them to hit the drum and bring the vehicle to a halt due to friction.
Three signs of a faulty wheel cylinder are as follows:
1. Spongy brake pedal
One of the most common indicators of malfunctioning wheel cylinders is a spongy brake pedal. If a wheel cylinder develops an internal or exterior leak, its ability to pressurise and extend the piston may be jeopardised. This can result in a brake pedal that is too soft or mushy or a brake pedal that slowly drops to the ground when depressed. Go online and do an MOT history check to see whether this was the cause of a failed MOT test in the past and if any repair work was done to correct the problem.
2. Poor braking response
A broken or malfunctioning brake wheel cylinder can also cause a poor braking response. The system's pressure may be impacted if one or more of the wheel cylinders breaks, decreasing the system's ability to slow the vehicle. Stopping a vehicle with a poor brake reaction will be more difficult, especially in severe braking scenarios. Be cautious when driving and schedule an appointment with a car service and repair garage as soon as possible so that a technician can identify and fix the problem.
3. Brake fluid leaks
This is another sign that there is a problem with the brake wheel cylinders. Braking fluid will be seen if the seals on the wheel cylinders fail. In more extreme instances, you could see a thin coating on the inside of the backing plate, or drops or pools of brake fluid coming from the braking wheel cylinder. It's probable that the vehicle's braking system has already been damaged if a leak is large enough to be observed. A quick visual inspection may generally reveal brake fluid leakage. This is a common MOT test failure and is classed as 'dangerous'. Search check car MOT history online, go on the government website and enter your registration number. You will then have access to all the previous MOTs completed on your vehicle. You will be able to see reasons for previous failures and will also be able to establish if a certain component was a regular culprit for an MOT test failure.
Brake wheel cylinders are essential to the vehicle's overall safety since they are part of the braking system. If you suspect a problem with your wheel cylinders, or if your vehicle shows any of the symptoms described above, have it checked out by a qualified technician to see if the brake wheel cylinder needs to be replaced.
What to Look for in a Faulty Wheel Cylinder
Your vehicle's wheel cylinders, as noted at the outset, are a crucial component of your drum brakes. When you use the brakes, the brake shoes are forced against the drums by the wheel cylinders. If your wheel cylinders develop a problem or malfunction, your vehicle's brakes will be compromised. If you suspect your car's wheel cylinders are broken or damaged, replace them as soon as possible.
Step 1: Press down on the brake pedal. If your brakes seem soft or low, you may be losing braking fluid via the back brake wheel cylinders. Check your braking cylinders if you find yourself adding brake fluid to your automobile on a frequent basis.
Step 2: Check underneath your vehicle for brake fluid leaks or puddles, since leaks are one of the most prevalent signs that your wheel cylinder has burst and is leaking braking fluid. If the brake fluid is leaking from the back brake mechanism on your car or truck, it's likely that your wheel cylinder is failing.
Step 3: Drive your vehicle along the road at a very slow rate and try stopping it by pressing your brake pedal repeatedly and gently. If your brakes don't seem to be working as well as they should but are still functional, your wheel cylinders may have failed. The back brakes provide just around 20% of your vehicle's stopping force.
Take your car to your technician and have your braking wheel cylinders tested if you suspect a problem. To examine the piston seals for wear, corrosion, and pitting, he'll have to remove the back tyre. If your wheel cylinders are damaged, he can replace them.
list
About the author
Car Services in Reading prides itself on providing great customer service, fair and competitive pricing along with great quality work that leaves you happy with the entire process.
Reader insights
Be the first to share your insights about this piece.
Add your insights