Quotes from, by and for the Automotive Enthusiasts.
Some dose of inspiration to start your engine.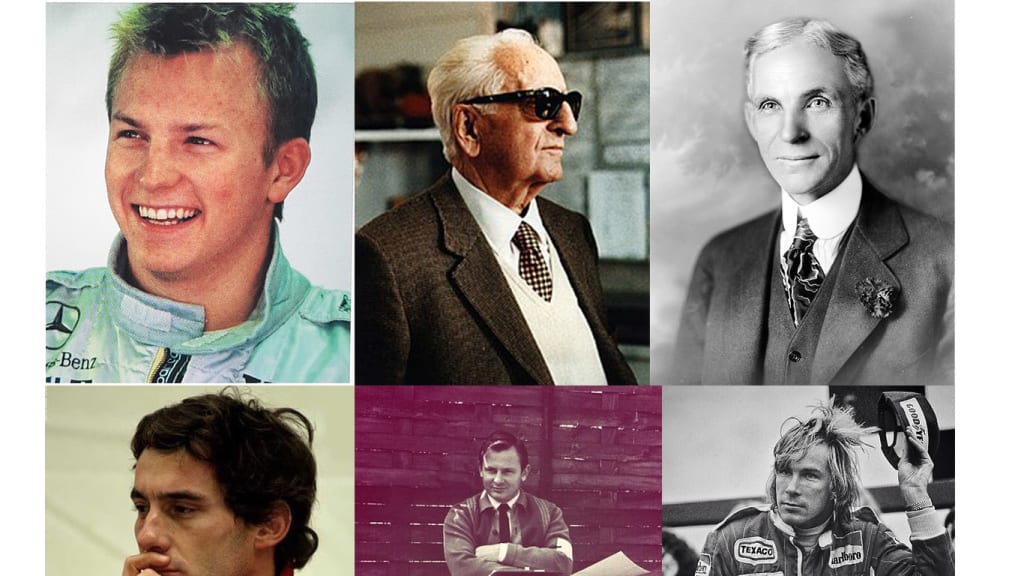 Quotes from the greats from the auto industry.
A simple gear change in a vehicle gives you great speed. Similarly, a simple thought from legends of your field can give you motivation to do something great every day. As I am an automobile enthusiast, I would share some quotees who I most admire from the automotive and motorsport field.
1. Enzo Ferrari
Hated by some, loved by many. Enzo started his automotive journey by becoming a test driver. Steadily he promoted himself from test driver to race driver and then towards victory. Eventually he started his racing team also known as Scuderia Ferrari. Racing was in his blood. Just to keep the racing team funded he started to sell sports car. Enzo is best known for his winner or nothing attitude. This attitude is reflected in his quotes.
- "What's behind you doesn't matter."
- "If you can dream of it, you can do it."
- "I build engines and attach wheels to them."
And my favorite is pictured below: -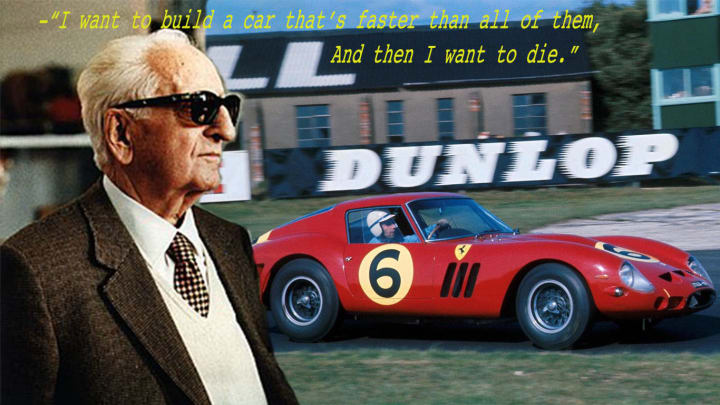 2. Carroll Shelby
The great racer and automotive designer Carroll Shelby would be always known for his brain behind the Ford GT40. This car conquered the 1965 Le Mans and embarrassed Ferrari. His quotes have been best quoted in the 2019 film 'Ford vs Ferrari.' He had a emotional attitude towards cars.
"I've always been asked, 'What is my favorite car?' and I've always said, 'The next one.'."
The best quote which is also the dialogue in the movie brings goosebumps when you hear it.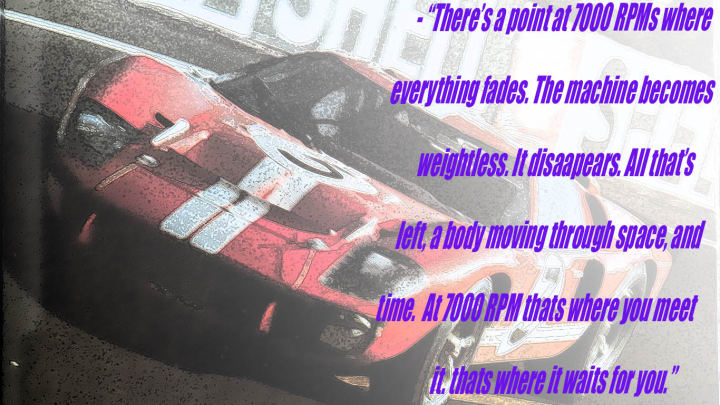 3. Henry Ford
Not every Automotive legend are racing driver. Many times, he can be a commoner, an engineer, or a businessman. Henry Ford was one of them. He had a humble start. But he had a vision. This led him towards success. He had an attitude totally opposite to Enzo Ferrari. Enzo wanted to build cars for himself whereas, Ford wanted to build cars for people. Which gave the motivation for the assembly line technique of mass production. But every visionary needs to tackle too many problems. People don't understand them.
"When everything seems to be going against you, remember that the airplane takes off against the wind. Not with it."
His quotes usually help oneself in tackling obstacles, helping yourself and always keep learning and working for better future.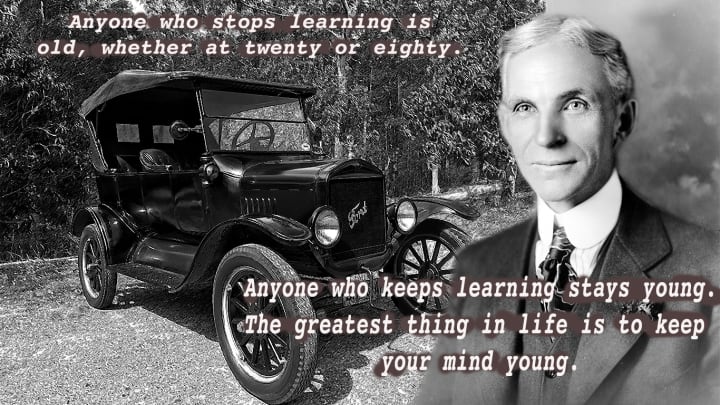 4. Ratan Tata
For many of you would not be knowing him. But Ratan Tata is the man behind Tata Motors. And if you are aware Tata owns more than 50% stake in Jaguar-Land-Rover. He created the first totally indigenous car, totally made in India, Tata Indica which was also sold in UK by Rover. He had a dream that everyone should have a car. Which was the idea behind the cheapest car in the world the Tata Nano.
"If you want to walk fast, walk alone.

But if you want to walk far, walk together."
He has always believed in hard work, loyalty, and self-belief. His ideation of self-help is expressed below.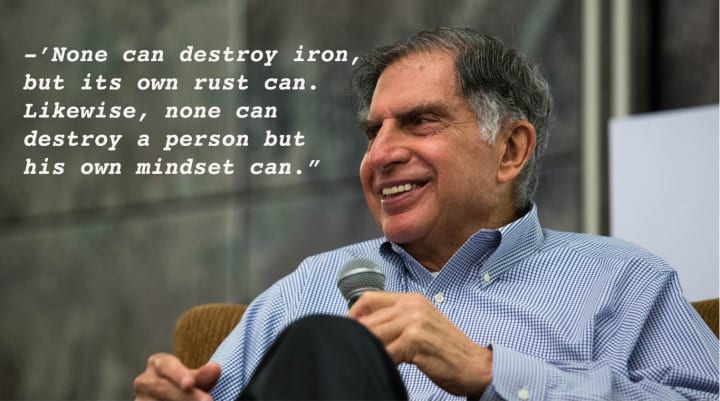 5. Kimi Raikkonen
Everybody loves Kimi. The Iceman is 41 but he is still racing. The 2007 world champion has now been racing for 20 years and he is still scoring points for the underdogs F1 team Alfa Romeo. Well Kimi don't quote some motivational stuff. But Kimi keeps it short and simple. Don't expect him to give long and descriptive explanations. He is to the point.
Interviewer: "What is you feeling before the race?"

Kimi: "It's Alright."

Interviewer: "Kimi, what happened?"

Kimi: "I spun"
Now every time when I have viva exams, I watch all Kimi's interviews to always be short and to the point. Also, Kimi is honest example of which is illustrated below.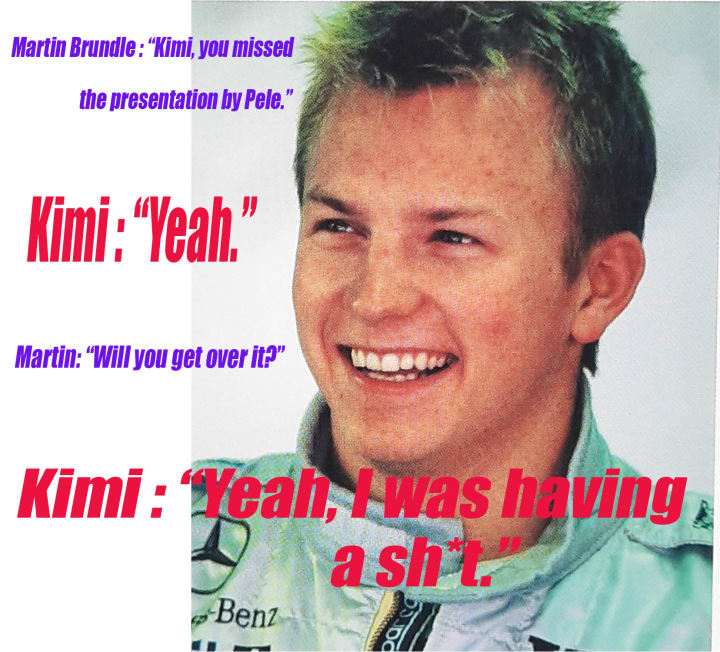 celebrities
About the author
Auto writer and journalist. Love for Senna and McLaren.
My LinkedIn : https://www.linkedin.com/in/anvay-mah.
Reader insights
Be the first to share your insights about this piece.
Add your insights