One Van No Plan: What's Gone Wrong So Far
We've Been Full-Time Vanlifers for 15 days now. Here's a list of things that have gone very, very wrong.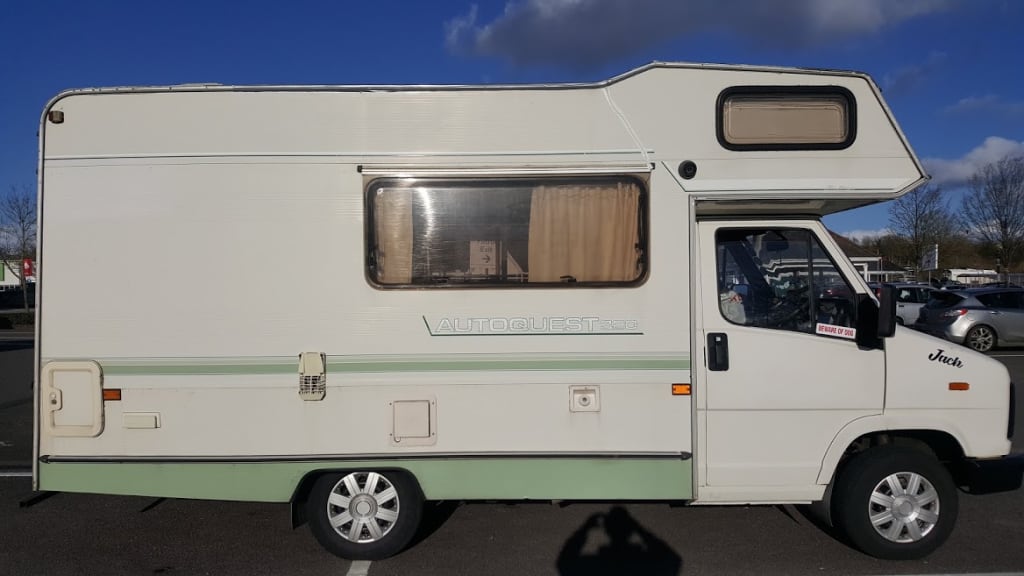 I knew living full time in our Talbot Express "Jack" wasn't going to be easy. He has been named after my late moth-in-law's dog, who passed as we were just finishing the renovations. I knew that things would be cramped, tempers would be lost and things would fall out of cupboards. 
What I didn't know was the leisure battery would die, the roof would leak, and we'd get stuck in the mud in a campsite. Oh, and the gas heater packed up the day before we left on the coldest day of the year! 
I've never been a problem solver, I try to be, but I'm not that practical. But when you live full time in a van, you have no choice. You solve problems or you ain't going anywhere!  
The Leisure Battery
I started noticing before we left that whenever I turned the water pump on, the battery would die. After hours of extensive Googling and reading some very helpful comments, I realised this was normal. Some very helpful man on the Talbot Express forum said that unless the battery was almost full, the pump would drain it. So we charged it, or thought we were charging it. But we noticed after about ten hours of driving and several days of trickle charging on the hook up that it was still low. So more Googling, I Googled until my eyes were sore, and the answer kept coming up the same: get a new leisure battery. But I had seen loads of people talking about how they had got a new leisure battery, but they still hadn't charged. Plus, I'm a cheapskate and I didn't really want to spend that much money unless I knew it was going to work.But we were running out of options, so I had to shell out the £70. Thankfully, it worked because I had no idea what else to do if it didn't. Problem one solved. 
The Leak In The Roof
You know how Americans always think the weather is dreary and miserable in the UK, well they're right. 85% of the time in the UK it's raining. And when it's not raining, it's normally really cold. But this year we had an unusual amount of rain, even for the UK. It literally didn't stop raining for weeks on end. And it turns out, the roof of a 29-year-old van isn't exactly water tight. My wife found this out one day when she was woken up by water dripping from the cupboard onto her head! The trouble is, you can't fix a leaking roof whilst it's still raining. So we just had to stop the leak as much as we could until the next dry day (and by day, I mean few hours)My wife is the handy one, when it comes to DIY I am rubbish. So she was up the ladders whilst I held them. It wasn't just raining; it was windy too. And she thought she had fixed it until she realised she hadn't. In fact, she was so on edge about this leak, she heard a drip in the cupboard over a torrential rain burst. So it was back up the ladders for her with some of that roof stuff you paint on. We're just waiting for the next real rain to come to see how she's done. 
Being Stuck In The Mud
We decided one day to treat ourselves to a hot shower and electric hookup at a campsite near to Swindon where we happened to be on that day. It was a beautiful site in the middle of nowhere. Silent, still and a bit creepy. But we had an electric hookup and a disgusting shower, so we were fine. We could charge everything we wanted and I could finally blow dry my hair. Insider tip; there is no such thing as a decent 12v hairdryer. We had a perfect night's sleep and woke up feeling less grimy and deprived. All in all, a good start to the day, until we tried to leave. And realised that we were stuck in the middle of their field. A quick ten-minute walk up their drive, we arrived at their massive house. They were very wealthy, very posh farmers. But they were really nice and helpful. He towed us out with his pickup and we were on our merry and embarrassed way. But hey, live and learn right? 
The Heater
Let me paint you a little picture: it's the coldest day of the year. A shivering minus two degrees. All four of us are in the van, ready to set off on our adventure and start our new lives. We've been for a lovely farewell meal with two friends. We come back home, ready to settle in for the night and the heater won't switch on. It's a gas powered heater with a manual switch to ignite it. Now I can hear the damn thing trying to ignite (it makes a constant clicking sound until it fires up) But it's just not doing it. Back to Google, but no luck. I couldn't find the answer to my specific problem anywhere. So we went at it ourselves. Probably not the best plan with a gas heater, but it was 11 o'clock at night so we had no choice. We took the cover off, changed the batteries in the igniter, tried to manually light it, nothing. After about ten minutes more Googling, I lost my temper and kicked the thing. The only thing I can think of is that there's some kind of loose connection in there because it sprang to life. I turned the dial, waited a few seconds and Voila! I'm chalking that one up as a win, I never fix anything!

Your car is a statement about yourself. It says who you are, how you will likely drive, and what kind of life you live. Have you ever wondered what your car says about you, or what people think about your car?

Driving is easy. But how do you maintain your vehicle? Most will consider you as a responsible car owner when you have your car serviced at least a couple of times in a year. Auto repair shops and service departments will do the usual services – change oil and oil filter, check the brakes, replace spark plugs, examine the belts and the hoses, etc. With all the things your mechanic needs to see and touch, it is a wonder if your steering wheel remains unscathed from dirt and grime. They most likely used Disposable Plastic Steering Wheel Covers before they did any work on your car.

The top items every off-roader should have are not only necessary for your safety, but will make your off-roading experience easier and more fun. From a recovery kit to mud tires and a light bar, each of these products will improve your weekend trip filled with adventure and fun.

Will Electric cars save the world? We are living through a period of change. The ancient Chinese philosopher Lao Tzu said the only constant thing in the universe is change. What we have learned in the last 3,000 years is that all change has a price. Who pays the price and who gains the benefits, are questions that should be considered when evaluating any and all changes.

Car accidents can happen to anyone, at any time. You do not need to be speeding, nor do you need to be near another driver for them to happen to you. Even the most attentive drivers can end up having a serious accident that may not have even been in their control.

I'm a huge fan of looking at cars that are heavily modified — and really, who isn't? Ever since Pimp My Rideon MTV, it seems like car mods have become a part of American youth culture. Car mods are a status symbol. They're edgy. They're neato, and often push the engineering capacity of the car to its limits.