Hyundai IONIQ 5 Review
Could this be the EV that truly takes the fight to Tesla?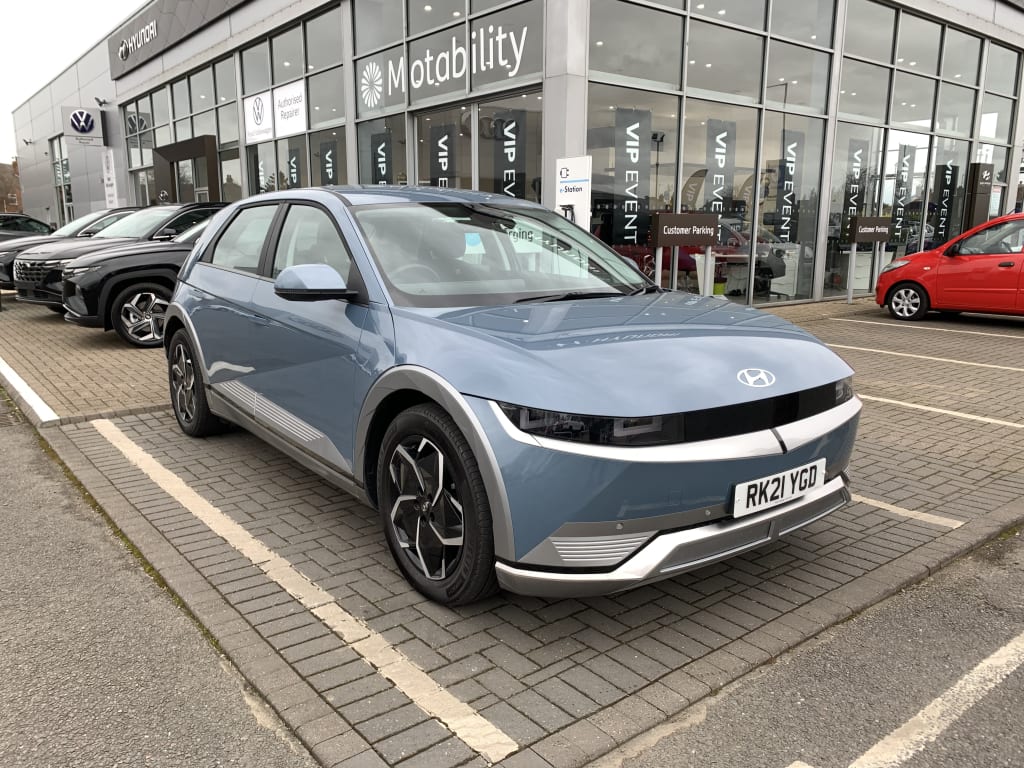 Sometimes, we see a car in photos and they don't give the full picture. Sometimes the photos don't do the true car justice. Sometimes they hide a multitude of sins. In the case of the IONIQ 5, the pictures got it about right, except one thing. The size.
When I first saw the pictures it was different to establish what size the IONIQ 5 is. City car? Hatchback? Full-size SUV? With no reference points it was pretty hard to tell. Spoiler alert: the IONIQ 5 is big.
The wheelbase of an IONIQ 5 is 3m. 3 whole metres, longer than a Range Rover, so it's a big car. But although it is massive, it doesn't feel excessively big to look at (unlike some SUVs that look like small tanks heading towards you).
The exterior of the IONIQ 5 is, controversial, but I love it. All the creases and retro boxiness just works for me. At the front, it's bold. Some may hate the looks, but I like it. Towards the rear, there's a beautiful pixelated rear light clusters. In fact, pixels are all over this car, in the charging port and moving through to the interior.
Speaking of the interior, it's lovely in there. There's 2 12.3 inch screens, one touchscreen, one not. The latter displays all the important driver information (speed, state of charge, etc) and the touchscreen delivers all the information you'd expect. But not the climate control! Thankfully, it's a separate cluster of touch sensitive buttons near some physical buttons to accompany the touch screen.
However, a car interior is way more than touchscreens. The IONIQ 5, like many EVs, has a completely flat floor and many, many spaces to lose store your precious belongings and two USBs in the front. A further point to note is that the IONIQ 5 bears a very nice two spoke wheel.
Moving to the back seats there is more flat floor action and some very comfortable seats (made from recycled materials). Also in the rear is two USBs and (in the UK at least) a 3-pin plug socket.
As with any EV, many of you will want to know about charging and range. The IONIQ 5 I was in had the lesser battery pack at 58kW with a WLTP range of 240 miles. However there is a 73kW option that in rear wheel drive configuration can travel up to 300 miles.
As for charging, the IONIQ 5 can rapid charge at up to 350kW. If you can find a charger that quick, the big battery, 73kW car can charge from 0-80% in 17 minutes.
Behind the Scenes of a Car Review
Many times I do something or go somewhere and then retrospectively decide it would make great article content and write about it after, never do I go somewhere with intention of getting a story out of it, until now.
I've often thought about writing/doing car reviews but have often decided I wouldn't be very good at it. Until I got invited to an event at the local Hyundai dealership where I would see an IONIQ 5, then it became something that was going to happen.
In preparation for this tentative foray into what I consider to be 'proper' automotive journalism I made notes. Lots of them. I wrote down anything I found interesting from Hyundai's spec sheets and attempted to cover the points that I enjoyed from other people's reviews.
Part of the reason for my (potentially excessive) note taking was to make my first trip out in the 'motoring world' a little bit more bearable. I rarely find it easy to have conversations with people at any car events I attend but this time it was going to be different.
As we pulled into the car park I saw one of my favourite electric cars. The IONIQ 5, the car I was there to hopefully get some time in.
To be honest, the event was not about the IONIQ 5, not about EVs at all, but it was not going to deter me from spending time in such a special car.
After some awkward conversation (need to improve on that) we were presented with the keys to the IONIQ 5 in order to have a poke around. And all the preparation and attempts to be professional went out of the window.
Climbing into one of my 3 favourite EVs made me realise why I love cars and why I have to try and get into the motoring journalism industry. Seeing the unique features that the car has and immediately noticing them because I'd seen them before is something that probably may have skewed my perception of the car as I was less analysing the car more 'ooh, look at that'.
'Annoying' an Electric Car
As my time with the car came to a close, the task of locking the thing awaited. Now, that should be as simple as pressing a button. But it wasn't. Every time we pressed the lock button the car emitted a loud beep in a annoying way for no obvious reason.
After explaining to the (rather kind) man from Hyundai that we seemed to have upset his car the reason for its anger became clear. We were trying to lock a car from the outside that was on.
Nobody said it was on, and of course there was no noise coming from the car's powertrain so there was no clear way (to someone with little experience with modern cars) of telling what we done. Either way, it was amusing for a first 'review'.
After the 'incident' with the locking of the car, the kind man from Hyundai offered us gifts. We hadn't purchased a car, nor expressed an interest to and all we did was poke around in their EV. Yet still I received cake and chocolates and a bottle of wine.
product review
About the author
Attempting to be an automotive and business writer. Not too bad at stringing a sentence together.
Reader insights
Be the first to share your insights about this piece.
Add your insights