Ghosts of Daytona
NASCAR's Great American Race has deep historical roots.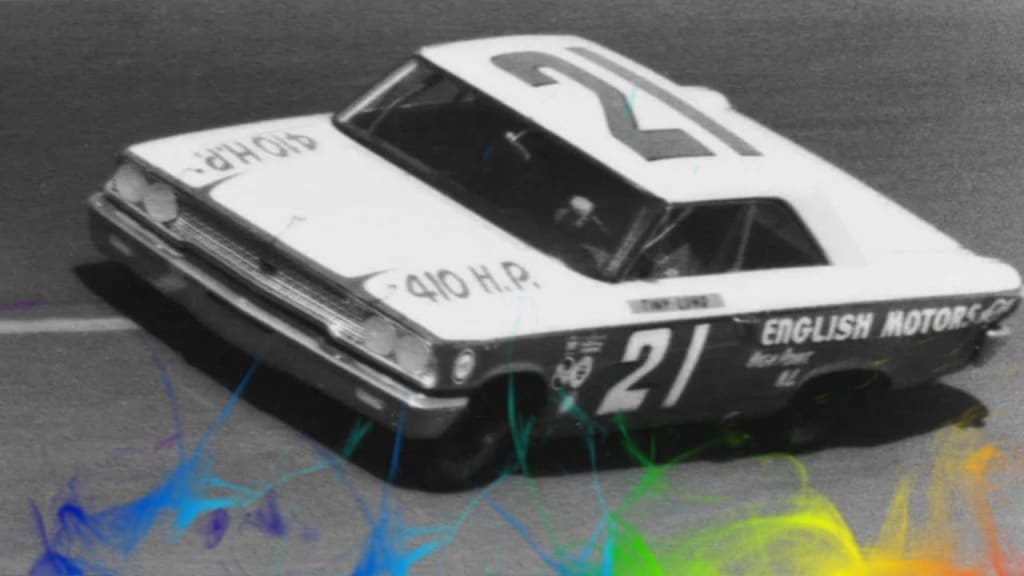 After saving Marvin Panch's life, Tiny Lund won 1963's Daytona 500.
Stripped to its bare metal, the Daytona 500 could be described as 200 laps of 2.5 miles each—but the burning rubber that meets that well-traveled speedway does more than produce tire squeals and skid marks. It also conjures up misty gray ghosts who tell tales that go beyond mere miles and milestones.
Here are but a few of its stories:.
In February 1963, a big man nicknamed "Tiny" traveled to the east coast of Florida for the biggest race of his life. DeWayne Louis Lund, a stock car driver since 1955, was winless after nearly a decade of trying—and there he was at Daytona International Speedway, ready to drive, but without a ride.
If Tiny Lund's ride-bucket could be described as dust-empty, Marvin Panch's was brim-splashing full: After qualifying for the 500 in the Wood Brothers' sleek-roofed, hefty-horsed, Ford Galaxie, Panch was offered a chance to test drive the experimental Briggs-Cunningham Maserati 151.
Who could turn down that ride? Not Panch, who had won "The Great American Race" in 1961 driving a 1960 Pontiac.
Lund watched as Panch made his Maserati run. Watched as the beautiful, red, curvaceous car with its powerful 7-litre Ford V8 churned through the course. Watched as the 151 neared 180 miles per hour. Then watched as it went airborne, barrel-rolled, and landed upside down with the veteran stock driver trapped inside.
What happened next is legendary. Storybook. The stuff dreams are made of. Tiny Lund ran to the site of the fiery crash and voluntarily joined the rescue effort, risking his own life as he pulled Panch feet-first from the burning wreckage, an act of courage that would ultimately win the bigger-than-life Iowa native the Carnegie Medal of Honor for heroism.
But the story doesn't end there.
Panch, hospitalized and unable to drive, persuaded Glen and Leonard Woods to let Tiny drive the team's Ford in the 500. Lund returned the favor by winning the race, sputtering out of gas as he crossed the finish line—still rollin' on the same set of tires on which he started. It was his first career victory. His winnings: $24,550. (Compare that to the $1.5 million-plus Denny Hamlin won in 2019.)
Though Lund and Panch went on to win other races, neither returned to Daytona's victory lane. The two are etched on a long list of Great American Race one-timers, an exclusive club with a mix of journeymen and legends.
There was Derrike Cope, the 1990 champ, who'd originally planned to be a professional baseball player and had been scouted by the Cubs and Orioles. Chalk up a solitary win (in 1972) for A.J. Foyt, King of Indy, who won at the Brickyard four times and drove victory laps at Le Mans, Sebring and the 24 Hours of Daytona—twice.
Plus Pete Hamilton, who won both Daytona and Talladega in 1970, and seven-time NASCAR champ Dale Earnhardt Sr., who knew something about winning at Talladega but conquered the Daytona 500 but once, in 1998.
Other one-timers include Mario Andretti, all-everything driver, who crafted his world-class image by taking on any and all four-wheel challenges, including Indy, F-1 and CART. Then add these: Junior Johnson, Fred Lorenzen, Fireball Roberts, Buddy Baker, Lee Roy Yarbrough, Ward Burton, Benny Parsons, Geoff Bodine, Davey Allison, Ernie Irvan, Darrel Waltrip, Austin Dillon, Kurt Busch, and Joey Logano.
And, of course, Lee Petty. Class of '59—in the christening race that started it all.
Lee (Richard Petty's dad) came to Daytona wielding the wheel of a huge 1959 Oldsmobile Super 88 coupe. The track he came to tame was a monster speedway willed into existence by the Godfather of NASCAR, Bill France.
Racing already had roots in Daytona Beach's sandy soil, but the initial seed produced a hybrid track: part-beach, part-road. France yearned for more. He envisioned a dynamic tri-oval that had more in common with runways than raceways. It would boast aggressively curved banks, swept up at a G-force straining 31 degrees; its extended straightaway, offering a tantalizing 3,000 feet of pedal-pushing, go-fast freedom; its colossal, sculpted presence would shout to the world, "Big-time" racin'.
The track reeked speed—drivers responded accordingly.
In 1959's lead-swapping, tire-screaming, plot-twisting, controversy-oozing contest, Johnny Beauchamp in the No. 73 Ford Thunderbird and Petty's No. 42 Super 88 snapped into history, with Beauchamp winning. But, like a latter-day saint, Lee Petty's chances—dead and buried when the checkered flag fell—resurrected on the third day, the result of what one wag quaintly referred to as "pictorial evidence" that showed the big bold chrome bumper of Petty's Olds barely nosing out the beleaguered beak of Beauchamp's 'Bird.
Lee's win at that inaugural 500 must have spliced a slice of Petty DNA into Daytona's karma, carving a path for its greatest multiple winner: Richard Petty, who drove to victory in 1964, 1966, 1971, 1973, 1974, 1979 and 1981. But, contrary to some Mopar myths, the King's final two wins were in GM products: Oldsmobile and Buick, respectively. (Just for the record, Richard finished a paltry 57th of 59 cars in the '59 race, driving a '57 Olds—not quite his father's Oldsmobile.)
By the way, King Richard's '79 run is remembered less for his win, than for a heavyweight bout that took place some distance from the checkered flag.
Here are the details:
Touted as the first "live" broadcast of the Daytona 500, TV viewers—particularly snow-bound Northerners—witnessed a dynamic driver duel between Caleb "Cale" Yarborough and Donnie Allison. The trio of A.J. Foyt, Richard Petty, and Darrell Waltrip trailed close behind, ready to trounce if the leaders slipped, which they did in Turn 3, ending each others hope for victory. Yarborough and Allison (along with Donnie's brother, Bobby) got into a heated discussion that detonated into a good ol' boy scuffle, giving race fans a memorable televised collage of mud, helmets, fists, and gloves – an animated altercation that arguably got more press than the race itself.
A Petty loss at Daytona in 1976 is a race worth noting, highlighting, as it does, the infamously notorious David Pearson vs. King Richard rivalry, a blisteringly hot life-long competition that found the duo sharing first or second place an astounding 63 times, with Pearson edging out His Mopar Majesty 33-30.
America's Bicentennial found Pearson driving a Mercury; Petty, a Dodge.
The King, driving hard and strong, dominated the final laps, but Pearson, craftily using the draft, passed Petty in Turn 3 during the closing moments. In Turn 4, the two road warriors ran side-by-side—then made contact. Chaos ensued. Like the final seconds in a brutal heavyweight match, both opponents faltered, but Pearson managed (somehow) to recover. Manipulating his clutch and nursing his engine, he lurched to the finish line, capturing the only Daytona 500 victory of his illustrious career.
Petty would go on to win another day—plus one, for a total of seven, still the record for multiple Daytona 500 victors.
In addition to Richard Petty, other multi-Daytona winners include Cale Yarborough, who managed four wins; Dale Jarrett, Bobby Allison, and Jeff Gordon, who each notched three; and Bill Elliott, Sterling Marlin, and Michael Waltrip, who snatched up two apiece. 2019's winner, Denny Hamlin, as well as Dale Earnhardt Jr., are also two-fers.
Without doubt, Michael Waltrip's 2001 win stands as the most bitter-sweet moment in Daytona history, producing a storyline that only a six-pack drenched, blue-collar Shakespeare would dare pen.
Waltrip joined the ranks of NASCAR's big boys in 1985 and went on to stack up a remarkable, but hardly enviable, 463 no-win streak—leaving a King Kong-sized race-monkey riding mightily on his back. Who would dare take a chance on a driver with such a bad record?
None other than Dale Earnhardt Sr.
The Intimidator offered Waltrip, then age 38, a "new birth" of sorts, with an opportunity to drive the No. 15 Chevy for DEI, a.k.a. Dale Earnhardt Inc. And drive he did, to an improbable victory—a "W" (finally) that gave him a lop-sided 1-463 record. But with the "Win" came a loss. No, make that a "Big Loss": Waltrip's mentor. His team owner. His "Boss," friend, cheerleader and coach. Gone. Just as victory smiled, Dale Earnhardt Sr. was dead—a new ghost to haunt Daytona.
Yes, "The Great American Race" could be described as 200 laps of 2.5 miles each. Except it's more than that. Much more. Just ask any NASCAR fan. Better yet, ask Michael Waltrip, Jimmie Johnson, Jeff Gordon, or Dale Earhardt Jr., who won in 2004 and 2014. I'm thinkin' there was at least one ghost watching Junior's wins—and I'll guarantee ya he was smilin'.
NOTE: Jim Lamb is a retired journalist. He has written articles about "NASCAR Salutes" for the official NASCAR Preview and Press Guide.