Guides
Why Peru Should Be Your Next Travel Destination
Because who doesn't love Alpacas?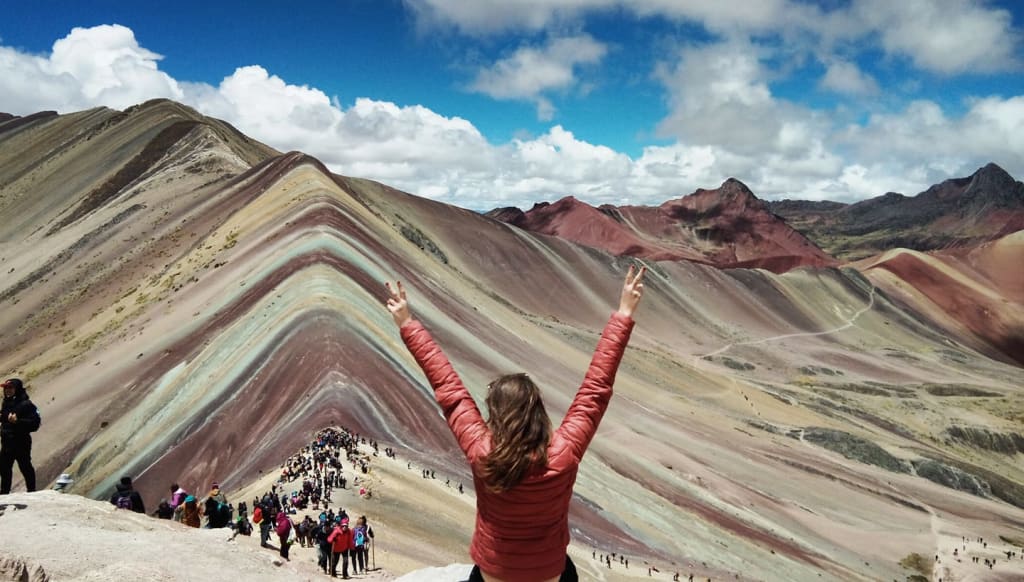 Just One of MANY Amazing Mountain Views in Peru!
As my degree at university came to an end, I was facing one of the biggest decisions of my life—"what next?" I always knew that I wanted to start a successful career as soon as possible but I also had this burning desire to see the world. After a spontaneous decision to visit Spain, and then an upcoming trip around The United States on the horizon, I never even considered Peru until one of my housemates casually mentioned volunteering abroad. That tiny comment sparked an idea which soon became a reality. After a quick Google search of programs abroad, one in Peru caught my eye. I just couldn't get it out of my head. So it was decided, I was going to Peru for two months.
Following my decision, things fell together pretty quickly, and within four months I arrived in Cusco, Peru. I instantly fell in love with the country. And here is why you will too!
There is SO much to see.
Although I spent the majority of my time in the city of Cusco, I never ran out of things to do! Cusco is a city that is rich in culture due to its Inca roots blended with its sublime Spanish influence. A lot of buildings had been built on top of Inca foundations and therefore the city was filled with unique architecture at every turn.
One of my favorite hang-out spots, however, was the Christ statue just above Cusco. The view from the Christ statue was well worth the 150 step climb to the top. From this point, I could see the city sprawling across the hills. The view was breathtaking! (Not just because of the altitude 😉 )
Mountains Everywhere
Whilst on the topic of heights, it is impossible to go to Peru without seeing a mountain or two... Peru is home to the Andes—the largest above-water chain of mountains in the world. The mountains in and around Cusco really were spectacular.
Whilst I was in Peru, I climbed SO MANY mountains. My absolute favorite was The Rainbow Mountain. This is a must-see for anyone who travels to Peru. Although the hike itself isn't much different from your usual mountain hike, the view from the top is mesmerizing! Lake Humantay came a close second with the snow-capped mountains overlooking a deep blue lake.
Party like the Locals
Peru is a Catholic country and often have celebrations for their saint days. Peruvians really know how to celebrate; there were frequently huge parades in town with live music, brightly colored outfits, and traditional dances. These celebrations could go on for the whole weekend. On my first day in Peru, I stumbled out of my hostel to find one of these parades just on my doorstep. This experience showed me that there was much more to come...
The people are really friendly.
Everybody that I met during my time in Peru just made me love the country even more. From the locals to the other tourists, everyone was so happy! But of course everyone was so happy, Cusco is such a gorgeous location.
The locals were more than happy to accommodate my broken-Spanish and allow me to practice rather than sighing and jumping straight into English (Yes, I am looking at you Paris...). When challenged with a broken phone, shop attendants were so patient and helpful. I somehow managed to find exactly what I needed very quickly without eye rolls and that slow and slightly louder than is necessary version of Spanglish.
The Food
The food in Peru is incredible and so varied! For starters, there are over 4000 varieties of potato in Peru. Most of the food here is fresh and farmed without pesticides. Because of this, everything tastes AMAZING. Fruits and vegetables taste so much more vibrant here!
Typical Peruvian cuisines are based on potatoes, quinoa, or fresh fish. Dishes to try are Ceviche, Lomo saltado, and Quinoa soup. You also have the option of trying Alpaca and Cuy (Guinea Pig).
Being a Vegan in Peru wasn't a struggle either. Because of the abundance of fruits and vegetables, I was not short of options. There was also an impressive number of Vegetarian and Vegan restaurants around. I was spoiled for choice!
Machu Picchu
I definitely saved the best until last. Machu Picchu is INCREDIBLE. The possibility of visiting Machu Picchu was what turned a potential trip to Peru into a definite.
The feeling from the top of the mountain is almost indescribable. Being surrounded by imposing peaks and mystical ruins definitely has its appeal. There are so many ways to get to Machu Picchu, and it doesn't have to cost a lot, either! I chose to go with a local hostel where we had an easy walk of the Inca trail the day before, and then a short hike to Machu Picchu the following day. But there are other options, such as taking a bus from Cusco, the train, or following the Salkantay trail through the mountains. Whichever way you choose, it is more than worth it!
So if this hasn't persuaded you already, check out my pictures below. Peru can definitely spice up your Instagram account if nothing else!