Why Kuta Wasn't My Cup of Tea...
I can see the appeal in Bali, and I know that staying in the tourist hub of Kuta impacted heavily on my initial dislike of the country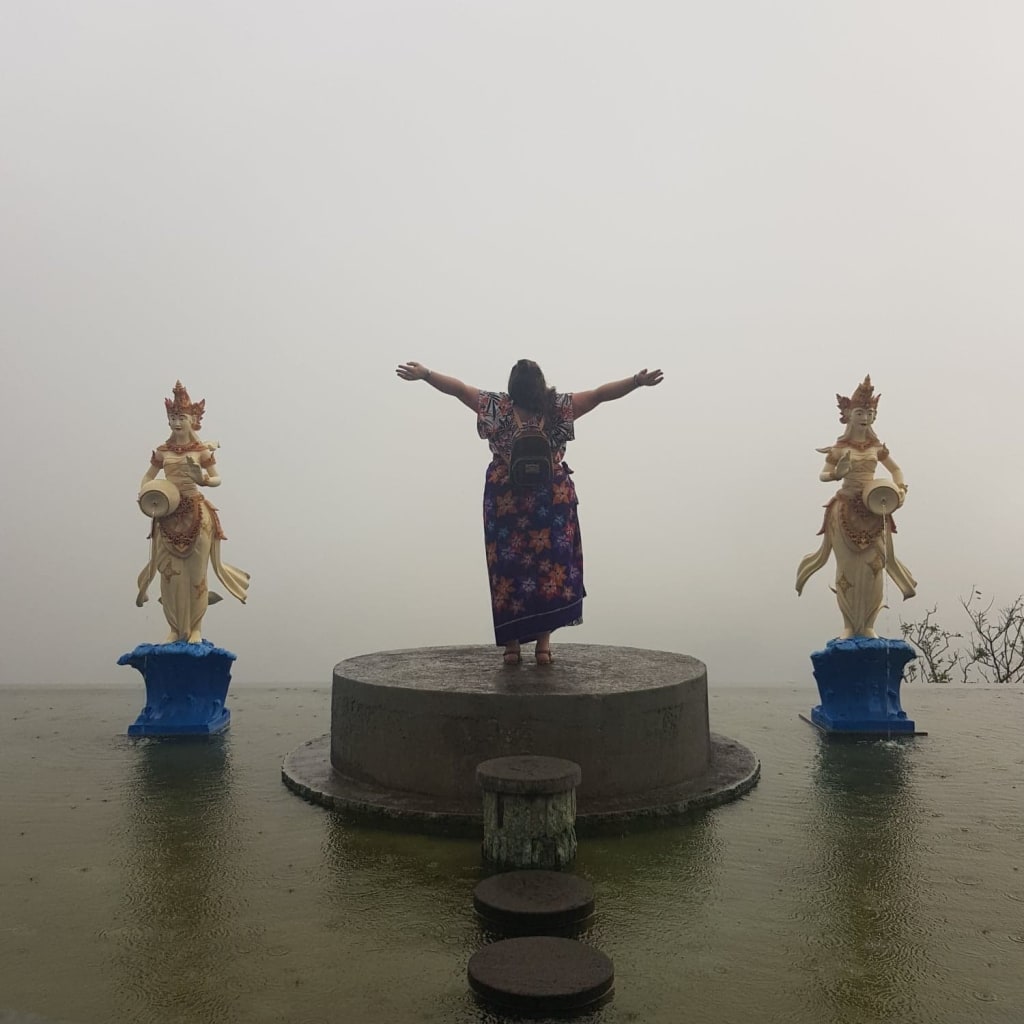 Bali, the small Indonesian Island, is one of the most visited destinations in the world by Australians, due to its low cost and close proximity. Usually, it is the first country an Australian will travel to; either with their families or as part of the end of school celebration (Aussies call it Schoolies).
When a large group of my family decided to go to Bali a year ago, my boyfriend and I elected to tag along. Neither of us having travelled to Bali before, we had a preconceived idea of what the destination would be like, based on family and friends' recommendations and beautiful I pictured cheap alcohol, a busy nightlife, and bartering with the locals for A LOT of things I didn't need. I was not wrong, however, these experiences weren't positive experiences.
I can see the appeal in Bali, and I know that my being in the tourist hub of Kuta impacted heavily on my initial dislike of the country. Bali is beautiful. The island showcases a stunning rural countryside with rice terraces everywhere in land, the majority of locals are wonderful and friendly, and the food was divine. Those are the reasons I travel; for authenticity and culture, and there was none of that in Kuta. The city has become so heavily commercialised and the culture of the local people has been displaced and distorted to cater for the large number of tourists that frequent the destination.
Being in Bali for an hour at most, we were approached by a man right outside of our hotel along Kuta Beach strip. He engaged us in conversation and proceeded to pull out a baggy of weed and asked if we wanted to buy some; not the greatest of first impressions. After declining his offer of procuring ice or ecstasy for us if we wished, checking in to our room and attempting to walk away from the man (and being followed) and the hotel, we decided to do a little shopping. To say this was an overwhelming experience would be an understatement. Being grabbed, yelled at, harassed and followed was something I had never experienced before, at home or abroad.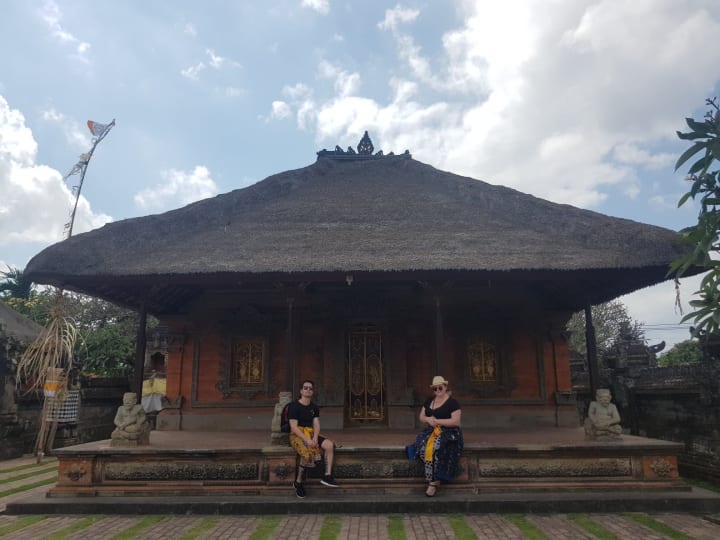 While there were bad days, there were also some really good ones, however none of them occurred in Kuta. We had a few day tours booked to get out of the city and they were perfectly situated at times in our holiday to prevent boredom or heightened anxiety. We booked these tours before leaving for Bali on Trip Advisor. These day trips were amazing! Both guides were incredible, and they were locals. As they were Balinese, they had knowledge of the ceremonies, rituals and customs that we were noticing all over the country. We saw some incredible sights and met a couple from Japan who, in true Japanese fashion, were in Bali for only three days as they were not allowed time off work!
The food... One of my favourite things about travelling is the different kinds of food, and trying things that I wouldn't necessarily eat back home in Australia. My favourite meal that I always compare to what I have at home is breakfast; it intrigues me that our meals can be so entirely different. Having garlic rice and satay noodles or miso soup is so incomprehensible in the Western world, but it is completely normal in Asian countries and that fascinates me. Before heading to Bali, I believed that I hadn't had Indonesian food before. Did you know Nasi and Mi Goreng is Indonesian? I didn't. Food is a very important aspect of my family life, and I like to learn about the importance of food and what role it plays in the lives of people from different cultures.
A must-do activity in Bali is a cooking class. Located in Seminyak, The Amala Resort runs a cooking class. We booked again through Trip Advisor as it listed the full price and description of the class and menu options. There is a choice between three menus, one of which is vegetarian; we chose Menu 1. It was a private class and Chef Chris was incredibly kind, patient and knowledgeable. His passion for cooking was evident and his willingness to share that was so very appreciated. We were able to take home the recipes to cook at home and the Amala gave us the apron as a souvenir, which we use every night while cooking dinner.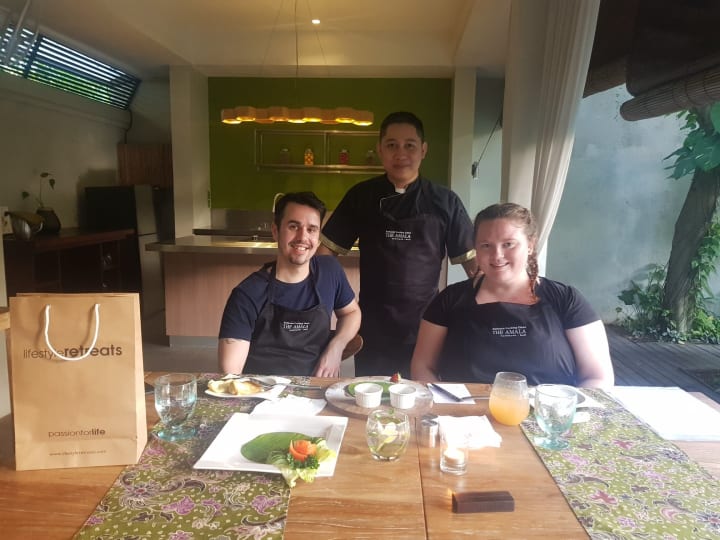 Learning about the culture and the Hindu religion of the Indonesian peoples was an honour. During our tours, our guides allowed us to ask questions, pass on knowledge and help us interpret different meanings of teachings within the palaces and temples. Every day, offerings are made to the Gods to bring luck, prosperity and safety. These offerings are were placed on the roads, outside of businesses, on the dash of cars and in letterboxes. The small boxes, made from banana leaves, show 'gifts' such as flowers, nuts, crackers and I once saw money. The offerings are changed every day, including the boxes, as a sign of respect and thanks to the Gods.
Ubud... Ubud is amazing, and when I return to Bali, I will most likely stay in the Ubud region. 30 km north of Kuta, it is still quite populated with tourists, though it has quite a chill vibe. There is an emphasis on the local silver and gold workshops, batiq masterpieces, and beautiful woodcrafting. The culture of the Balinese people is so prevalent in everyday life as it is not a tourist hub. Also, there is a MASSIVE monkey forest and a beautiful Rice Terrace which is an Instagrammer's Dream - you've seen the photos! There are jungle swings, for singles and couples, a sky bike and ziplining across the rice fields. This was an amazing activity for an adrenaline junkie like me, and it was completely unexpected, which made it a whole lot more exciting. I would definitely would do it again for only 350,000 Rupiah—or $35. I did Ziplining in NZ over the new year for $200+, so I was very happy with this price!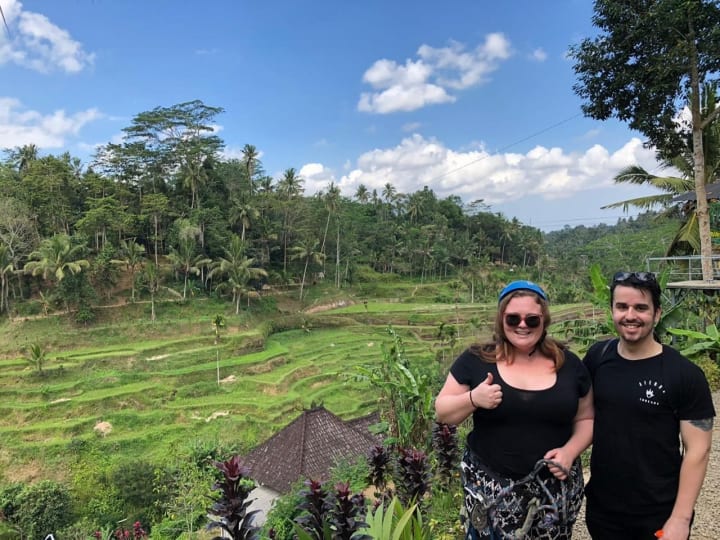 Bali was a mixed experience for me. Recounting my experiences has allowed me too look back on my trip with great appreciation, admiration and awe. The Balinese people are friendly, hospitable and willing to help everyone. Outside of Kuta is incredible; it's full of culture and the natural landscapes are breathtaking. If you are the type of person who enjoys the cultural aspects of travelling and exploring 'off the beaten track,' choose a city less populated than Kuta, like Seminyak, Ubud, or Uluwatu. If and when I go back to Bali, I most definitely will be.