Valentine's Day in Sydney | Top Places for a Romantic Date
This Valentine's Day, spend the best time with your partner onboard a Valentine's Day cruise on Sydney Harbour.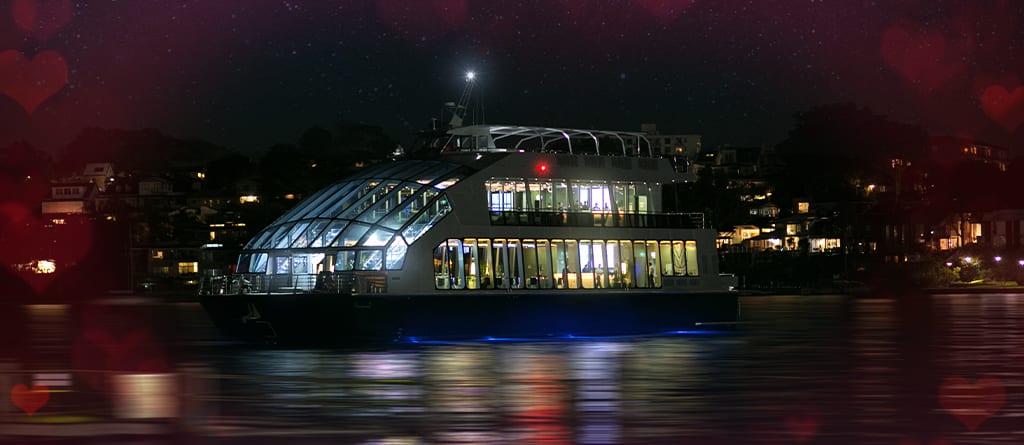 Another Valentine's Day is fast approaching and there's an air full of romance around us already! If you're someone who loves to throw surprises for your beloved for fun, it is only obvious that you might want to make this upcoming Valentine's Day all the more special than any other day of romance. Sydney might not be as romantic a destination as Paris or Venice. But it sure has a handful of excellent destinations that will invoke feelings of love within you. If you've been thinking about how and where to take your partner on this Valentine's Day, here are some amazing experiences and destinations.
Valentine's Day Cruises on Sydney Harbour
Cruising is an incredibly romantic experience in Sydney that cannot be missed. There is no denying that all happy couples across the world will see any corner of the world through rose-tinted glasses. But there are certain experiences and destinations that lend them to romance and Sydney Harbour is certainly one such place. The historic harbour with its glamorous surroundings featuring the Sydney Harbour Bridge and the Opera House has a romantic charm about it and Valentine's Day is one of the busiest days of the year here. To steer clear of the crowds, one of the best options we have for you is a Valentine's Day cruise on Sydney Harbour. And once again, we do not wish to see you flustered over the umpteen cruising options. Look for Sydney's newest glass boat offering the ultimate Valentine's day deals. Onboard this stunning vessel, you are promised the utmost luxury and sophistication at every touchpoint—from food to views and everything in between. The vessel has three decks, each one of them offering 360° views of the harbour attractions. A dinner date is hands down considered ten times more romantic than any other kind and you may opt from the range of glass boat Valentine's Day dinner cruises available at the best prices. Get your tickets today!
Go on a Romantic Road Trip
Sometimes it's not necessary that you have to be at a particularly nice destination to celebrate Valentine's Day. Why not be on the move and enjoy the endless scenic views on the go? One of the best road trip routes in NSW is travelling from the Sydney City Centre to the Blue Mountains. The Blue Mountains is located just an hour from the city centre, which makes it a perfect option for couples who don't have much time to spare. Hit the road with your partner and discover all the incredible things on offer—from a classic drive with your own picnic boxes to exploring the food and wine trails. As far as the saying goes, the journey could be far more exciting than the destination itself. Now, if you don't mind sparing a few extra days off from your work, we have some excellent options for you. Travel to Outback regions of NSW, explore the caves and fossils, Coast and country highlife or take the stunning Grand Pacific Drive for a photo-perfect road trip experience.
Go Stargazing in the Blue Mountains
There would perhaps be nothing more romantic than lying down with your special someone under the starry sky. Stargazing with your beloved is a wonderful option to make this Valentine's Day extra magical. Blue Mountains in NSW is one of the few places that often host stargazing tours for couples on Valentine's Day. Take your partner for a pleasant nighttime tour and fall in love with each other all over again!
We can't wait to hear your stories of love and more! Have a hearty Valentine's Day y'all!