Top 10 Tips for French Style
For every women.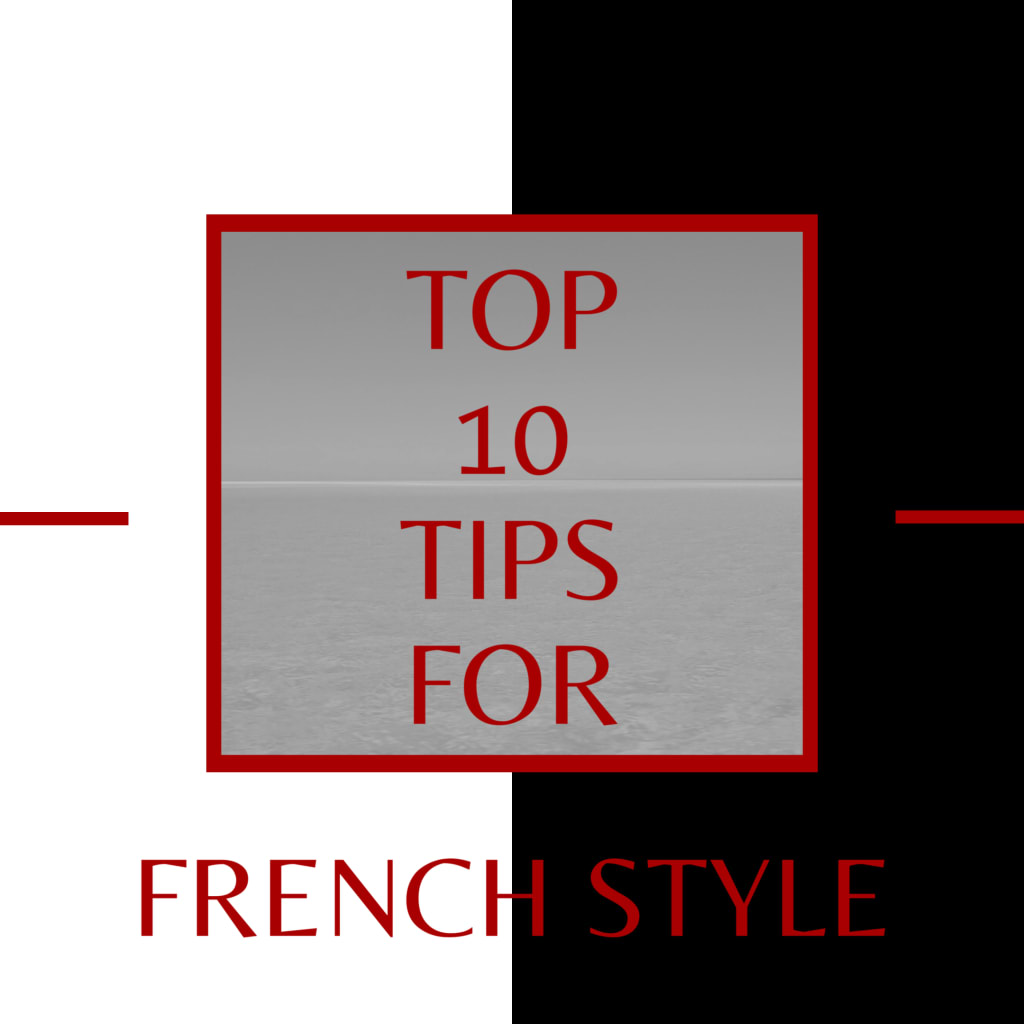 Over the years French style and the French way of life has been coveted by women the world over. In fact I would go as far as to say we are obsessed with the skinny, chic ladies from over the pond who know that they just have that 'Je Ne Sais Quoi".
I have read articles, books and watched vlogs on their style and way of life in the hopes of becoming effortlessly chic and sophisticated with that edge. It's been a bit of an obsession that has lasted many years.
I have since come up with my top 10 tips for effortlessly French style and am sharing those with you today. So let's get started.
Number One: Lips or Eyes (Never Both) – French girls never over-do their makeup. They either do their eyes and play down their lips or vice-versa. If you want a strong lip find the shade of red that suits you and stick to it. Not all reds suit everyone. If your doing your eyes don't make it perfect. Smudge the Wellington a little and make it look more worn in.
Number Two: Undone Hair (never blow dried) – All French girls know that hair is better the day after a wash. But never blow dry. We want natural texture in the hair. If you have straight hair like me then squeeze out any excess water and tie in a high chignon. Once dry you will have beautifully natural tasseled hair.
Number Three: Skincare (absolutely vital) – French girls are all about the base. Opting for minimal face makeup they prefer to have a good base that requires little attention. Work out a good skincare regime. It needn't be over the top. Simply cleanse the skin well and always moisturise. And… always remove makeup before bed to allow your skin to renew overnight.
Number Four: Capsule Wardrobe (a must) – A capsule mix and match wardrobe is vital. The French girl wants to always look stylish but doesn't want to spend hours making it happen. A capsule wardrobe with items that all mix and match is kay to effortless style. Plus it makes it so much easier to pack a bag at the drop of a hat for a weekend away.
Number Five: Never more than three colours (we're not hippies) - Only wear a maximum of three colours at a time for that elegant, sophisticated and chic look. Otherwise you will have a more bohemian vibe which is the opposite of French style.
Number Six: Quality of Quantity (always) – Quality items last and wear longer. So buy the best quality you can afford. Especially in your basics (see below). Do not spend lots of money on 'throw-away fashion'.
Number Seven: Basics in basic colours (because they go with everything) - building up a mix and match wardrobe. Basics include t-shirts, v-neck jumpers, jeans, white shirt, etc. Then make sure you buy in basic colours. Basic colours include, Navy, White, Grey, Beige and Red because they go with everything and can therefore easily be mixed and matched.
Number Eight: Plenty of water (at least eight glasses) – Important for your health, wellbeing and your skin. Water is a magic cure. It keeps skin clear and your body running well. It's also good for helping you stay trim.
Number Nine: Be Confident (it's all about the attitude) – Confidence is the key to everything. With confidence you can pull anything off. Nobody will notice is you didn't put makeup on or are wearing mismatched earrings if you own it.
Number Ten: Cut out the sugar (not the fat) – French ladies avoid sugar but are not so concerned about fat. Eating good and organic food is part of life. Just be mindful of portion sizes.
These certainly are not everything you will need to know. However, this top ten is a great place to start on becoming your very own chic and sophisticated French Lady. Start by incorporating a couple at a time. Then slowly keep adding these things into your day to day. Some are easier than other to achieve but all of them can be done by every women no matter your time of budget. Plus many of them actually interlink and help each other out.
For example drinking plenty of water will help keep your skin fresh and clear. Buying basic clothes in basic colours allows you to avoid the more than three colour rule and keep your wardrobe capsule because everything goes with each other.
About the Creator
A Mummy & Wife from Kent UK. I'm a Writer currently studying for a BSc Wildlife Ecology & Conservation Degree, as I'm passionate about our natural environment as well as holistic wellness.
Reader insights
Be the first to share your insights about this piece.
Add your insights