Top 10 Mysterious Places In The World That You Never Know
List Of 10 Mysterious Places In The World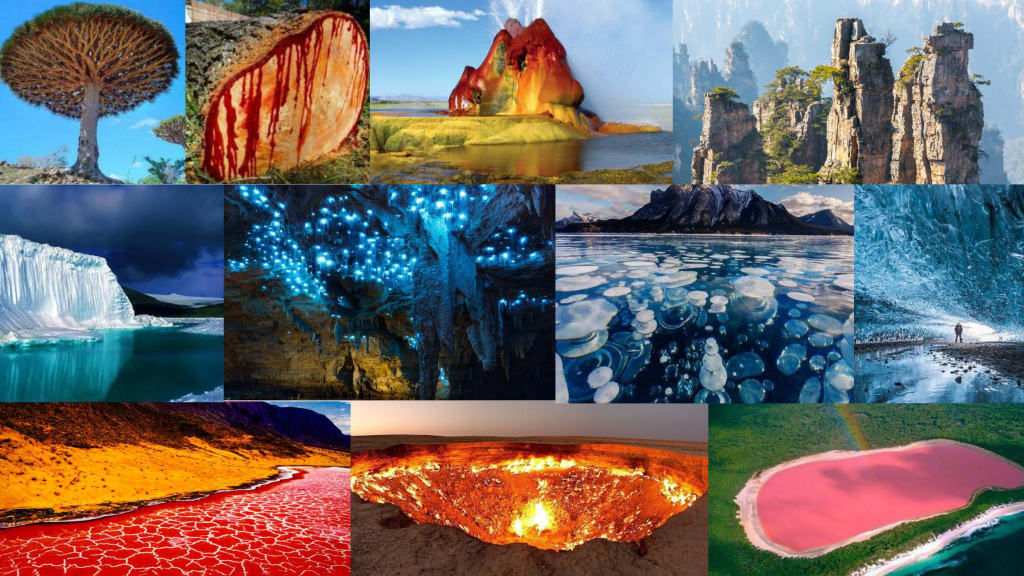 Friends, our world is full of many different mysteries and many mysteries have been solved by us intellectuals, but there are some mysteries which are beyond human understanding at this time, so today we are talking about some such mysterious places. You will be shocked to know who will talk. Let's know about those 10 mysterious places.
10. Lake Hillier
Australia's lake Hillier is at number 10. Lake Hillier is a pink water lake. This lake is present in Western Australia and this lake is very small. Its length is 600 meters and width is about 250 meters. Only a few microorganisms are found in this lake such as halophilic bacteria, Bacterioruberin and the most important microorganism is "Dunaliella salina", the red algae. Because of this, the color of this lake is pink.
There is no harm to humans from this pink water. You can swim unhindered in it, but you cannot go here like this, to go here you have to get the approval of the Western Australian Department of Environment Conservation. Or apart from this, you can see the view of this pink lake from the airplane.
9. Door - To - Hell
This is a big crater in which fire has been burning continuously for many decades. This crater is present in an area called Derveze of Turkmenistan. The diameter of this pit is 69 meters and the depth is 30 meters. Turkmen Anatoly Bushmking says that this place was first identified by a Soviet engineer in 1971. This place is situated in a desert. Some villages are settled around it.
1971 When the team of Soviet engineers and scientists came here in search of oil and gas, they chose this place for drilling and drilling was done by putting a complete setup of drilling, but this place collapsed and collapsed and transformed into this creator.
No one died in this incident, but a large amount of methane gas started coming out of this pit, to prevent scientists taking the decision to set fire to this pit and setting it on fire. Since then till now this fire has been burning. Now this place has become a popular tourist attraction of Turkmenistan.
8. Fly Geyser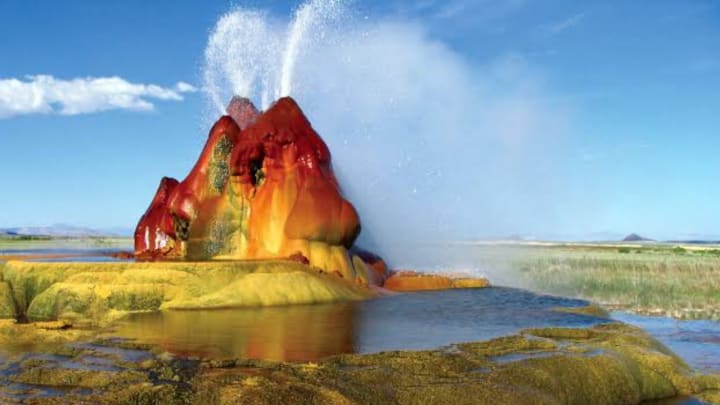 This is a small geothermal geyser located in Washoe County, Nevada. Actually the fly geyser is the result of an accident. In 1961, a farmer thought of digging a well in search of water for irrigation. When the well was excavated at that place, a hot water fountain came out from inside. The temperature of this water was close to Boiling Point, about 90°C. Calcium carbonate also came out from the same pit and it took a cone shape.
So this fly geyser is about 5 feet high and 12 feet wide. The place where this fly geyser is present is a private property and people are allowed to go there every year between April and October, but it is not free, you have to get a ticket for it.
7. Lake Natron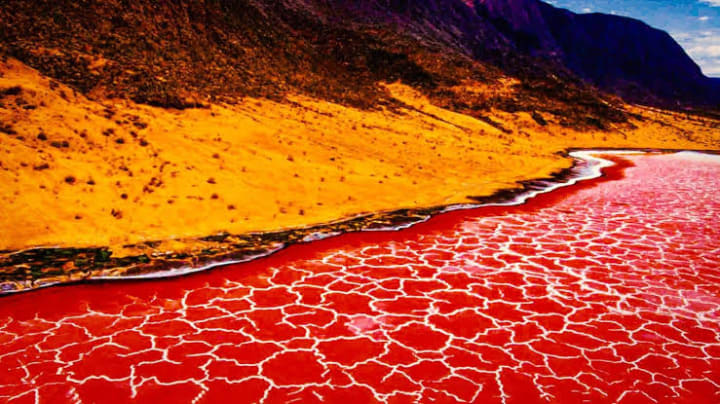 Lake Natron Africa is located in the place named Arusha of Tanzania. The special thing about this lake is that people say that whoever touches the water of this lake, it becomes stone. Let us understand the science behind this. Actually Lake Natron is Soda Lake, this lake has other elements besides water.
Scientists say that this happens due to the presence of limestone hydrogen and alkaline salt and the maximum temperature of this lake reaches 60°C and the elements found in lava in the water of this lake are also present such as carbonate, calcium and magnesium.
6. Dragon Blood Tree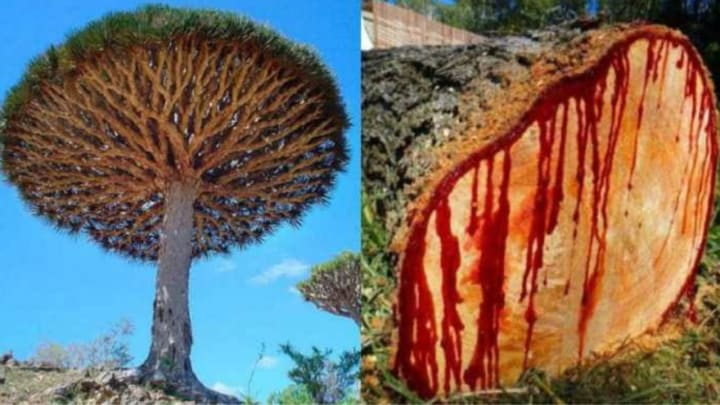 Friends, we know that trees have life, but if I tell you that when a tree is cut, blood comes out of the tree, then you will be shocked to hear this. But it is absolutely true that in Yemen, there are such trees in the place named Socotra, which bleed when cut. This tree is popularly known as the Dragon Blade Tree. Every year thousands of tourists come to see these trees.
This tree is considered to be a miraculous tree because diseases occurring in the blood of humans can be cured with the blood of this tree. This tree grows only as much as 1 meters in a year and the maximum length of this tree can be up to 12 meters and the life of this tree can be up to 650 years.
5. Ice Cave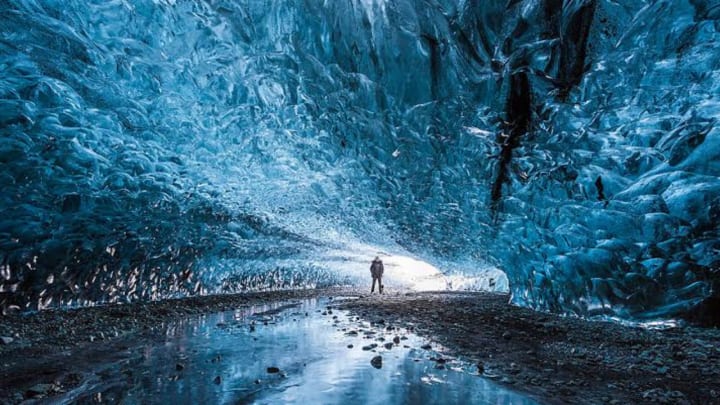 Have you ever read about an ice cave? If you haven't heard, then read now. Iceland is an island country in Europe. There is an ice cave here. This cave is made of only ice from top to bottom from inside to outside. The length of this cave is more than 300 feet. This cave is a new wonder of nature.
According to the daylight, the color of this cave is sometimes white and sometimes blue, which makes it even more beautiful to look at. Every year thousands of tourists go to Iceland just to see this ice cave.
4. Turquoise Ice Lake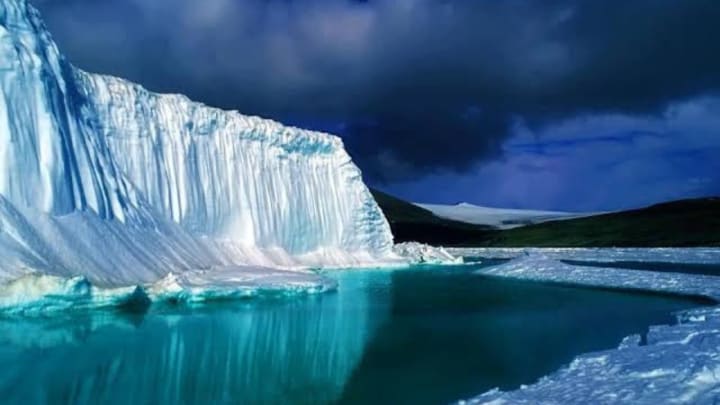 Turquoise Ice Lake is one of the oldest freshwater lakes in the world. This lake is located in Siberia, one of the coldest regions of Russia. The special thing about this lake is that this lake has been given the title of "Pearl of Russia". This lake was formed about 2.5 million years ago. It was caused by the movement of tectonic plates and the movement under the ground.
The depth of this lake is about 642 meters. Rare species of flora fauna are also found in this lake. In winter, the water of this lake freezes, but due to the clear and clear water of the lake, you can see inside the ice at a depth of 130 feet. Thousands of people come in winter to see this sight and skate on this frozen ice.
3. Tianzi Mountains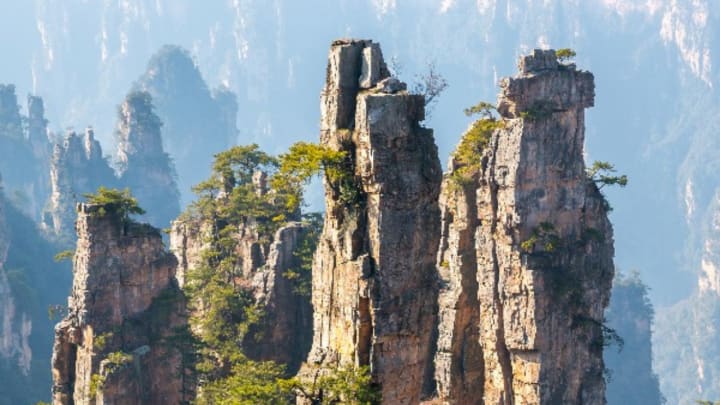 This mountain is present in Zhangjiajie of China. You will be stunned to see the beauty of these mountains. In this entire area of ​​Zhangjiajie, there are high-pillar-like hills of marbles. Out of which the height of the highest hill is 1262 meters. The special thing about this place is the weather here which keeps on changing every once in a while. Sometimes the tops of these mountains are filled with clouds.
These marble hills were formed 400 million years ago, and after 318 million years due to Earth Thrust, these mountains became long and thin due to erosion like pillars. The Tianzi Mountains were earlier named Xiang Dakun Mountain. Then the Dynasty changed its name to Tianzi Mountain.
2. Abraham Lake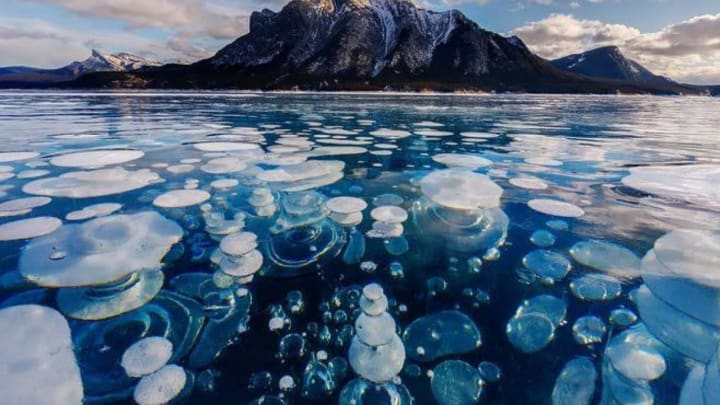 This lake is located in western Alberta between the Rocky Mountains of Canada. Friends, let me tell you one thing. This lake has not happened naturally. It is an artificial lake and is Alberta's largest reservoir. Methane and ice bubbles are visible in this lake, which add to its beauty.
These bubbles are released by the bacteria present in the lake. In winter this lake freezes and these bubbles also freeze. Surprisingly, these bubbles are visible from the surface of the lake to the depth of the lake like a round pillar. In winter, tourists come for picnics and also skate on this frozen lake.
1. Glowworms Cave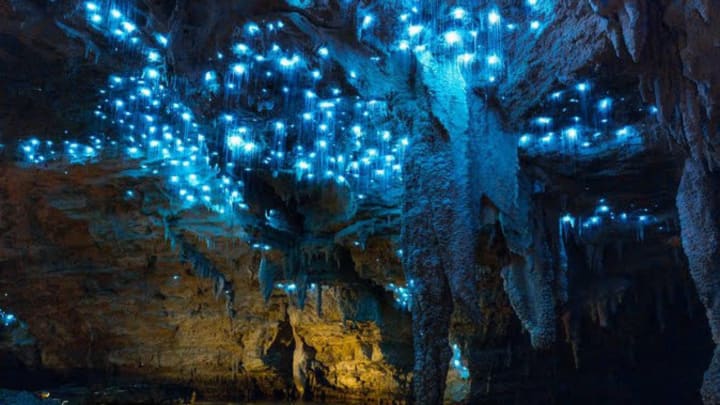 Number 1 on this list is Gloveworms Cave. Gloveworms Cave is present in Waitomo, New Zealand's North Island. This cave is famous all over the world for the population of these glowing glowworms. The name of this species is "Arachnocampa luminosa". This species is found all over the world only in this place of New Zealand. These insects do a chemical reaction that produces this light.
This light is meant to attract prey. These insects weave nets for their prey, so that the prey gets caught in them. The more hungry these insects are, the more light they will produce. From one end of the cave to the other, these shiny insects make a very beautiful sight on the ceiling.
This dazzling cave was discovered at the end of the 18th century, since then, thousands of tourists visit this dazzling sight every year till now.
list
About the author
My name is kunal, I am enthusiastic writer from my childhood, and I am passionate about my work, and I love to write articles on different topics, mainly top 10 lists based articles on different topics.
Reader insights
Be the first to share your insights about this piece.
Add your insights